DRINK WITH THE WENCH PRESENTS:
The Beer Blogger Interview Series
Curious what goes on in the minds of your favorite beer bloggers? Well, The Beer Wench is and she has embarked upon a mission to interview as many beer bloggers that she can — from all over the world. Are you a beer blogger? Do you want to share your story? Send me an email!
INTRODUCING: CARLA COMPANION
AUTHOR OF: THE BEER BABE'S BREW REVIEWS
Beer Blogger Interview
Full name: Carla Jean Companion
Internet nickname: The Beer Babe
Twitter handle: @beerbabe
Name of blog: The Beer Babe's Brew Reviews
Current location: Portland, ME (As of December 21st!)
Background "Snapshot"
1. Where did you grow up?
Syracuse, NY
2. What sports if any did you play growing up, through college and beyond?
I was never a "run back and forth chasing a ball" type of person, but I was geeky enough to actually direct the pep band that played at our high school football and basketball games. In college (University of New Hampshire) I got really into competitive target archery after joining the archery team. I placed second place regionally and won several state/local competitions. I haven't hung up my bow just yet, but I shoot a lot less since I have taken over coaching the UNH's archery team.
3. How old were you when you had your first beer? If you can recall, what is the story of your first beer? Where did you have it? What style and brand was it?
I know I had my first sips of wine as a little kid at the table with my parents. I don't remember my first beer experience, but if it was a sip of my parent's Bud Light I am betting it wasn't a pleasant one. Not sure on the age.
4. Where, if applicable, did you go to college? What did you study? What additional activities, organizations, sports did you partake in during college.
I went to the University of New Hampshire in Durham, NH and got a B.S. in Marine & Freshwater biology. At UNH I was a resident assistant (RA) and joined the archery team. I also was the "on-line editor" for the college newspaper, The New Hampshire. After a few years in a corporate job un-related to my degree, I went back to school because I wanted to teach people about science, and I just got my M.S. in Environmental Studies : Environmental Education from Antioch University New England this July.
Craft Beer Epiphany
Every craft beer enthusiast has at least one pinnacle craft beer experience that completely changes ones perspective on beer. I refer to this mind-blowing moment as a "craft beer epiphany."
What was your first craft beer epiphany? Recall as many details about it as you can:
This one took me a while to figure out. I can't remember when it was that I decided that beer was not a vile beverage that my dad and grandfather liked, but I do remember when the spark of passion for craft beer hit me.
After I had started drinking different beers and getting used to their tastes after college, I had a friend that told me about Dogfish Head IPAs. They have three different IPAs, 60, 90 and 120 minute IPAs, corresponding to the amount of time that the beer is dry-hopped. (Which, at the time had to be explained to me – complete with a photograph of "Sir Hops Alot") Essentially, however, the brews are very similar, with a different amount of malt added just to round out the hops. My friend got a hold of a bottle of 120 minute IPA and we had a side-by-side tasting of 60, 90 and 120.
I can't tell you how intrigued I was that the same ingredients in slightly different ratios could produce such drastically different, but somehow linked beer. And I couldn't believe that anyone would consider that beer ingredients could produce something as insane as the 120 minute IPA, or that hops could have such a range of delightful flavors. I was hooked, and really wanted to explore those subtleties within a beer style, not just compare different beer styles to one another.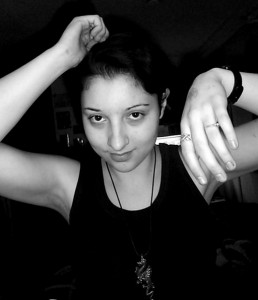 Beer Blog Background
1. How long have you been writing your beer blog?
I started in May of 2007, so I am right at about 2 and a half years.
2. What inspired you to start writing your blog?
In 2007 I moved to a duplex that was in walking distance of a convenience store that had a surprisingly large and frequently updated selection of beer. Living with five other roommates meant that I could bring home a six pack of a beer that I'd never tried before, and we could sit around debating the relative merits of each beer.
We tried anything and everything that we could find, and kept a bottle from each of the beers we tried. After a year of doing this, we had collected a little over 100 bottles. But as we were packing them up to move out, we realized that there was very little that we remembered about each beer, and that we might have to try them all again to find the ones that we truly enjoyed.
So as an organization tool and supplement to my own memory, I decided to write up my thoughts on the beers on a blog, and The Beer Babe's Brew Reviews was born.
3. Why did you chose the name of your blog?
Hhm… its an alliteration that's pretty easy to remember, but I think I was dubbed "the beer babe" by a friend of mine once he found out how much I knew about beer. People have been asking me a lot about it lately – and I keep trying to tell them – hey – its not that I really think I'm some hot babe, it just kinda worked.
4. What are you personal goals for your blog? What do you hope to achieve with it?
I really like exposing people to an ameteur-turned-intermediate adventurer type of writing – and not getting too jargony or snobby. I will start homebrewing soon (I know I promised that to readers last year but I'm really going to start soon.)
5. What is one of the coolest things that happened to you as a result of being a beer blogger?
There have been a lot of really neat things that I've had the pleasure of experiencing as a beer blogger. I got to be a "beer expert" at a brewer's dinner for the Maine Brewers Festival, I've met and talked with lots of local and non-local brewers, I've met several people from Dogfish Head Brewery (including Sam Caligione) that knew who I was or had read my blog, and in general I've just gotten to try a lot of really awesome beers that I don't think I would have had access to otherwise (like Atlantic IPA, Brooklyn Black Ops, etc.) To pick one moment is really tough!
6. What are you top 3 favorite beer blogs/beer websites?
I love The Aleuminati because they really got me initially connected with the craft beer loving' world and they're all great people. Beer for Chicks is awesome, too, if not just for the fact that there are hundreds of beer-loving women on there that give me faith that I'm not too weird. But The Beer Wench, Here for the Beer, Dr. Beer Love, Ratebeer, Drink Craft Bee definitely make the list.
Beer Talk
1. What are your top 3 favorite beer styles?
Ugh. I knew you'd ask a "favorite" question at some point. It changes for me, like, daily. But I do usually love Russian Imperial Stouts, Hefeweizens and certain IPAs. I'm across the board, and frankly, I'll try anything – so tomorrow I might have an entirely new favorite.
2. What are your top 3 favorite breweries?
Dogfish Head Brewery (DE), Allagash (ME) and Stone (CA) because they make some damn fine beers. Brooklyn, Goose Island, Unibroue and others also fit into the top 10 somewhere.
3. If you could work with or for any one brewery, which one would it be and why?
Dogfish Head, because Sam seems like a really laid-back guy to work for. Or Stone, so I could live in California and get to hang out at their awesome brewery there.
4. Are you a homebrewer? If yes, what is the most unique and interesting beer recipes you've brewed as a homebrewer?
I plan to be soon! Haven't gotten together the equipment (and it is insanely difficult to find homebrewing stuff near me.)
5. Do you have any beer certifications (BJCP, Cicerone, Siebel, American Brewers Guild)?? If so, what are they?
Nope.
6. What is your favorite beer and food pairing?
Redhook ESB and flan. Just try it – its awesome.
The Personal Side
1. What is your current day job?
I work for the University of Maine doing teacher professional development, educational research and social networking. We run workshops that pair scientists and educators helping the scientists to communicate their research more effectively, and helping educators to bring more current scientific research into their classrooms.
2. If you could change your career at this very moment, without any restrictions on what you could do, what would you want to do and why?
I think I would stay doing this, honestly. Its really my passion.
3. Are you married? Children?
Neither. I'm happy, though, and that's what matters.
4. Outside of beer and writing, what are some of your other hobbies?
I've already mentioned archery, but I also love photography, collecting antique science books, listening to and collecting vinyl records (though I'm hating that now because I have to move about 20 boxes of them up four flights of stairs… not fun.). I also do freelance graphic design (mostly for non-profits) and have in past positions helped design exhibits for museums. I also recently learned to ski, and I also enjoy recreational target shooting with a 22 rifle, and I know how to do a lot of common car repairs. So I'm a bit of a tomboy for a babe, but hey, its fun.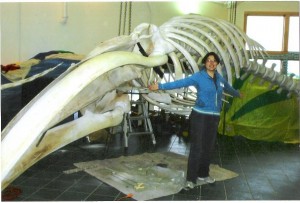 Off The Beaten Path
1. You were caught smuggling beer illegally, which has now been made punishable by death. Right before you are sent to the executioner, you are offered one last beer. What beer would you chose and why?
I'm temped to say "La Fin Du Monde" here but that's a little cheesy. If they could get me any beer at all I'd probably ask for Kate the Great (Russian Imperial Stout) or Dogfish Head 120 minute IPA.
2. If I contracted you to brew a beer (or design a beer recipe) called "The Beer Wench" — what style would you chose and what, if any, extra ingredients would you add?
Since I don't know much about brewing, I can only guess here, but I think that because the "wench" implies a pirate-like nature I'd probably brew a spicy IPA. Or I could just bring you a bottle of Middle Ages Brewing – Wailing Wench for you to drink.
3. If you could be a superhero, what would you want your superpowers to be?
I would really like the ability to pause time. So I could get tons of things done but not spend any time actually doing them.
4. What is one of the craziest things you have ever done and lived to tell the story?
I took a class in graduate school called "Alpine Flora" which is essentially studying the teeny weeny flowers that grow on top of mountains. For the class, we had to climb Mount Adams (5774 ft) and Jefferson (5712 ft) and spend a few days in the mountains. It was probably the most physically challenging thing I've ever done – we had 60lb packs, steep trails and hot weather, and I was out of shape.
It was gorgeous, but I was unprepared since I'm not usually a mountain-hiker. My shoes were cheap and apparently not ready for the strenuous nature of the hikes either because after the third day of walking pointy rocks, completely split in two. Both of them. Which meant that the only footwear that I had to descend the steep, slippery trails was a borrowed pair of sandals and some wool socks.
I carefully made my way down the mountain, and managed not to tumble completely down the side or break an ankle. I was wicked lucky.(for pictures and a more detailed story, check out
5. What are your thoughts on bacon?
I want to learn to cure it, because at a DrinkCraftBeer beer dinner, they supposedly had HOP CURED BACON that I must – at some point in my life – try.
SPECIAL THANKS TO CARLA FOR BEING AN INSPIRATIONAL FEMALE BEER BLOGGER!
CHEERS!