DRINK WITH THE WENCH PRESENTS:
The Beer Blogger Interview Series
Curious what goes on in the minds of your favorite beer bloggers? Well, The Beer Wench is and she has embarked upon a mission to interview as many beer bloggers that she can — from all over the world. Are you a beer blogger? Do you want to share your story? Send me an email!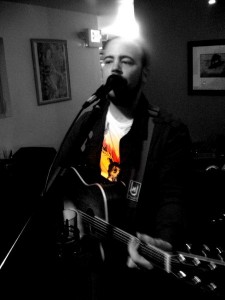 INTRODUCING: JUSTIN BOSWELL
AUTHOR OF: THE BREW DUDE
Beer Blogger Interview
Full name: Justin Boswell
Twitter handle: TheBrewDude
Name of blog: The Brew Dude
Current location: Seattle, WA
Background "Snapshot"
1. Where did you grow up?
I grew up in Southern Louisiana, the land of boiled crawfish and home made pecan pie.
2. What sports if any did you play growing up, through college and beyond?
Believe it or not I playing hockey for a while. It started as roller hockey and then transitioned into ice hockey. We actually had great rinks in Louisiana. Other than that I did not really do sports, I'm more of a music guy. I started playing the piano around 5 or 6 then other instruments like the violin, bass, guitar, and the 'ol vocal chords just followed.
3. How old were you when you had your first beer?
Probably about 13 years old. My brother was a freshman in college at LSU when I was starting high school so you know, the usual.
4. If you can recall, what is the story of your first beer? Where did you have it? What style and brand was it?
I honestly can't remember the first although I'm sure it was a Rolling Rock or a Natty Ice.
5. Where, if applicable, did you go to college? What did you study? What additional activities, organizations, sports did you partake in during college?
My "college career" is an interesting one. I really spent those college years roaming the USA. I did not really go to one college per say. I started out leaving home at 17 and going into a private seminary program in TX. (To anyone who knows me currently you can insert your laughter here) I was kicked out due to the fact that I kissed a girl about ½ way through my time there and this was absolutely not allowed….shame on me. I technically completed the course through "distance learning".
After that I moved to North Dakota to work for a guy I met while living in TX, he owned a snowboard shop up there. While I was there I studied business administration & I did not finish my degree but I learned a lot. After being there a while playing music and working multiple jobs I decided to bail. I threw my stuff on the lawn and had a garage sale and a week later headed to Seattle.
When I got here I enrolled at the Art Institute and began classes in audio production and engineering graduating in 2004. This is also where I met my wife and decided Washington State was for me. (on a side note during college I can count the beers I had on one hand)  Other than going to classes I played music. While at the Art Institute I also really embraced the guitar and songwriting, so I started a small band.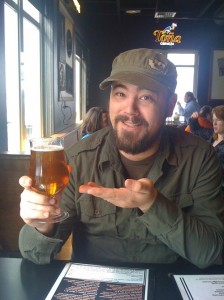 Craft Beer Epiphany
Every craft beer enthusiast has at least one pinnacle craft beer experience that completely changes ones perspective on beer. I refer to this mind-blowing moment as a "craft beer epiphany."
1. What was your first craft beer epiphany? Recall as many details about it as you can:
Well this was probably around 2004 or so, before then I did not drink any alcohol. (reason being I did not like the taste, especially of beer). I did not start drinking till I met my mother in law…… LOL, and by that I mean she is the person who turned me on to craft beer. One time that she and my father in law came to visit she brought a six-pack of an English stout called McKesson that she picked up at Trader Joe's. I just remember thinking to myself…how in the hell can beer of all things have this much depth?…how can it be so rich and flavorful and have so much chocolate flavor and roasted coffee hints?…how can it be so thick and amazing?…the answer, I had never had anything other than offerings from the big 3.
2. Have you have additional craft beer epiphanies since the first? Detail as many of them as you wish:
I live in Wa State so it's pretty regular for me to have a righteous beer epiphany. My first from memory was not actually a WA beer but did take place at a "The Mother of all Father's day events" (beer fest). I was checking out this really cool sounding apricot beer you may have heard of called Dogfish Head Aprihop. The beer itself did not give me any ray of light or anything but the Randall they were using did! It was a first for me. At that point I was primarily in to malty ales and not hops but that Randallized Aprihop helped start transforming me into the hop-head I am today.
Another one I distinctly recall was at this year's Seattle Winterfest, I had a beer by Black Raven Brewing Co. called La Petite Mort (the little death). This beer was so amazingly balanced and simple but with this huge depth from barrel aging. It was like drinking a wort but with alcohol in it.
Other than that I have to say that my biggest epiphanies have not necessarily come from just the beer themselves but the community as I am beginning to become a part of it. This grand craft beer community that sometimes seems so massive and wide ends up coming together like a family in the most dire of times and also the times where a little good ol fashion fun is needed. Seeing this at all the events I go to and in the breweries and brew pubs here in the Seattle area  and realizing that I am a part of something so small but so real and in some ways very large as well just by choosing to drink a great REAL American craft beer.
Beer Blog Background
1. How long have you been writing your beer blog?
I started writing in Oct. 2009. I am still pretty new at this & I write a few blogs, 2 of which mirror one another. I started writing as Seattle Homebrew Examiner in Oct. of 2009 and as of this mid-Feb I am now the Seattle Craft Beer Examiner. Due to the slightly restrictive nature on examiner when it comes to sharing your opinions I started TheBrewDude in Nov of 2009. These two bl
ogs are very similar in content. The other blog is a cross country collaboration experiment called xBrew, inspired by Peter's (@Simplybeer) brew-off that I started in Dec. 2009.
2. What inspired you to start writing your blog?
This was mainly the community I have started to interact with via Twitter and other beer pod-casts. I was soaking up so much information already I figured if I put myself into the mix I could probably learn more. As a homebrewing fanatic and someone who hopes to open my brewpub in the next few years information is the biggest thing I crave right now.
3. Why did you chose the name of your blog?
It seemed easy to remember and plus I always try to abide.
4. What are you personal goals for your blog? What do you hope to achieve with it?
With The Brew Dude & Examiner I did not originally have any other than getting the none-se
nse beer ideas floating around in my brain out. That has changed for sure. I would like to work with a few breweries/taphouses in the area to set up some not for profit events for organizations such as Pints 4 Prostates. As far as xBrew goes, I would like to eventually get a homebrewer from all 50 states to have participated.
5. What is one of the coolest things that happened to you as a result of being a beer blogger?
Honestly not a whole lot. The thing I consider the coolest is all the great ideas that people give everyday. The networking and information, it's why I got into it. Although I have been sent a few beers to review and I certainly will not complain about that. My plans for this year are to do more WA brewery profiles and interviews because I think that WA beer gets overlooked a lot of times and has amazing things to offer. I think that would be pretty cool.
6. What are you top 3 favorite beer blogs/beer websites?
Geez I have been reading so many lately.
Beer Talk
1. What are your top 3 favorite beer styles?
Imperial IPA
Barrel Aged Stout
American Pale Ale
2. What are your top 3 favorite breweries?
I know it's three but I gotta pimp WA and can't leave out Dogfish Head
Black Raven Brewing Co.
Diamond Knot Brewing Co.
Naked City Taphouse & Brewery –They make a huge White Russian Imperial Stout (The Big Labrewski)
3. If you could work with or for any one brewery, which one would it be and why?
I would have to say Black Raven Brewing. They are only about a year old and are doing amazing things. They are in my opinion the best and most innovative new brewery in WA State.
4. Are you a homebrewer? If yes, what is the most unique and interesting beer recipes you've brewed as a homebrewer?
I am. My buddy Ryan (@ferment_nation) & I brew a Pineapple Pale Ale, Habenero Scotch Ale & a Pecan Pie Porter just to name a few.
5. Do you have any beer certifications (BJCP, Cicerone, Siebel, American Brewers Guild)?? If so, what are they?
Not yet although I am taking Siebel's online classes starting in May and going to be trying the BJCP test in the fall.
6. What is your favorite beer and food pairing?
I would say my family's Gumbo or Crawfish Etoufee recipe with an IPA or DIPA like Pike Brewing's Double IPA. Something that has been dry hopped.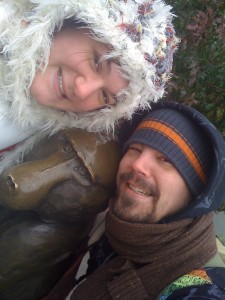 The Personal Side
1. What is your current day job?
I do Tech Support for a company that makes sound equipment.
2. If you could change your career at this very moment, without any restrictions on what you could do, what would you want to do and why?
I would open our taphouse with a small 1 barrel system in it so that we could serve small amounts if our own house brews. Perhaps we would serve traditional style po-boys with our own twists. This is what I am trying to get on paper now and I cannot wait. I want to be able to interact one on one with people and introduce them to craft beer in a way they never imagined possible. Education is the key. Plus I love great food and great beer.
3. Are you married? Children?
Yes I am married to a wonderful woman who puts up with my hoppy obsessions. As for kids no thank you, my dog Floyd and our two cats are enough.
4. Outside of beer and writing, what are some of your other hobbies?
I play rhythm guitar and sing lead in a band called Every Single Day. We have a beach folk meets southern blues and rock thing going on. Most of the tunes are original and all of the fun is as well.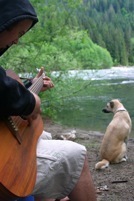 Off The Beaten Path
1. If you were a style of beer, what style would be an why?
I would probably be a high IBU Barrel aged NW barleywine. I have been told sometimes that when people meet me at first that I can look a little un- approachable and bitter. To this I say: that's just my face man, it's how I look. As you get to know me I think most people realize that I am not all that rough around the edges and can have a bold but smooth and easy to get along with personality.
2. You were caught smuggling beer illegally, which has now been made punishable by death. Right before you are sent to the executioner, you are offered one last beer. What beer would you chose and why?
This would be a blend of sorts. I would have a Heaven and Hell which I think is appropriate because of the name itself. It's a black and tan made with Dogfish Head's World Wide Stout and 120 Minute IPA. I would ask that the bottles be at least 5 years old. At least then it would stay my execution for a while while I drank it and I probably would not feel a ting.
3. If I contracted you to brew a beer (or design a beer recipe) called "The Beer Wench" — what style would you chose and what, if any, extra ingredients would you add?
Well this would have to big, bold, bright and announce itself to you loudly. I am thinking a huge West coast Imperial Stout with a fair IBU and some interesting spices. Most recently I did a Mole Porter so maybe that route. After the beer was completed I would age it in an oak barrel that has been "seasoned" with chipotle somehow. After putting it into the barrel I would allow it to condition for another year or so (maybe bury the sealed barrel). I would serve 2 versions, one untouched after the process and one with a Randall filled with Willamette and maybe coffee beans. Crazy perhaps but that is how I rock….and roll.
4. If you could be a superhero, what would you want your superpowers to be?
I would be the X-Man Colossus. I would be super strong so I could lift even a full keg easily and could activate my metal skin to avoid burns from heat caustic chemicals.
5. What is one of the craziest things you have ever done and lived to tell the story?
In 2000 I went to Peru and almost got caught up in a street riot. There was unrest in the country at that time over a presidential election. We were walking back to our hotel while I was talking with our guide and one of the girls with us was like "look a parade". It was not a parade. I looked up and saw a crowd of people heading toward us waving flags then watched as a couple guys started throwing down in the streets. After that a lot of other people started fighting too. Our guide grabbed us and ducked us into a side street. We got back to our hotel safely and avoided trouble the rest of the trip.
6. What are your thoughts on bacon?
Although it is a shame that the holiest of porks as become so trendy like say curling I will still down some bacon wrapped bacon with bacon filling.
SPECIAL THANKS TO JUSTIN FOR AN AWESOME INTERVIEW!
CHEERS!