DRINK WITH THE WENCH PRESENTS:
The Beer Blogger Interview Series
Curious what goes on in the minds of your favorite beer bloggers? Well, The Beer Wench is and she has embarked upon a mission to interview as many beer bloggers that she can — from all over the world. Are you a beer blogger? Do you want to share your story? Send me an email!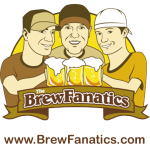 INTRODUCING: THE BREWFANANTICS MINI INTERVIEW SERIES!
The Brewfantatics are a group of 3 talented homebrewers on a mission to create 100 new home brewers by the end of 2010! They want to spread the word and educate people about the fun, exciting hobby of brewing beer while they pursue their own dream of opening a brewery.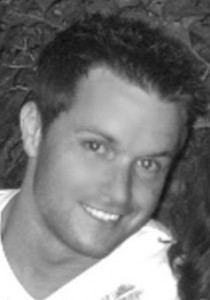 INTRODUCING: TOMMY DAVIS
Beer Blogger Interview
Full name: Tommy Davis
Internet nickname: Tommy D
Twitter handle:  @theBrewFanatics
Name of blog: BrewFanatics.com
Current location: Chicago, IL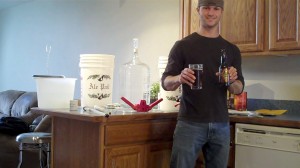 Background "Snapshot"
1. Where did you grow up?
Antioch, IL
2. What sports if any did you play growing up, through college and beyond?
Golf, Tennis, Fishing
3. How old were you when you had your first beer?
14
4. If you can recall, what is the story of your first beer? Where did you have it? What style and brand was it?
Does Hooch count?  The first time I got drunk was off of Hooch as a freshman in high school (age 14) when I visited my cousin at her college.  I definitely drank a couple Natty Lights (typical college dorm beer) that night, too.  Haha.
5. Where, if applicable, did you go to college? What did you study? What additional activities, organizations, sports did you partake in during college?
I graduated from the University of Iowa. Hawkeyes baby!  Studied Marketing, Entrepreneurship, and Beer Drinking, of course.  I was a member of the Hawkeye Football tail
gating club.  "Win or lose, we booze!" Some other clubs that I belonged to were the Sports
Column, College Street Billiards, Vitos, The Field House / Third Base, The Airliner, and Etc  J
Craft Beer Epiphany
Every craft beer enthusiast has at least one pinnacle craft beer experience that completely changes ones perspective on beer. I refer to this mind-blowing mom
ent as a "craft beer epiphany."
1. What was your first craft beer epiphany? Recall as many details about it as you can:
I honestly can't remember my exact epiphany moment, but I do remember a moment that was just the opposite.  During my early college years (when I was still naïve and arguing that Miller Lite was better than Bud Light), one of my bartender friends offered me a sample of a new beer they had on tap.  It was called Dogfish Head.  At the time, I thought it was the most disgusting thing I had ever tasted and kindly asked for a Miller Lite instead.  Well, times have changed a little since then and now Dogfish Head is one of my favorite craft brewing companies and I have taken an oath not to drink beer by Bud, Miller, or Coors.  We actually have a BrewFanatics Oath.  Haha.
2. Have you have additional craft beer epiphanies since the first? Detail as many of them as you wish:
I definitely continue to have craft beer epiphanies to this day.  I'm always discovering new beers that I like better than the one before it.  I'm also noticing that my pallet is developing further as I try more and more brands and flavors.  It takes a lot of dedication and hard work, but I'm willing to put in the time.  Practice makes perfect, right?  J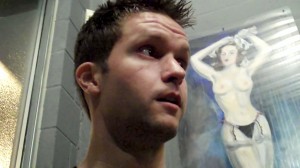 Beer Blog Background
1. How long have you been writing your beer blog?
No too long.  Only started this year, although we have been talking about doing it for a long time.
2. What inspired you to start writing your blog?
Our love for good beer and Gary V's book "Crush It!"  We want to spread the word about home brewing and how fun, easy, and inexpensive it is.
3. Why did you choose the name of your blog?
I had no say in the matter.  One day I got a text from Dave saying he just bought our domain name.  I loved the name and the rest is history.  It really is the perfect name for us.  Our name and our logo together, tell people that we are fun guys that are crazy about brewing beer.  I just went with it.
4. What are you personal goals for your blog? What do you hope to achieve with it?
We actually have quite a few goals.  One of our main goals is to create 100 new home brewers by the end of the year.  Making your own beer is such a fun, easy, and cool hobby.  Not enough people know that.  We sell everything you need to get started on our site.  We've made it really easy for you to get started.  Actually Wenchie, we were thinking that you would be the perfect candidate for this.  What do you think?   I think your fans would love to hear about your home brew adventures  J
Another goal of ours is to make our site as fun and educational as possible for home brewers of all experience levels.  We want to create a HUGE, fun online community of home brewers.  How cool would it be to have a home brewer from Alaska exchange ideas with another home brewer from Australia, or Canada, or anywhere else in the world?  That's why we created "The MASH," our forum where home brewers of all experience levels can share their own brew stories, help other home brewers, and chat about anything else beer related.  "The MASH" really belongs to our members.  We want them to have fun with it!
YOU CAN JOIN "THE MASH" FOR FREE AT:  www.BrewFanatics.com/forum
Lastly, we want to start our own brewery / pub and be able to "Cheers with our own beers!" That would be super cool!
5. What is one of the coolest things that happened to you as a result of being a beer blogger?
By far, the coolest thing that has happened to me was after I interview Greg Koch from Stone Brewing Company (Awesome video.  Check it out on our site).   I went up to the bar to order some Arrogant Bastard and I actually met a few people who knew who I was and were huge fans of the BrewFanatics!  I felt like a celebrity for a few minutes.  I thought that was pretty crazy.
6. What are you top 3 favorite beer blogs/beer websites?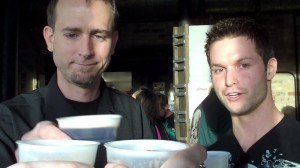 Beer Talk
1. What are your top 3 favorite beer styles?
Brown Ale, Stout, IPA
2. What are your top 3 favorite breweries?
Right now my top 3 brewers are probably Bell's, Goose Island, and Dogfish Head.  This list is subject to change without notice.
3. If you could work with or for any one brewery, which one would it be and why?
Either Dogfish Head or Stone Brewing.  They both were started by cool dudes and seem to have great work environments.
4. Are you a homebrewer? If yes, what is the most unique and interesting beer recipes you've brewed as a homebrewer?
Yes, but I am definitely the most novice of the three BrewFanatics.  I haven't brewed anything crazy yet.  So far, I've only brewed using malt extract ingredient kits.  I plan on "All-grain" brewing pretty soon.  Then I will be able to try some cool stuff.
5. Do you have any beer certifications (BJCP, Cicerone, Siebel, American Brewers Guild)?? If so, what are they?
Nope.
6. What is your favorite beer and food pairing?
I like any kind of beer with any kind of food.  Definitely not picky.  Much rather have a beer with my food than water or soda.  Actually, my favorite thing is having a good brown ale or stout after dinner.  It's like dessert for me  J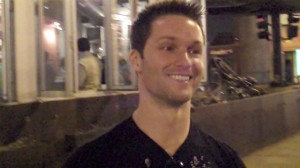 The Personal Side
1. What is your current day job?
I day trade futures and stocks from home and work on BrewFanatics.com.
2. If you could change your career at this very moment, without any restrictions on what you could do, what would you want to do and why?
I think we are about to get there.  I can't tell you now, but I think we're almost there.
3. Are you married? Children?
No way Jose! (yeah, you say this now … till Wenchie gets her hands on you, wait … who said that.)
4. Outside of beer and writing, what are some of your other hobbies?
I'm very into my health and fitness.  You'll find my in the gym 4-5 days a week.  Kind of funny for someone who drinks so much beer, huh?  Actually, did you know that beer has more health benefits than red wine?  Check it out.  www.brewfanatics.com/heart-disease/
I love learning about new stuff whether it's related to beer, investing, technology, or anything else I find interesting.
I also love golfing, fishing, boating, traveling to sunny places, fantasy football, and playing tennis with my dad.  He's pretty good for a geezer.
Off The Beaten Path
1. If you were a style of beer, what style would be an why?
I would definitely be a Brown Ale, because I'm smooth and have a good body.   Ahahahahaha!  That's funny right there!
2. You were caught smuggling beer illegally, which has now been made punishable by death. Right before you are sent to the executioner, you are offered one last beer. What beer would you chose and why?
Easy choice!  Brewdog's Sink the Bismarck.  At 41% alcohol it is the world's strongest beer. I definitely won't feel anything when execution time comes  J
3. If I contracted you to brew a beer (or design a beer recipe) called "The Beer Wench" — what style would you chose and what, if any, extra ingredients would you add?
It would be the strongest IPA ever!  Tons of hops!  It would have a super hoppy aroma that slaps you in the face then a super strong, bitter aftertaste that lingers in your throat, so you don't forget that you just messed with The Wench!
4. If you could be a superhero, what would you want your superpowers to be?
To create world peace with good beer.
5. What is one of the craziest things you have ever done and lived to tell the story?
Hung over the edge of the Stratosphere in Las Vegas on the "Insanity" ride.  This ride truly lives up to its name.  I felt like I was being thrown off of the Sears Tower.  Absolutely insane!  If you are ever there you must try this ride.   www.stratospherehotel.com/thrills/insanity_the_ride.cfm
6. What are your thoughts on bacon?
Love it!  Although, I tend to eat turkey bacon more.  It's the health nut in me.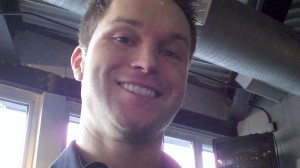 SPECIAL THANKS TO TOMMY AND THE ENTIRE BREW FANTACTICS CREW FOR AN AWESOME INTERVIEW SERIES!
CHEERS!