Is there (seriously, anything) anything on this planet better than bacon and beer? I didn't think so…..
I'm super stoked to announce that the 1st Annual Bacon & Beer Festival is coming to San Francisco this month. And I'm very proud to be one of its organizers, along with Eat Boston and Bison Organic Beer (my beloved employer).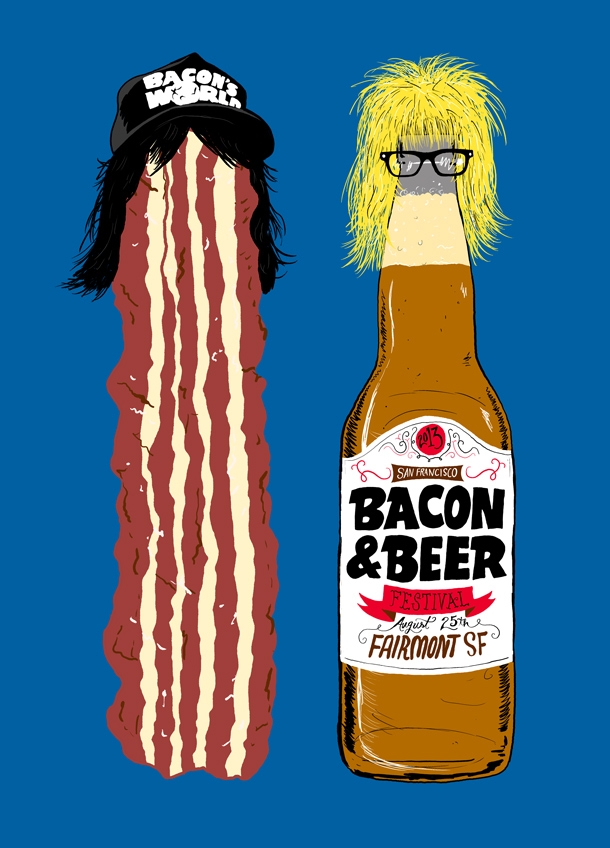 So what does a bacon and beer festival entail?
Over 25 Bay Area restaurants and food vendors will be offering bite-sized portions of fabulous bacon-based dishes while over 25 of the best craft breweries on the West Coast pour samples of amazing craft beers that pair perfectly with bacon. And if you need more of a reason to attend, proceeds from the 2013 San Francisco Bacon & Beer Festival will benefit Sprouts Cooking Club. Full Details:
SF Bacon & Beer Festival
Date: Sunday, August 25
Time: 2:30-5pm
Place: Fairmont Hotel
950 Mason St.
San Francisco, CA
Cost: $50 (buy them here)
The Bacon
21st Amendment Brewery, Ace Wasabi's Rock-N-Roll Sushi, American Eatery/Prather Ranch Meat Co, Avedano's, Bacon Bacon, Bluestem Brasserie, Brass Knuckle, Facebook, Farmer Brown, Fatted Calf, First Crush, Haven, Hopscotch, Kettle Potato Chips, KRAVE Jerky, Native Baking Company, Nojo, Oenotri, Sauce, T-REX BBQ Restaurant & Bar, Tacolicous, The Blue Plate, The Fairmont San Francisco, the girl & the fig, The Whole Beast, Thirsty Bear, Tina Tamale, Zoe's Meats
The Beer
101 North Brewing Company, 21st Amendment Brewery, Alaskan Brewing Co., Ale Industries, Almanac Beer Co., Anderson Valley Brewing Company, Black Diamond Brewing Company, Bison Organic Beer, Calicraft Brewing Company, Drake's Brewing, Green Flash Brewing Company, Highwater Brewing, Iron Springs Pub & Brewery, Lagunitas Brewing Company, Knee Deep Brewing, Pacific Brewing Laboratories, Peak Organic Beer, Pine Street Brewery, Rogue Ales, Sierra Nevada Brewing Company, Shmaltz Brewing Company, Speakeasy Ales and Lagers, Stone Brewing Co., ThirstyBear Brewing Co. Tioga Sequoia, Uncommon Brewers