DRINK WITH THE WENCH PRESENTS:
The Beer Blogger Interview Series
Curious what goes on in the minds of your favorite beer bloggers? Well, The Beer Wench is and she has embarked upon a mission to interview as many beer bloggers that she can — from all over the world. Are you a beer blogger? Do you want to share your story? Send me an email!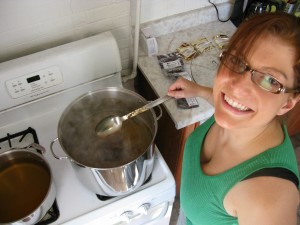 INTRODUCING: STEVIE CALDAROLA
AUTHOR OF: BASICALLY RED
FOUNDER OF: LADIES OF CRAFT BEER
Beer Blogger Interview
Full name: Stevie Caldarola
Twitter handle: @BasicallyRed & @LadiesOCB
Name of blog: Now that the Ladies of Craft Beer site is up, BasicallyRed: To Be Read, Basically, my old blog, will be folding into the BasicallyRed tab there as a "From the Editor" column of sorts.  I also write for Mutineer Magazine's blog.
Current location: New York, NY
Background "Snapshot"
Where did you grow up?
St. James, Long Island, NY
What sports if any did you play growing up, through college and beyond?
I've always been a pretty active girl- growing up I went to a dance school where I took tap, jazz, ballet, hip hop, lyrical, etc.  In middle school and high school I played volleyball.  At college, I became a member of the hip hop squad and the step team.  After college I went back to volleyball, playing on recreational indoor and outdoor leagues.  Recently, I have both played and refereed flag football for the New York City Social Sports, a great and fun organization where you play sports and then the teams go to the bar afterwards to socialize and meet each other.  NYCSSC just started volleyball as well so that could be trouble!
How old were you when you had your first beer?
That depends on what qualifies as my first "beer"… I had my first ever Budweiser at 20.  My first ever craft beer experience was at age 24.
If you can recall, what is the story of your first beer? Where did you have it? What style and brand was it?
I'll go with my first craft beer, since that's what I really remember.  The guy I was dating at the time brought me to his local bar and convinced me to give beer a second chance (I was refusing to drink beer at the time since I hated the "taste" of Budweiser and thought all beer tasted that way.)  He bought me a pint of Magic Hat Number 9.
Where, if applicable, did you go to college? What did you study? What additional activities, organizations, sports did you partake in during college?
My undergrad college was Adelphi University, where I received a BFA in Theater Design/ Technology with a focus in Lighting Design.  I also minored in Photography and was a part of the Honor's College.  While Theater and work took up most of my time, I was a part of the hip hop squad and step team.
Craft Beer Epiphany
Every craft beer enthusiast has at least one pinnacle craft beer experience that completely changes ones perspective on beer. I refer to this mind-blowing moment as a "craft beer epiphany."
What was your first craft beer epiphany? Recall as many details about it as you can:
My first real craft beer epiphany was at a beer tasting at a place in New York City called the Village Pourhouse.  The class was focused around Sierra Nevada Brewing Company and included a sampling of six brews by them.  The last brew that we tasted was the newly released Torpedo Extra IPA- I had never had such a hoppy beer before, and it was love at first sip.
I have had so many craft beer epiphanies in the past year that I would spend an entire year describing them all to you.  I almost feel that every time I take a sip of a new beer, I have an epiphany, whether good or bad, big or small.  That's what I love about craft beer- I'm always learning- always trying new things.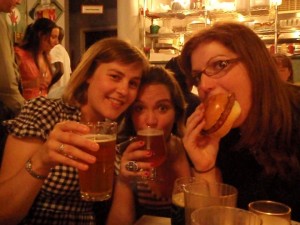 Beer Blog Background
How long have you been writing your beer blog?
Since late February of this year
What inspired you to start writing your blog?
I've had a blog for about a year now, but could never really figure out a niche that I was passionate about and could write about.  I tried many different topics but nothing seemed to fit right.  After my "craft beer epiphany" I started to chat about beer more on Twitter and somehow found this beer voice on there called "Hoptopia".  Upon asking Lee some questions and having random chats about beer, as well as checking out his site and some other beer blogs, I decided to give beer blogging a try.  The rest, as they say, is history…
Why did you chose the name of your blog?
It was actually a pre-existing name.  I used to say "basically" a lot and I have red hair.  My dad has always called me "Red".  It just seemed to fit and show my personality as well as be a cute little play on words.  People probably don't know this, but the by-line of my blog used to read, "I'm just a girl spouting my truths", but I changed it to the current line "I'm just a girl tapping my truths" to make it more beer appropriate- you be the judge!
What are you personal goals for your blog? What do you hope to achieve with it?
My personal goal for the blog is to write what I feel and love what I write. I want to be able to inspire people to talk about craft beer the way I was inspired. The point of what I am doing is to write about beer in a style that is easy for readers to understand and relate to- it is why I often compare beers to easily accessible and popular foods. One reader sees that 21st Amendment's Monk's Blood tastes like Black and White Cookies and absolutely has to try it, even though he has previously sworn off beer because he hates the way that fizzy, yellow beer tastes. Said reader tries the craft beer, loves it, and then moves on to another craft brew. He is hooked, and tells all of his friends. The result is spreading the word about this amazing and delicious liquid. I'm of the mindset that beer is a social advocate for us, seeing as how it is often a helpful medium for loosening up and enjoying social situations. Why shouldn't we be social advocates for it?The Ladies of Craft Beer site is another example of a forum to advocate craft beer. The site is dedicated to women teaching other women about the wonders of craft beer, however, men who support our cause are more than able to come along for the ride. The site is just about to launch with 11 contributors not including myself. These women are shining examples of craft beer advocates and stellar women in general. I cannot wait to see what we can achieve!
What is one of the coolest things that happened to you as a result of being a beer blogger?

Writing for Mutineer Magazine has been pretty rocking- it's a great group of people with a lot of really informative and interesting things to say.  I'm a fan of wine and coffee too, so I love to read all of the articles.  I feel like I'm becoming a wealth of knowledge on all things liquid!

The coolest thing that has happened to me as an offshoot of being a beer blogger was the opportunity for me to start a beer advocate group called the Ladies of Craft Beer, which is a national group of women who are dedicated to educating other women on the world of craft beer (and the group that inspired the above website I was speaking about). The really exciting thing about this group is the amount of support we have received- since April alone we have gathered about 1,425 followers on Twitter and 1,135 people have liked us on Facebook. Women are definitely under-represented in craft beer, mostly due to the misconceptions that are out there about beer. What women don't understand are the many various tastes and styles out there in craft beer land, and at least one is bound to fit your liking. On our sites, we encourage women to talk about beer and ask each other questions while also putting together beer meetups and events for tastings and social fun. It really is a great tool and I'm hoping it will expand even further with our new magazine-style website.

We also have set up our launch event during the Great American Beer Festival. It is called the Beer for Boobs Brunch and it will be held at the newly opened Freshcraft Restaurant and craft beer bar four blocks from the convention on Friday morning from 10:30 AM – 12:30 PM. Tickets are $20 (they include a full buffet style brunch) and half of the ticket price will go to breast cancer awareness. There will also be discounted pints (proceeds of which will go to breast cancer charities as well) and raffles for brewery swag. We're 82% sold currently and the group of attendees consists of many great faces in the craft beer industry- this mix and mingle event is not something to miss! It's so amazing to see how much the craft beer world is not only willing to, but WANTS to give back to the community and support causes. Beer people definitely are good people.

What are you top 3 favorite beer blogs/beer websites?
Beernews.org is a great resource for the newest craft beer happenings. Hoptopia.com started it all for me and is a growing quick reference review site that is user friendly and super informative (plus he's got great IPhone and Droid apps which are handy when you're trying to pick a brew at the bar!)  New Brew Thursday and HopCast's sites are tied for third- both of their webcasts are fun to watch and chock full of information.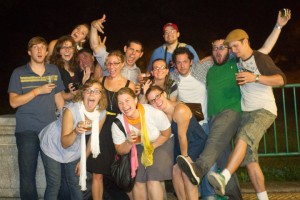 Beer Talk
What are your top 3 favorite beer styles?
Rauchbiers have recently become my number one- there's something about that super smoky, burnt flavor that I love.  Thick Russian Imperial Stouts are a close second, as I'm a huge fan of the sweeter, heavier beer.  The newly emerging American-style India Black Ales are also a favorite- I'm loving the mixture of extreme hops and darker malts.
What are your top 3 favorite breweries?
Dogfish Head for their flavor experimentation; Cigar City for their crazy cedar-aged series, which I have yet to try but think may be the coolest thing on the face of the planet (I love cigars, in case you couldn't tell); and BrewDog for their fun approach to beer and super silly beer videos (plus, James is wicked cute!).
If you could work with or for any one brewery, which one would it be and why?
This is a hard question because I think I'd work for and with ANY craft brewery if I had the chance (and someday I want to start my own!)  If I had to pick one, however, I'd say Dogfish Head, because I'd love to pick Sam Calagione's brain.
Are you a homebrewer? If yes, what is the most unique and interesting beer recipes you've brewed as a homebrewer?
I am now a homebrewer as of two weekends ago!  It was such an exciting and frustrating day, my first brew day, where I brewed a Belgian-style Black IPA.  ("Why not?" I said.  "Go big or go home".)  I'm calling it "Pain in the BIPA" and so far, it smells delicious.  How it tastes, on the other hand, is yet to be determined…
Do you have any beer certifications (BJCP, Cicerone, Siebel, American Brewers Guild)?? If so, what are they?
I do not have any certifications yet, but have been slowly learning about BJCP and Cicerone.  I have a feeling that those certifications may be sought after in my very near future.
What is your favorite beer and food pairing?
I'm not stellar at pairing food and beer, but I'd probably say that my favorite so far is a really good homemade veggie burger (usually spicy and peppery) with an IPA with a little bit of malty sweetness, such as Union Jack by Firestone Walker.  I'm getting more into cheese lately, though, and nothing beats a good crystallized cheese (i.e. aged Parmesean) with a robust rauchbier or imperial stout.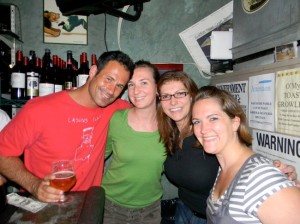 The Personal Side
What is your current day job?
Sales
If you could change your career at this very moment, without any restrictions on what you could do, what would you want to do and why?
I want to work for a brewery and learn to brew on a commercial scale so that I could eventually open my own brewery/brewpub.
Are you married? Children?
Not yet, but I am a very lucky lady with a great man in my life.
Outside of beer and writing, what are some of your other hobbies?
Craft beer has, luckily, taken over all of my spare time.  I wouldn't have it any other way.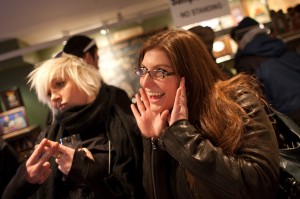 Off The Beaten Path
If you were a style of beer, what style would be an why?
I would be a Black IPA (sorry, American-style India Black Ale), because I like to incorporate a little bit of everything but still have my own flavor and style.
You were caught smuggling beer illegally, which has now been made punishable by death. Right before you are sent to the executioner, you are offered one last beer. What beer would you chose and why?
Oh man- that's a toughy.  Probably Goose Island's Bourbon County Coffee Stout because it is decadent and delicious and at 13% ABV, one 22oz bottle makes you feel better, no matter what…
If I contracted you to brew a beer (or design a beer recipe) called "The Beer Wench" — what style would you chose and what, if any, extra ingredients would you add?
Bacon, bacon and bacon!  You and I are bacon-loving sisters, and I love that, so I would pay tribute to you with a bacon beer- I wonder how bacon would go with hops…
If you could be a superhero, what would you want your superpowers to be?
I would want to be a comic book character like Scott Pilgrim.  If you haven't seen that movie yet- go see it now.  However, I'm pretty happy with how my life is right now without super powers, but there certainly are some days where I wish I was a comic book character who could just punch someone out and have one of those fun looking sound word bubbles come out… "BAM!"  "BIFF!"  That would make me feel better two-fold!
What is one of the craziest things you have ever done and lived to tell the story?
If I told you, then I'd have to kill you…
What are your thoughts on bacon?
Yes, please!
SPECIAL THANKS TO STEVIE FOR AN AWESOME INTERVIEW!
CHEERS!