INTRODUCING BEER TWEETER: J.T. SMITH
Twitter handle: @FlyingDogJT
Current location: Somewhere between Frederick, MD, Washington, DC and Richmond, VA
Background "Snapshot"
1. Where did you grow up?
Frederick County, MD
2. What sports if any did you play growing up, through college and beyond?
As a kid, baseball, soccer and basketball. Still through today I play the beautiful game when I have the opportunity.
3. How old were you when you had your first beer?
10ish
4. If you can recall, what is the story of your first beer? Where did you have it? What style and brand was it?
I was with my parents at my neighbor's house, I drank the 2nd half of a Killian's Red, and enjoyed it more on a "cool" level than a taste level, certainly.
5. Where, if applicable, did you go to college? What did you study? What additional activities, organizations, sports did you partake in during college?
The University of Texas @ Austin. Filmmaking to start, Government and History to finish.
Activities: the usual political stuff… ya know trying to spread the consciousness and power of a quality, grassroots paradigm-shift and whatnot while also planting myself within the system to achieve such means. I also played and watched A LOT of soccer.
Craft Beer Epiphany
Every craft beer enthusiast has at least one pinnacle craft beer experience that completely changes ones perspective on beer. I refer to this mind-blowing moment as a "craft beer epiphany."
1. What was your first craft beer epiphany? Recall as many details about it as you can:
2 separate early periods of progression toward the craft/artisanal segment. First- high school- basically I wanted to find and taste beers that I had never seen before. It was the mid-90's, so this was limited in mid-Atlantic regionals, the occasional old world import and more regularly that lager from Jamaica, Red Stripe was an early favorite, although I rarely drink it these days.
Second- Univ of Texas- my housemates and I were either working or hanging out at Juniors Beer (www.juniorsbeer.com), the craft spot just off of campus. Because of creative book-keeping that was being practiced we received supplemental compensation through craft and artisanal beer at Major Domestic pricing. Those were great days.
Our house boasted 1 incredible bottle collection and a six-pack wallpapered 35' hallway that became known for hosting parties with kegs of Anchor Steam, Lagunitas Hairy Eyeball, North Coast Scrimshaw, Real Ale Fireman's #4… we had the palette covered. Nothing like having the keys to a keg cooler 2 blocks from your house filled with super low-priced kegs of great beer @ 3AM when all the other kegs had floated.
We became professionals at pulling kegs under the nose of the omnipresent TABC agents well after closing time, which normally included a manual transmission Bronco II rolling in neutral, lights off down the alleyway up to the cooler with just the right momentum to not need the brake lights AND probably all too often broke out barley wines, frisbees and bongs to enjoy our informal education in the world of beer. While we received a world-class formal education @ UT, we drank great beer and learned life's lessons in the informal classroom of 406 W 30th St. Here's video from a memorable night at 406 with Saul Williams reciting in our backyard back in 2003 to a seated and excited audience —
2. Have you had additional craft beer epiphanies since the first? Detail as many of them as you wish:
During my years in Austin I learned the power of supporting your local and independently-owned economy to preserve identities and empower communities in the face of homogenized, "anywhere-USA" growth and cultural consolidation or simply through the power achieved to "Keep Austin Weird," I developed the desire to raise that same awareness in my hometown.
My entire life Frederick has been increasingly encroached upon by the suburban sprawl of metropolitan Washington, DC. The need for raising the local/independent awareness to support your local economy while embracing smart-growth was desperately needed so that Frederick would not turn into just another strip-mall.
Fast forward a little, I'm backpacking through the mainland of Mexico figuring out what the hell I want to do in this life and a world-class, independently-owned craft brewery moves operations to my hometown and begins to brew 100% of its beer there. Quickly the coupling of my interest and passion for craft beer and the desire to empower the hometown was right in front of me, found in a reflection of the paintings that Orozco, Rivera, and Siqueiros created in rejecting the old world order and lending imagery and therefore voice to their newly independent nation, Mexico. I flew directly home, joined up with Flying Dog and drove my belongings back from Austin to Frederick to start this new chapter.
We've seen tremendous growth and brand awareness in the Mid-Atlantic as we plant the People's Republic of Flying Dog flag in Frederick, MD; where we launch beer to 48 states, DC and 34 countries of the world, all the while remaining independently owned. Frederick is home to the reigning Great American Beer Festival's Mid-Size Brewing Company of the Year, Flying Dog. Where we work to maintain a high level of community support and visibility to help Frederick and its continued growth into a city where identity is defined through the active choice of the local townspeople.
My craft beer epiphany is at an all-time high for those reasons and as well the continuation of a progressively, vibrant culture of brewing beer, here in the United States and around the world.
Beer Talk
1. What are your top 3 favorite beer styles?
Funky Farmhouses, WeizenBocks, and the newly found Belgian-Style American IPAs
2. What are your top 3 favorite breweries?
(Due to my interest, I'll abstain from voting FD, even though it is 1 of my favorites) Unibroue, Mikkeller, and Devil's Backbone (VA) are tearing it up.
3. If you could work with or for any one brewery, which one would it be and why?
I already am working for that brewery. Altho, Brew Dog looks like they're having fun and brewing some great beer these days.
4. Are you a homebrewer? If yes, what is the most unique and interesting beer recipes you've brewed as a homebrewer?
Sadly, I do not have the time anymore to enjoy brewing at home. Altho, on the plus side… on the occasional (especially these days) day-off I can go in, strap on some steel-toes and help brew the next batch @ the Flying Dog brewery, which makes very happy and presents a great classroom to learn more and more.
5. Do you have any beer certifications (BJCP, Cicerone, Siebel, American Brewers Guild)?? If so, what are they?
Nope. Supposed to take the Cicerone test sometime soon though.
6. What is your favorite beer and food pairing?
Sea Scallops w/a spicy rojo sauce paired with Flying Dog's Kerberos Tripel yielded notes that I have never forgotten, and now will always enjoy Kerberos to fuller-depths thanks to a beer dinner at Can-Can Brasserie in Richmond, VA back in May 2009.
7. What are you top 3 favorite beer blogs/beer websites?
Actually, I don't really read much on particular sites. I keep an eye on my local bloggers to see what they're talking about (DCBeer, Lagerheads, YoursForGoodFermentables, BeerSpotter, Beer Activist, Musings Over a Pint, Kasper on Tap, Beer In Baltimore) but I prefer to taste and talk in person, rather than the 'net more often than not. That said there are so many great resources out there, both on the 'net and in print. I keep a finger on the pulse through a variety of means, I guess.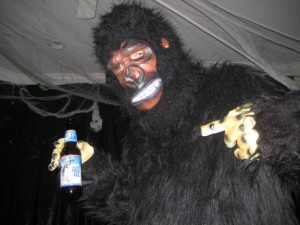 The Personal Side

1. What is your current day job?
Local Beer Guy, Flying Dog Brewery (Sales/Mkting)
2. If you could change your career at this very moment, without any restrictions on what you could do, what would you want to do and why?
I wouldn't. But, if pressed to change… International Trade Law representation for the voiceless in this Global Economy of ours.
3. Are you married? Children?
Nope. Nope. Not opposed, just nope for now.
4. Outside of beer and Twitter, what are some of your other hobbies?
Outside of beer-life has been put on hold, when I had the time: playing/watching soccer, fly-fishing, snowboarding, keeping up on International politics, reading. Actually having the time to take advantage of my Economist subscription.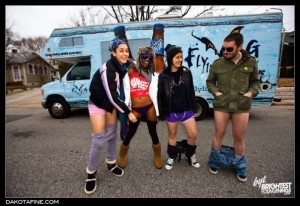 Off The Beaten Path

1. If you were a style of beer, what style would be and why?
The next great combination of borrowing from old world ingredients and techniques and melding exactly those with this wonderful new world of brewing culture we currently find ourselves in.
2. You were caught smuggling beer illegally, which has now been made punishable by death. Right before you are sent to the executioner, you are offered one last beer. What beer would you chose and why?
Obviously, the one I got caught smuggling, for 2 reasons: 1- to taste and make sure it was worth it 2- it would be apropos to take my final tasting notes on the beer that had me killed.
3. If I contracted you to brew a beer (or design a beer recipe) called "The Beer Wench" — what style would you chose and what, if any, extra ingredients would you add?
DoppleWeizenBock with an American hop kick at the end. It has to be BIG with the name Wench in there, Dopple. The WeizenBock to give the wonderful aromatics that a lady deserves and to render the palatable sweetness which both intrigues the taster to come back for more and will also be their ruin if ingested to0 excess, much like a Beer Wench. An hop kick on the backside to express your American rock and roll ethos.
4. If you could be a superhero, what would you want your superpowers to be?
To continually speak in a rhyming soothsayer progression.
5. What is one of the craziest things you have ever done and lived to tell the story?
Plead the 5th.
6. What are your thoughts on bacon?
A thick and fresh-cut, preferably country butchered with a small fruit-wood smoke on the curing and you've got my attention and vote. In desserts and life, I fear bacon may be becoming trite, however. But I'll always love you, bacon.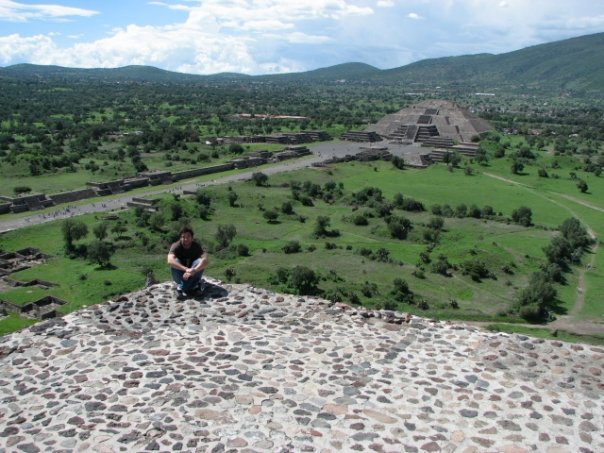 SPECIAL THANKS TO JT FOR HIS ENTERTAINING BEER TWEETS AND GREAT INTERVIEW!
CHEERS!