DRINK WITH THE WENCH PRESENTS:
The Beer Blogger Interview Series
Curious what goes on in the minds of your favorite beer bloggers? Well, The Beer Wench is and she has embarked upon a mission to interview as many beer bloggers that she can — from all over the world. Are you a beer blogger? Do you want to share your story? Send me an email!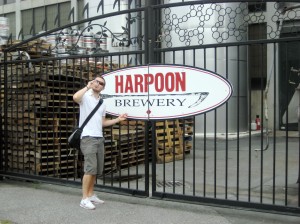 INTROUDCING: JAMES MARKS
AUTHOR OF: COLUMBUS BEER GUYS
Beer Blogger Interview
Full name: James Marks
Twitter handle: @cbusbeerguys
Name of blog: Columbus Beer Guys
Current location: Columbus, Ohio
Background "Snapshot"
1. Where did you grow up?
I grew up in Guelph, Ontario, Canada and Wexford, Pennsylvania (a suburb of Pittsburgh).
2. What sports if any did you play growing up, through college and beyond?
I was a pretty active kid. I played soccer growing up and then fell in love with running. However, its kind of a love-hate relationship these days. I ran both cross country and track in high school and inter-collegiately at Denison University.
3. How old were you when you had your first beer? If you can recall, what is the story of your first beer? Where did you have it? What style and brand was it?
I was 15 years old in Puerto Rico on Spring break with my family. It was a Heineken (I know I had to start somewhere; at the time I thought I was drinking an imported treasure) and I drank it at nightfall on the beach.
4. Where, if applicable, did you go to college? What did you study? What additional activities, organizations, sports did you partake in during college?
I went to Denison University in Granville, Ohio where I studied Political Science and Environmental Studies. I ran cross country and track at Denison (Go Big Red!); and beat the other Columbus Beer Guy, P.J. a couple of times! I know I'm going to owe him a beer for that comment.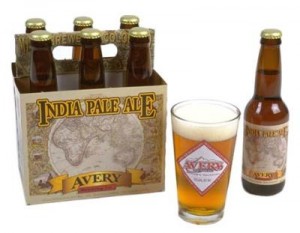 Craft Beer Epiphany
Every craft beer enthusiast has at least one pinnacle craft beer experience that completely changes ones perspective on beer. I refer to this mind-blowing moment as a "craft beer epiphany."
What was your first craft beer epiphany? Recall as many details about it as you can:
I remember it as if it were yesterday. It was at 'The Sink' in Boulder, Colorado. They have about 20 taps and was in new to the craft beer world. The bartender poured me his favorite beer, an Avery IPA, and I was hooked. I have drank craft beer since that day and never looked back. It made me the hop-head enthusiast I am today, and it is still tough to find an IPA that matches Avery's brilliance.
Beer Blog Background
1. How long have you been writing your beer blog?
We started writing our blog over a month ago. Its fun and exciting. Beer is one of our favorite things in life and we hope we're helping and informing Columbus residents what is out in the Columbus beer scene.
2. What inspired you to start writing your blog?
The first inspiration would be all the amazing beers that are available in the U.S. Without the amazing brewers and beer, we wouldn't be blogging about it. The second inspiration would have to be 'Beer In Baltimore"s blog. Their goal is to create a stronger beer culture in Baltimore and that is our goal in Columbus. We're pretty new to this and their blog has been a great example for us; and we hope we're a great source for Columbus and others.
3. Why did you chose the name of your blog?
We live in Columbus, we love beer, and we're two guys. I guess we're not too innovative for a couple of liberal arts college graduates! Is it to late to ask for a refund on my tuition?
4. What are you personal goals for your blog? What do you hope to achieve with it?
Our first goal is to create a stronger beer culture in Columbus by informing our readers what is going on in their communities. We want to be the first to know who has what on tap, what beer stores received something really unique, and also inform our readers what bars and beers are great for them to try. As for achievement, we hope to become a great resource for our readers as well as continue our education on the craft beer world.
5. What is one of the coolest things that happened to you as a result of being a beer blogger?
It would have to be a tie between this interview (thanks Beer Wench!) and our first Columbus craft beer tweet-up that we organized.
6. What are you top 3 favorite beer blogs/beer websites?
First has to be 'Beer In Baltimore', they were pretty much the reason we started blogging about beer in Columbus. Plus we have a little bit of a football rivalry between his Ravens and my Steelers. 'Beernews.org' is another as they allow us to read more in detail what is happening with our favorite breweries and beers. The last would be 'Beer Advocate' as its a great resource for all beer connoisseurs. We also love 'The Beer Wench' site!!!! We get to learn about all the exciting and knowledgeable beer bloggers out there!
Beer Talk
1. What are your top 3 favorite beer styles?
I'm a hop-head so IPA's, but I also love an American Strong Ale, and a Quadrupel (have to love the Belgians)
2. What are your top 3 favorite breweries?
Avery, Stone, and Dogfish Head
3. If you could work with or for any one brewery, which one would it be and why?
It would have to be Avery Brewing Company in Boulder, Colorado. I lived in Boulder for two years and loved going to the tap room and chatting with the guys there. For such a small brewing staff, the are quite ingenious with their innovative big beers and they end up tasting amazing.
4. Are you a homebrewer? If yes, what is the most unique and interesting beer recipes you've brewed as a homebrewer?
I am not a homebrewer. It is something I would love to get into someday, but with so many amazing breweries and beers out there, I don't want to waste my time creating something that is subpar.
5. Do you have any beer certifications (BJCP, Cicerone, Siebel, American Brewers Guild)?? If so, what are they?
No.
6. What is your favorite beer and food pairing?
It would have to be a Double IPA with a strong cheese pairing. MMMM cheese!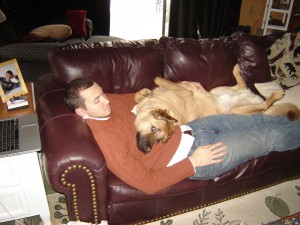 The Personal Side

1. What is your current day job?
I currently am studying for my masters in secondary education. As for trying to survive financially, I work part-time at Columbus Running Company.
2. If you could change your career at this very moment, without any restrictions on what you could do, what would you want to do and why?
My dream is to open up a craft-beer bar. Nothing trendy or over the top; just a neighborhood-feel beer bar with the best micro-brews on tap. I hope someday I can make this dream come true.
3. Are you married? Children?
I am not married, but my girlfriend currently resides in D.C. And someday hopefully she'll be my wife, if she takes me and my beer-loving ways. As for children, I have a 3 year old German Shepard/Chow mix named Asics. He is also a huge beer lover!
4. Outside of beer and writing, what are some of your other hobbies?
I am a so-called runner. I'm training for the Pittsburgh Half-Marathon currently, so we'll see how that goes. I'm also huge into sports and can be found on the couch on any Saturday or Sunday watching my Steelers and Penn State Nittany Lions win!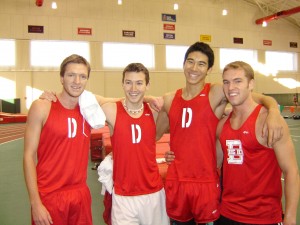 Off The Beaten Path
1. If you were a style of beer, what style would be an why?
I would be a Double IPA. I can be pretty cranky at times, so thats the bitter affect, but I can be sweet, which many Double IPA's offer. Plus I have a kick in me sometimes and that matches the ABV %.
2. You were caught smuggling beer illegally, which has now been made punishable by death. Right before you are sent to the executioner, you are offered one last beer. What beer would you chose and why?
Toughest question yet! I'm going to drink from my favorite brewery, and even though I'm not religious in anyway, I'm going to drink "The Reverend" from Avery's Holy Trilogy Series. Maybe I can go to beer heaven!
3. If I contracted you to brew a beer (or design a beer recipe) called "The Beer Wench" — what style would you chose and what, if any, extra ingredients would you add?
Well Beer Wench, it seems that everyone loves you, so I would pick something sweet. I would try to replicate something like Dogfish Head's Fort. A nice tart fruit beer that has a kick in it. I have a feeling you're the life of the party and you want everyone to have an amazing time, so "The Beer Wench" would be the high-alcohol jolt fruit beer!
4. If you could be a superhero, what would you want your superpowers to be?
If I was a superhero, I'd be Batman. He gets all the ladies, drives cool cars, and I can do the creepy Christian Bale voice pretty well. If I was a new superhero, my powers would consist of teleporting. I mean how cool would that be, if their was a beer on tap somewhere crazy in the world, I could just snap my fingers and be there! Can someone please create a teleporting machine!
5. What is one of the craziest things you have ever done and lived to tell the story?
If I told you, I'd have to kill ya, and no one wants that Beer Wench!
6. What are your thoughts on bacon?

First reaction – YUM! Second reaction – I want some NOW! Third reaction – must wipe slobber from face. No, I think bacon is amazing. I think people are getting very innovative and creative with bacon these days, either using it in desserts or in other intriguing dishes. It is one of my favorite delicacies and always is a great pair with beer.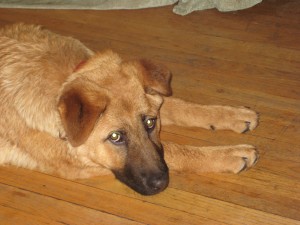 SPECIAL THANKS TO JAMES FOR AN AWESOME INTERVIEW!
GO BUCKS!
CHEERS!