I am definitely an Olympic fanatic. I went to the 1996 Olympic Games in Atlanta (my parents worked the games). I ran the Olympic torch for the 2002 Salt Lake City games. In 2008, 8 of my old Ohio State friends and fellow athletes competed in the Beijing Summer Olympics. And a few more of them competed in the 2010 Winter Games in Vancouver.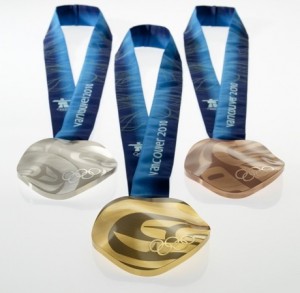 After witnessing the exciting 2010 World Beer Cup Awards Ceremony, I was curious to know how many medal each state took home. Inspired by the "Olympic Medal Count" idea, NBC keep a running toll of each country's medals, I decided to go back through the list of awards and break them down into states (I have country totals as well, but for the purpose of this post I am limiting the awards to the states).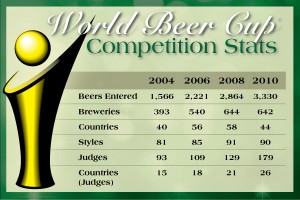 Essentially, I was curious to see if craft beer was, in fact, regionalized in this country. Surprisingly, almost every state one a medal of some sort. However, some states definitely dominated the awards ceremony over others.
Here are the results:
THE UNITED STATES MEDAL COUNT
FIRST PLACE STATE
With 34 medals total, more than double any other state, California takes the cake. Truth be told, California is a very large state and has a lot of breweries. However, it is not necessarily over-saturated. I credit the overwhelming abundance for shelf space and market share as the major driver behind California's dominance and proven excellence in the craft beer industry. As a brewer, you can't get survive in this state if you don't excel.
SECOND PLACE STATES
Each with 13 medals total, the following states
Illinois
Colorado
Washington
Oregon
THIRD PLACE STATE
Boasting 11 medals total, Michigan just barely scraping at the heels of the second place states listed above.
FOURTH PLACE STATE
Racking in 8 medals, Indiana comes in at number four.
FIFTH PLACE STATES
Tying for fifth at seven medals a piece are Virginia and Missouri.
SIXTH PLACE STATES
Oddly, with six medals each, the following states arrive in sixth place:
Delaware
Wisconsin
Maryland
SEVENTH PLACE STATE
Five medals earned Nevada seventh place.
EIGHTH PLACE STATES
Four medals earned the following states the rank of eighth:
New Mexico
Pennsylvania
Arizona
New York
NINETH PLACE STATES
With 3 medals a piece, ninth place gets split in the following six states:
North Carolina
Tennessee
Wyoming
Massachusetts
Alaska
Utah
TENTH PLACE STATES
The states that made it home with two medals include:
Maine
Vermont
Kansas
Texas
THE HONORABLE MENTIONS
The following states did not leave the ceremony empty handed, but were lucky enough to score one medal:
Ohio
Minnesota
Oklahoma
Nebraska
Kentucky
Georgia
Overall, 33 of the 50 states received at least one medal in the 2010 World Beer Cup. Regionally, the WEST COAST dominated the medal ceremony, followed by the MIDWEST, WEST, and the EAST COAST.
Now when it comes to gold, silver, and bronze. I will let someone else with more time and patience to come up with some sort of matrix to figure out that equation.
PS: Feel free to correct me. I did this count at like 2 in the morning, very sleepy eyed.
Congratulations to all of this year's medal winners!
Cheers!