DRINK WITH THE WENCH PRESENTS:
The Beer Blogger Interview Series
Curious what goes on in the minds of your favorite beer bloggers? Well, The Beer Wench is and she has embarked upon a mission to interview as many beer bloggers that she can — from all over the world. Are you a beer blogger? Do you want to share your story? Send me an email!
INTRODUCING: TATIANA PEAVEY
AUTHOR OF: A STRONG FUGGLY BREW
Beer Blogger Interview
Full name: Tatiana Alexandra Peavey (I kept my maiden name)
Beer Advocate: GoatsUdder
Twitter handle: Goats_Udder
Name of blog: A Strong Fuggly Brew
Current location: California (all of it at once!)
Background "Snapshot"
1. Where did you grow up?
The beautiful Mendocino Coast (150mi. N. of San Francisco)
2. What sports if any did you play growing up, through college and beyond?
I have a varsity letter in sailing from Orange Coast College and have been sailing since I was 9!
3. How old were you when you had your first beer?
4 or 5
3. If you can recall, what is the story of your first beer? Where did you have it? What style and brand was it?
Well my father grew up in Munich, Germany so it wasn't a big deal for children to try beer at all so he never thought twice about giving me a sip here and there when I asked for it. My first time that I can recall was at a little pizza joint in Fort Bragg, Ca. My family used to go there a lot when I was little  and we'd order pizza and beer, at the time my parents beer of choice was Anchor Steam by Anchor Brewing, SF. And I always used to ask for a sip to go with my first bite of pizza.
5. Where, if applicable, did you go to college? What did you study? What additional activities, organizations, sports did you partake in during college?
I graduated high school at 16 and moved to Orange County to go to Golden West College for their music and recording program and Orange Coast College for their sailing program. I am now 22 and took a couple years off from school to see where my passions took me. I am applying to Cal State Fullerton this fall to finish my Bachelors in Music (Vocal performance) and English. Why CSUF? It is a block or so from where my husband is attending Law School at Chapman U. and I will never hear the end of it from my parents if I don't get a degree. I love to read, I love to write and sadly telling people you're smart means nothing without the little paper that says so.
Craft Beer Epiphany
Every craft beer enthusiast has at least one pinnacle craft beer experience that completely changes ones perspective on beer. I refer to this mind-blowing moment as a "craft beer epiphany."
1. What was your first craft beer epiphany? Recall as many details about it as you can:
I had what one would call a reverse epiphany. I grew up a stones throw from North Coast Brewing Co, and with parents who always had local beers in the 'fridge. My parents bought a bar when I was a freshman in  high school and I remember them discussing what beers to have on tap. It was very obvious how strongly Anheuser-Busch and Molton-Coors pushed to have their products placed in every bar with emphasis on VISIBILITY. Due to local popular demand and cheapness my parents bent on allowing Miller High Life to be served for $1 pitcher nights. My reverse epiphany came in when I tasted Miller and the samples of Budweiser and Coor's that the distributors would just oh so casually leave at our club. They tasted awful! Why would ANYONE want to drink this?! Why do they push this swill so hard?! That was definitely an eye opening moment where I scratched the surface of the beer war.
2. Have you had additional craft beer epiphanies since the first? Detail as many of them as you wish:
On a more positive note than my "reverse epiphany" I would have to say that I have craft beer epiphanies on a daily basis. But nothing comes close to the realization that comes with brewing your own beer, tasting it and knowing you have a very long road ahead before you become the next local watering-hole of amazing craft hoppiness.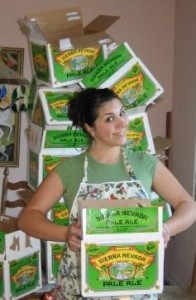 Beer Blog Background
1. How long have you been writing your beer blog?
Technically since January 2009 but it hasn't been till the beginning of this year that I've been updating it more regularly.
2. What inspired you to start writing your blog?
I spend a lot of time connected to the interwebs, whether it be through my iPhone or my lap top I am always connected. I had always talked about beer either in forums or updating my facebook statuses it seemed almost natural to formalize it in some way.
3. Why did you chose the name of your blog?
When I first heard the word "fuggles" I was so amused by it's sound I was using it every ten minutes, by itself, in funny voices, as a reply, as a question, as often as possible! There's just something about it that makes me want to roll around and giggle incessantly. As for Goat's Udder I got that from Norse mythology: when a warrior dies and goes to Valhalla there is a goat who eats from an eternal tree and produces mead from her udder into a large cauldron for the spirits of warriors to drink! I thought that was pretty metal.
4. What are you personal goals for your blog? What do you hope to achieve with it?
I hope to reach out to my generation and beyond, bringing to their attention the crucial roll beer has played in our cultural evolution. We need beer to remain community based in order to stave off many of the social problems we have today. Everything from alcoholism, addiction, violence and fear is combated by the sense of community that brewing provides. I recently did a paper for my anthropology class covering exactly these issues (which I will be posting later this month). I want to help show the path to bold flavors and color that many people lack the initiative or courage to explore for themselves, I want to empower both men and women to step out of the comfort zone of fizzy "piss-beers" as I call them, and bask in the light that is the world of craft beer.
5. What is one of the coolest things that happened to you as a result of being a beer blogger?
I feel that being a beer blogger has opened doors for me to meet the people behind the beer that I would normally not be able to meet and I think that's cool. I also think the attention it has brought to my weaker areas of knowledge is awesome. It forces me to learn more and research constantly.
6. What are you top 3 favorite beer blogs/beer websites?
Beer advocate, Beerfestivals.org (it's always a party there!), Twitter (I love being in constant contact with the tweets of brewmasters from Lagunitas to Stone's CEO. I get my news and I get it instantly, who's brewing what and who's drinking what, it's great!)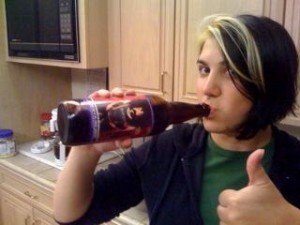 Beer Talk
1. What are your top 3 favorite beer styles?
IPA's, Belgian Dubbel, Barleywine
2. What are your top 3 favorite breweries?
North Coast Brewing Co., Stone Brewing Co., Dogfish Head Brewing Co.
3. If you could work with or for any one brewery, which one would it be and why?
I would have to say Dogfish Head. I think it is amazing how they work with experts to recreate historical brews and beverages—whether for production, or for independent projects, they really hit the nail on the head when it comes to creativity and excitement for unique brews.
4. Are you a homebrewer? If yes, what is the most unique and interesting beer recipes you've brewed as a homebrewer?
I have been brewing on and off since I was a child with my dad. The most unique beer we ever made was an Apple Pie Cider that tasted just like Apple Pie!
5. Do you have any beer certifications (BJCP, Cicerone, Siebel, American Brewers Guild)?? If so, what are they?
I do not, but I plan to ameliorate that very soon.
6. What is your favorite beer and food pairing?
PIZZA AND BEER! You can create any pizza and find a beer for it or vice verse. They were made for each other. Aside from that I really love Stone's Arrogant Bastard with a Heath Bar and Bacon. I also, recently came to the attention of Stones Epic Vertical Ale 09.09.09 pairing with ate, a Guava Paste, I thought that was super tasty!
The Personal Side
1. What is your current day job?
I am a sound engineer and a student.
2. If you could change your career at this very moment, without any restrictions on what you could do, what would you want to do and why?
I would go back to my parents ranch in Mendocino, start growing hops in our valley and open a small brew pub in my dad's shop.
3. Are you married? Children?
I have been married since August of last year! Our honeymoon consisted of visiting every microbrewery between San Francisco and Seattle!! My husband Glenn and I do all of the tasting together and I really appreciate how involved in beer he's become over the last year, including holding mini tasting events and traveling off the beaten path to find beer. He's my biggest fan, sponsor, and editor. None of it would be possible without his support.
4. Outside of beer and writing, what are some of your other hobbies?
I love to cook, paint, garden, Sail and my four legged children: a 20 year old Chinchilla, an opossum and my Shiba Inu aptly named I.P.A.
Off The Beaten Path
1. If you were a style of beer, what style would be an why?
I would be a stout–while fun and tasty I am robust and have a wide range of bitterness.
2. You were caught smuggling beer illegally, which has now been made punishable by death. Right before you are sent to the executioner, you are offered one last beer. What beer would you chose and why?
It came to my recent attention that there is a fantastic brewer who works at the brewery in Tustin, Ca. While talking to him about his brews and his adventure to his current position he offered me a splash of this amber liquid and asked me what I thought. It was ambrosia! The most perfect barleywine I had ever tasted in my entire life! Why wasn't it out on the sales floor? Why hadn't I heard of this before?! I would pay whatever you want but I NEED A BOTTLE OF THIS LIQUID GOLD!
Then the heart break started. He had made two little kegs of this barleywine 4 years ago, bottled some and it went bad. He had to throw away more than half his batch due to oxidization. Indeed there was none left to really pour out, barely a ¼ keg to taste from. If I was being put to death and somehow there was some of this ambrosial, Belgian waffle like, warm honey, maple liquid left–I wouldn't want anything else to touch my lips. I had religious experience that day.
3. If I contracted you to brew a beer (or design a beer recipe) called "The Beer Wench" — what style would you chose and what, if any, extra ingredients would you add?
I would make an Scottish Ale. Scottish Ales are my inspirational discussion beer! I feel like when there's Scottish Ale in my hand we could verbally explore the world and back again. Starting of course with how amazing the beer was!
4. If you could be a superhero, what would you want your superpowers to be?
Teleportation! It seems like everywhere I go I'm in the car for 1 hour to 9 hours unless I'm going to the gym and in which case I can normally walk. But everything is so far away I think teleportation would be my greenest of green vehicles!
5. What is one of the craziest things you have ever done and lived to tell the story?
My friend's yearly beerfest is one of the best parties I look forward to every year. With games and kegs of amazing North Coast brew I am always intensely surprised and happy to wake up alive the next day!
6. What are your thoughts on bacon?
Yes, Please!
SPECIAL THANKS TO TATIANA FOR AN AWESOME INTERVIEW!
CHEERS!