Not everyone is lucky enough to live in the lovely state of California — land of some of the best the best brewers and craft breweries in the country. And one such brewery is Firestone Walker Brewing Company, home to the most winningest brewer in the world, Matt Brynildson. (Would really love to be neutral when it comes to playing favorites, but we all know I have opinions and we all know I wear my heart on my sleeve).
Any event, party, beer dinner or festival planned and hosted by Firestone Walker is a must attend event. I know this because I'm constantly tormented by tales and pictures of said parties all over the Internet. Fortunately, I have had the honor of attending a few soirees with the FW crew, so I can personally attest not only the the sheer awesomeness of the beer, but the overall awesomeness of the company and the shindigs they put on.
And speaking of being tortured with pictures of beer, fun and debauchery, one such Firestone Walker fest that I've been dying to attend ever since I saw pics of Matt Brynildson all dolled up in lederhosen, is Oaktoberfest. And trust me, he can rock the lederhosen!
So if anyone in NorCal wants to rally for a road trip, let me know because I am sooooo up for getting down with my German roots!
Firestone Walker's Oaktoberfest returns in 2011
The local beer festival turns seven, still rocks
Firestone Walker's Oaktoberfest beer festival is coming back for the seventh time on Oct. 15, 2011 and returning to the Avila Beach Golf Resort. And as always a portion of the proceeds will benefit Hospice of SLO County.
"Last year was the best Oaktoberfest yet," Jamie Smith, Firestone's Marketing Manager, said. "And we hope to do even better this year."
Last year was the first year that the festival was held at the Avila Beach Golf Resort and saw more than 3,000 brew enthusiasts enjoying an array of events and beers.
This year's festival will feature, Beer Olympics, live music from Polka favorites Trio International and the killer 80s cover band Fast Times, inflatable pubs, food and several beer gardens.
Returning Keg toss champion Teddy Swan said he is looking forward to the challenge of tossing the firkin farther than is 62-foot mark of last year.
"Yeah, I'm stoked to get back out there and throw back some beers and hurl that keg," Swan said.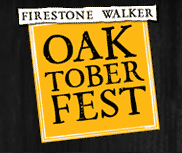 The event will kick off at 11 am and buses will available to transport people to and from the event leaving from San Luis Obispo and Paso Robles. Included in the $20 ticket price, $25 day-of, is a commemorative half liter beer stein, your first beer and admission into the event.
Tickets are available online at www.Oaktoberfest.com, or at Firestone Walker Brewing Company in Paso Robles. More info can be found by visiting www.Oaktoberfest.com.