Although it's exorbitant amount of craft breweries and beer bars make Portland (OR) one of the best beer destination cities all year round, visiting the Rose City during one of its major beer events can be a legendary experience. One such beer event is a KillerBeerWeek — a must not miss beer experience of epic proportions.
Founded by Portland's beloved beer blog BREWPUBLIC — KillerBeerWeek week-long party celebrating the awesomeness of craft beer in the Pacific Northwest (or Cascadia, as the locals like to call it). Celebrating its 4th year, KillerBeerWeek 2012 is scheduled to take place October 21-28th. Eight days (yes, this year's event spilled over an extra day) of spectacular Cascadian beer.
Every event in the lineup will feature one-of-a-kind beers developed just for KillerBeerWeek and/or rare vintages of beers dug out of the cellar. Among the great list of events are "Mike Fest" and "Shawn/Sean/Shaun Fest" — two events dedicated to celebrating the local brewers (and industry folk) named, you guessed it, Mike and Sean (however one spells it). And as with his past Ben Fest — these events won't be short of pun-tastic beer names.
The week kicks off with the KillerBeerWeek Summit & Mike Fest at Roscoe's Pub — and ends with Yetta's Recovery Beerunch at The Hop & Vine. A full list of events and details of each can beer found in the event section on BREWPUBLIC or on the official poster below.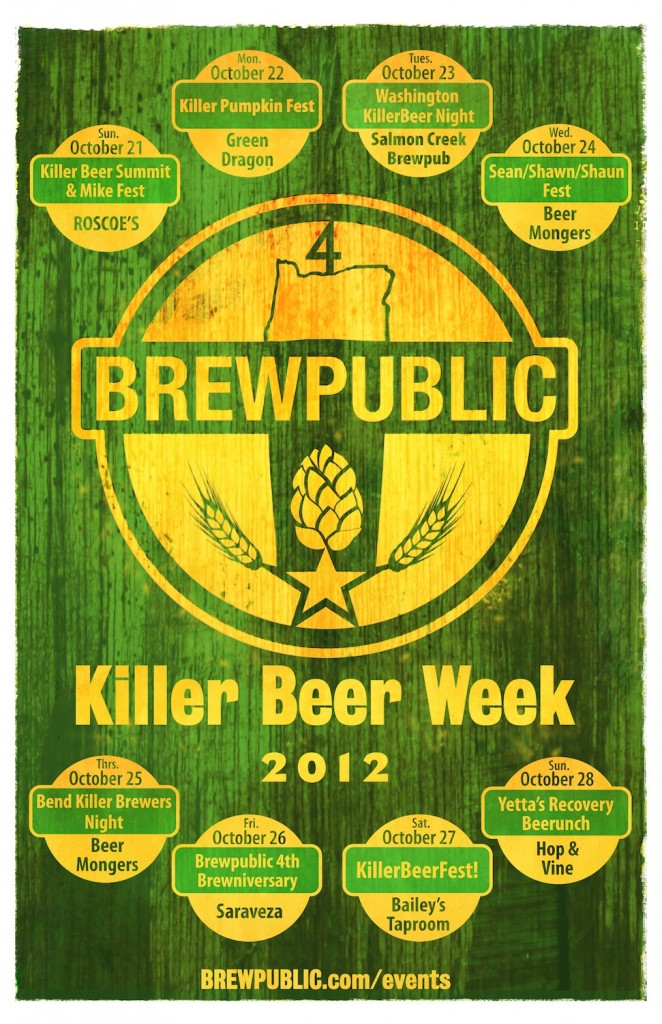 It takes a lot of time and energy, sweat and tears, blood and vomit (okay, maybe vomit is an exaggeration), to put together such an awesome craft beer celebration. I know this because I witnessed Angelo De Ieso of BREWPUBLIC — my partner in beer, in crime, and in life — spend hours upon hours developing themes for each event, coordinating bar schedules, heckling breweries to brew special beers, conceptualizing beer styles and beer names, working with his designer on logos and promo materials, and then writing about all of it.
As someone who works in the industry, I have a lot of admiration for the time and effort Angelo has put into this event. I know how hard it is to plan and execute one event at a time, let alone eight epic events in a row.
Angelo's passion and knowledge for Oregon craft beer is both extensive and contagious. His love for and dedication to the people who make it is even more impressive. All in all, the killer combination for igniting a Killer Beer Week. Hope you can join the party!