Does your favorite local craft beer bar have a seat with your name on it?
Do you sneak your recycling bin out at night for fear your neighbors will think you are an alcoholic?
Do you spend every waking minute drinking, serving, selling, writing about, reading about, talking about, or posting all over the Internet about craft beer?
Does your relationship with beer severely impede your ability to have *normal* social interactions with *normal* people?
If so, you could be the next Beer Drinker of the Year! Once again, Wynkoop Brewing Company is seeking beer resumes from the nation's most beer-minded men and women for its 2013 Beerdrinker of the Year contest. The 17th annual contest seeks and honors America's most passionate, knowledgeable beer lovers and ambassadors.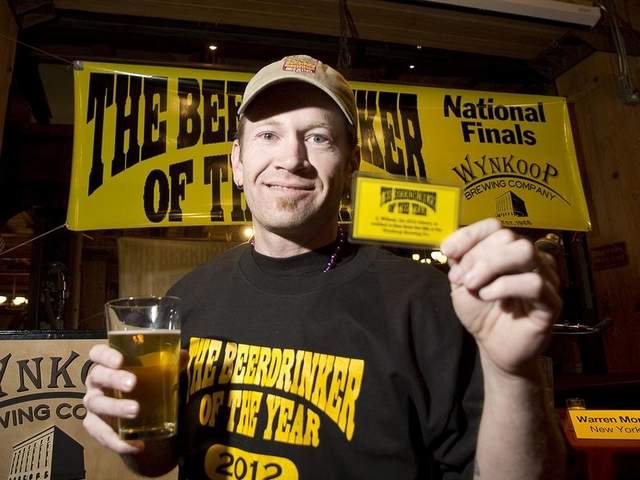 Jay Wilson, 2012 Beerdrinker of the Year / Photo: Iowa Register
So what's in it for you? Well for starters, the winner gets free beer for life at Wynkoop Brewing Company. Woot! Wynkoop also springs for a $250 bar tab at your favorite local beer bar. Double Woot!
Winners also recieve 2013 Beerdrinker of the Year clothing and have their name engraved on the Beerdrinker of the Year trophy at Wynkoop. Fame, fortune - you can have it all!
To enter the contest, applicants must submit beer resumes that include the entrant's beer philosophy and details on their passion for beer and their 2012 beer experiences. Resumes should also detail the entrant's understanding of beer and its history and importance to civilization, along with the entrant's efforts to educate others to the joys of great beer.
Resumes for the Beerdrinker of the Year are reviewed by the nation's beer experts, beer journalists and previous Beerdrinker winners. The top three entrants are flown to Wynkoop Brewing Company (at Wynkoop's expense) for the Beerdrinker of the Year National Finals on February 23, 2013.
Resumes must be sent by email to marty@wynkoop.com, and be received by Wynkoop by no later than December 31, 2012. Each entrant will receive an email confirmation that their resume was received.
Good luck, my friends!
A few more rules:
Resumes cannot exceed three 8 1⁄2″ x 11″ pages and must be written in 12-point or larger font, in Word format.
Resumes must include the entrant's home brewpub/beer bar and T-shirt size.
Do not enter if you are currently employed in the beer-making trade.