Before I start this post, it is important to disclose that I work as a freelance writer with the Brewer's Association (CraftBeer.com) as well as work full-time for a craft brewery (Bison Organic Beer) that is a member of the Brewer's Association.
A not-for-profit trade association, the Brewers Association purpose is to promote and protect small and independent American brewers, their craft beers and the community of brewing enthusiasts. It is an organization made up of brewers, members of the allied trade, beer wholesalers, individuals, other associate members and the Brewers Association staff.
In an effort to hold true to its promise to protect small and independent craft breweries, the Brewers Association released a statement yesterday addressing its concerns about craft-imitating beer brands and the craft-ification of domestic beer. Strong, powerful and blunt – the statement has caused quite a stir in both the craft and non-craft segments of the beer community.
If you have not read the statement, I recommend doing so before reading the rest of my post.
Many have taken it upon themselves to analyze, criticize and even reject the statement made by the Brewers Association. As someone with a vested interest in the Brewers Association, both personally and professionally, I would like to take a minute to discuss my own opinions on the statement.
Although some have interpreted it as one, the statement was not an attack against big beer. In actuality, it was a call to action for what I will refer to as a "Right to Know" movement in craft beer.
Truth be told, I'm no stranger to the "Right to Know" concept. The brewery I work for just spent weeks fighting for the passage of Proposition 37 in California – a bill that would have forced companies to label GMO ingredients. Sadly, big business did what big business does best – it squashed the little guys and the proposition failed.
You may be asking yourself, what's the big deal? Do consumers really care if they know if they are eating GMOs? If something with GMOs tastes good, consumers will probably still eat it – right? Well, probably. After all, American still eat billions of dollars worth of products riddled with high-fructose corn syrup, MSG, aspartame, nitrates, artificial food coloring and other additives that have been linked to severe medical conditions like cancer, heart disease and death.
FDC Labeling laws force companies to list every single ingredient, the good, the bad, the ugly, on all food and beverage labels. This means the consumer, hypothetically, is being made aware of the foods it consumes. And if this consumer, despite medical studies and health warnings, decides to eat high fructose corn syrup and, therefor, subject his body to the potentially harmful effects of consuming high fructose corn syrup, well that is a choice is his to make.
Same with GMO ingredients. The following countries have banned or restricted the import, distribution, sale, utilization, field trials and commercial planting of GMO's: European Union, Norway, Austria, Germany United Kingdom, Spain, Italy, Greece, France, Luxembourg, Portugal, Egypt, China, Japan, Australia, New Zealand, Egypt, and so on and so forth. Americans have the right to know if GMO ingredients are used in foods that they consume.
This brings us back to the statement made by the Brewers Association.
According to the Brewers Association, "Large, multinational brewers appear to be deliberately attempting to blur the lines between their crafty, craft-like beers and true craft beers from today's small and independent brewers. We call for transparency in brand ownership and for information to be clearly presented in a way that allows beer drinkers to make an informed choice about who brewed the beer they are drinking."
Essentially, the Brewers Association is campaigning for the same thing that the GMO-labeling advocates are pushing for – the Right to Know. Yes, the two arguments couldn't be more different, but the message is still the same. Consumers have the Right to Know who makes their beer and where they money is going.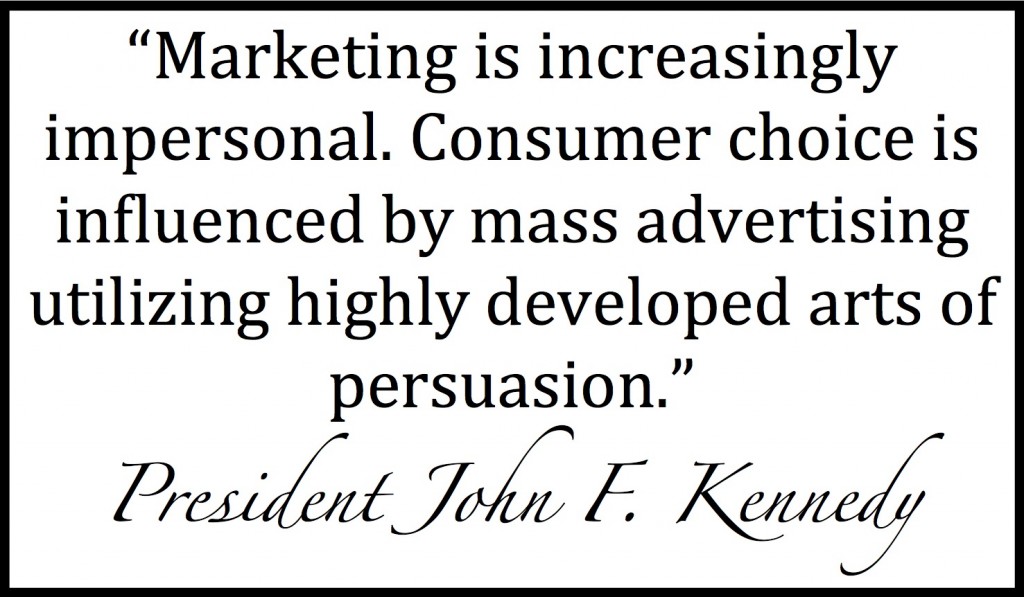 Denying the consumer's right to know and, as a result, the right to choice, directly violates the "Consumer Bill of Rights".
In his 1962 "Consumer Bill of Rights" speech to Congress of the United States, President John F. Kennedy called upon the Federal Government to take necessary legislative and federal actions to protect the rights of consumers. According to President JFK, these rights include:
(1) The right to safety-to be protected against the marketing of goods which are hazardous to health or life.
(2) The right to be informed-to be protected against fraudulent, deceitful, or grossly misleading information, advertising, labeling, or other practices, and to be given the facts he needs to make an informed choice.
(3) The right to choose-to be assured, wherever possible, access to a variety of products and services at competitive prices; and in those industries in which competition is not workable and Government regulation is substituted, an assurance of satisfactory quality and service at fair prices.
(4) The right to be heard-to be assured that consumer interests will receive full and sympathetic consideration in the formulation of Government policy, and fair and expeditious treatment in its administrative tribunals.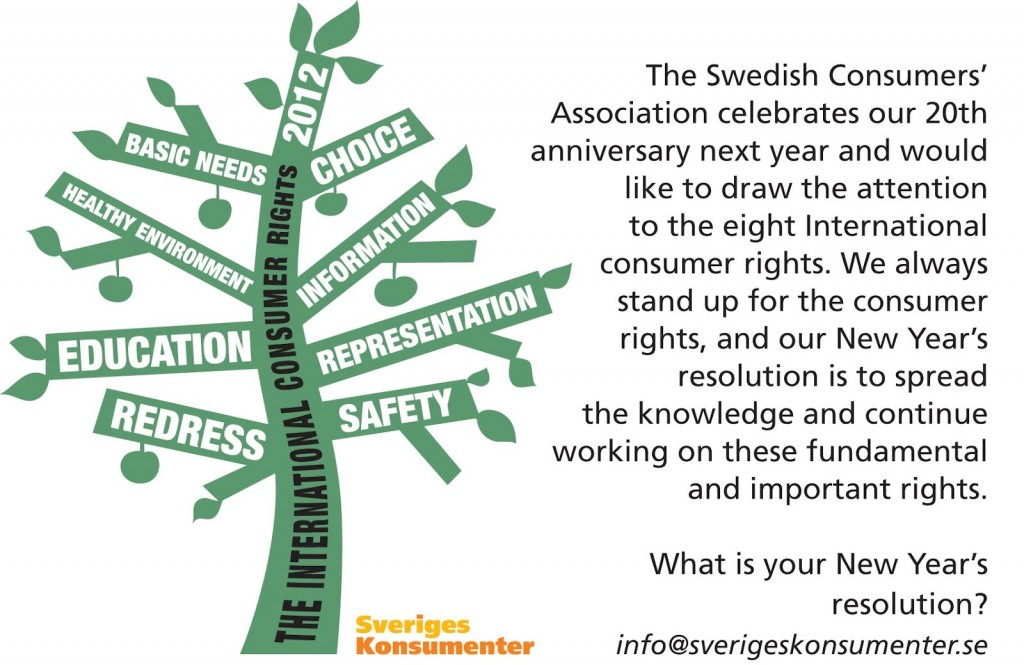 In 1985, the concept of consumer rights was endorsed by the United Nations through the United Nations Guidelines for Consumer Protection, which expanded the aforementioned list to include eight basic rights. One of these rights includes the right to consumer education. Essentially, this means that consumers have the right to acquire knowledge and skills needed to make informed, confident choices about goods and services, while being aware of basic consumer rights and responsibilities and how to act on them.
In an ideal world, the right to be informed, the right to information, the right to choose and the right to education should all be protected with product labels. Labels should serve as educational platforms, providing factual and complete information about the products inside them.
"Witnessing both the tremendous success and growth of craft brewers and the fact that many beer lovers are turning away from mass-produced light lagers, the large brewers have been seeking entry into the craft beer marketplace. Many started producing their own craft-imitating beers, while some purchased (or are attempting to purchase) large or full stakes in small and independent breweries." – Brewers Association statement, Dec. 13 2012.
The issue at hand is not the actual quality of the beers being produced by large brewers. Yes, large brewers have the ability to develop, sell and market innovative, unique, interesting, adjunct-free beers that rival those of smaller, independently owned craft breweries. BUT, the consumer also has the right to know who really makes the beer – aka who gets paid when all is said and done.
Does knowing that AB-Inbev or Miller-Coors is the company behind a beer really make a difference in consumer perception and consumption? Some would argue not. If a beer tastes good, well then, who cares who makes it. Others will argue that consumers deserve the knowledge and skills required to make informed, confident purchasing decisions when it comes to beer.
The most conscientious consumers believe in voting with their wallet. These are the consumers that buy local, organic and craft whenever possible. These consumers refuse to patron establishments owned by big business. They refuse to let their dollar support globalization. They care about what they put into their body. And they care about where products come. But even the craftiest of crafty large corporations can fool even the most discerning of consumers.
I firmly believe that consumers have the Right to Know about the beer they are drinking. Is it a product of a small and independent brewer? Or is it from a crafty large brewer, seeking to capitalize on the mounting success of small and independent craft brewers? Do you know? Well, now you do. (Click on the image below for a full scale view).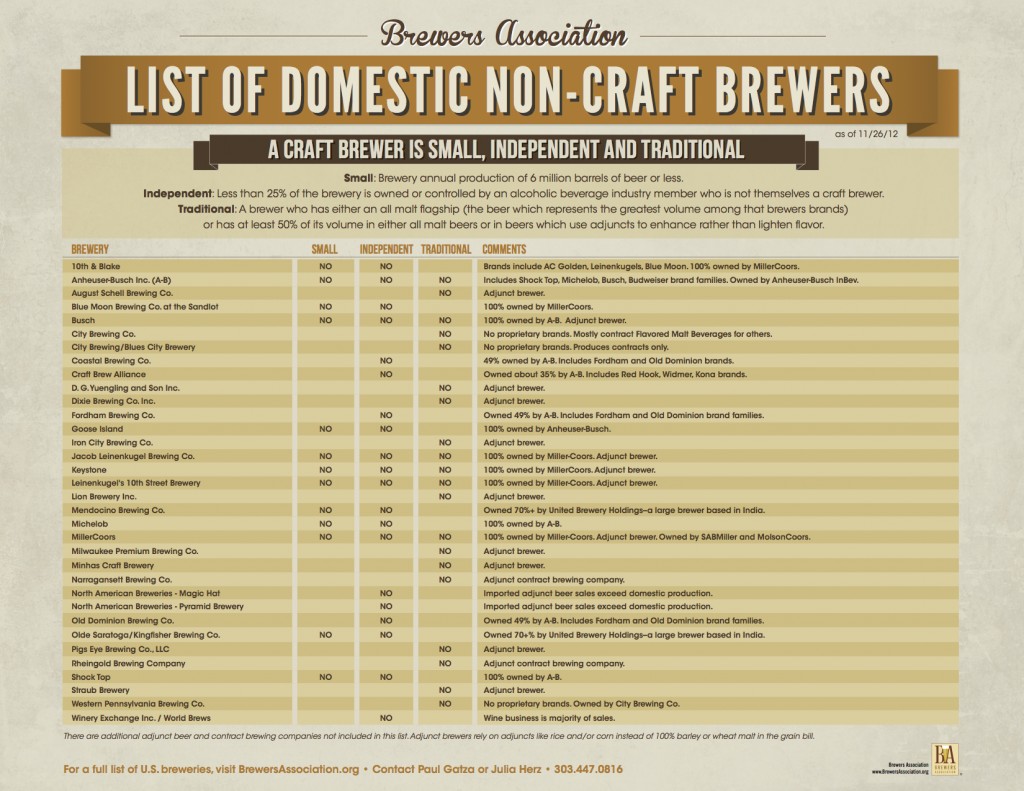 Be the change, spread the message and tell the world that we, as a consumers, deserve the Right to Know.