Last Thursday marked the 3nd Annual IPA Day — a global celebration dedicated to one of craft beer's most beloved and iconic styles — the India Pale Ale. This year was, by far, the most successful IPA Day yet—as evidenced by the statistics I am about to provide.
Thanks to the kind people at HashTracking.com, I was able to get my hands on a really solid report on the #IPAday hastag usage on Twitter. Unfortunately, I do not have similar numbers for Facebook, Instagram or Google+—but one could assume from its success on Twitter that the hashtag was equally prolific on other social media platforms.
It is also important to note that, the data I'm sharing with you today mostly reflects the Western Hemisphere and U.S. participation in IPA Day. Outside of the U.S., reports of IPA Day were recorded from all over Europe, China, Japan, New Zealand, Australia & Brazil — as well as other countries that I haven't been able to officially capture data from. Although, many of these countries were very active on IPA Day, the data I'm about to share may not accurately reflect the world's participation in IPA Day.
Nonetheless, the data is pretty exciting and I am pretty stoked to pass it along. If you have any questions, comments or concerns about any of these numbers or findings, feel free to comment below and I will do my best to address them.
First, let's talk basic stats. The official hashtag was tweeted out 33, 697 times by 22, 877 different users. The #IPAday hashtag had the potential reach of 25.04 million people and appeared on nearly 54.2 million timelines. You can compare these numbers to last year, where the #IPAday hashtag was only tweeted 11.8 thousand times by 8 thousand people.
Now, let's talk about the top lists. According to Hashtracking.com, the Most Popular list was determined by a combination of mentions and retweets with the hashtag #IPAday. The user @untappd topped the most popular list, boasting 13,067 mentions and 237 retweets. @dogfishbeer came in second, with 439 mentions and 133 retweets. And surprisingly enough, yours truly came in third, with 351 mentions and 137 retweets. I was followed by 4. @StoneBrewingCo 5. @BrewDog 6. @BeerAdvocate 7. @draftmag 8. @sweetwaterbrew 9. @thebeerfridge and 10. @DeschutesBeer.
Next up, we have the most tweets list. Not surprisingly enough, I topped the list with 56 total tweets using the hashtag #IPAday. Following me was 2. @epicbeergirl (47 tweets) 3. @Calistoga (33 tweets) 4. @activebeergeek (28 tweets) and 5. @BrewDog & @Tapworks (27 tweets each).
Most Reach was another interesting statistic that we were given. This stat pretty much reveals the most prolific tweeters that used the #IPAhashtag throughout the day. With nearly 4 million followers, @WholeFoods topped this list. They were followed by 2. @wilw 3. @threadless 4. @Disc_Health 5. @dwell 6. @BeerAdvocate 7. @SubEWL 8. @drinkcraftbeer 9. @newbelgium and 10. @dogfishbeer.
Next we will talk about links. Of the 33k #IPAday tweets, 19k were sent with links and 14k were sent without links.
Not surprising, untappd.com topped the list as the most tweeted link.
I really really really want to thank @hashtracking for helping me collect all of this very valuable data. And I highly recommend their services to anyone and everyone that wants to track hashtag data on Twitter.
I also want to thank Andy Sparhawk at the Brewers Association, who helped me track the various U.S. cities in which the hashtag was an official trending topic. These cities included: Austin, Birmingham, Baltimore, Boston, Chicago, Cincinnatti, Columbus, Cleveland, Denver, El Paso, Greenboro, Harrisburg, Honolulu, Indianapolis, Jackson, Jacksonville, Los Angeles, Louisville, Mineapolis, Memphis, Milwaukee, Portland, San Antonio, San Francisco, San Diego….. and well just about every major U.S. city on the map.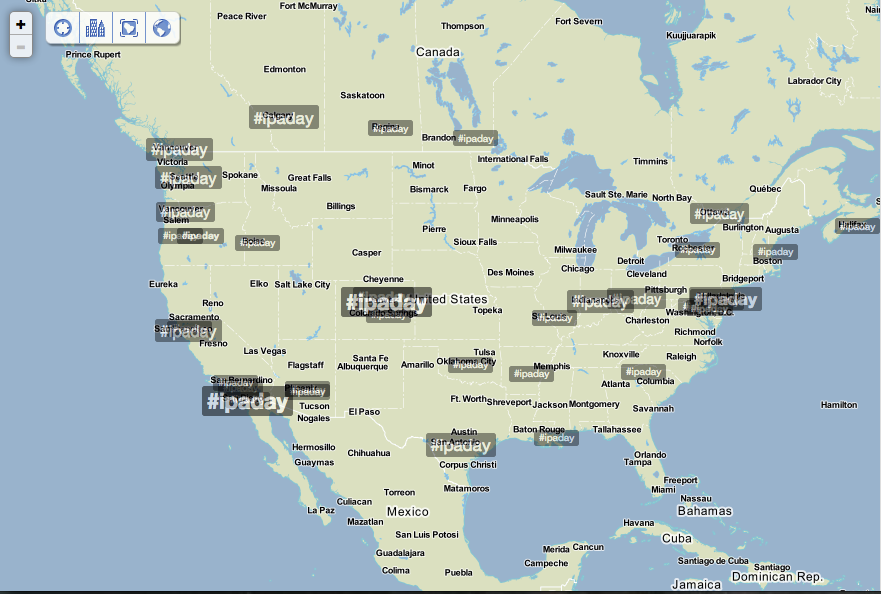 But the most exciting news of the entire day happened at 1:30pm PST/ 3:30pm EST….. when the #IPAday hashtag started to trend on the national level.
Now, if you have a hard time picturing how big of a deal this is, let's break it down like this. #IPAday was, at one point during the day, just as popular, if not more, than Justin Bieber.
Well kids, that's all the data I have for now. (You can view the whole report HERE). If I can find a way to collect more data from Facebook and Instgram, you all will be the first to find out.
And before I sign off….. allow me to thank the most important person who helped to make this the largest, most successful IPA Day yet—YOU!
THANK YOU TO EACH AND EVERY ONE OF YOU THAT SUPPORTED AND PARTICIPATED IN IPA DAY 2013. You are awesome.