Candy with beer? Why not! After some grueling and palate-intensive research and taste testing, I've come up with beer pairings recommendations for some of the most popular Halloween candies on the market. Whether your night consists of handing out candy, taking the little tikes out on a candy crawl, or partying like a rocktar — take a moment to indulge yourself in one of these tasty pairings!
5 Spooktastic Halloween Candy & Beer Pairings
Candy Corn
Beer Pairing: Belgian Tripel
According to many sources, Candy Corn tops the list as the highest selling and most popular Halloween candy. Essentially made entirely of sugar, this super sweet king of Halloween candy requires a beer pairing that won't over power it. The sugar cookie-like malt flavors and fruity yeast characteristics in a Belgian Tripel pair nicely with the sweetness in the candy corn, while the dryness of the beer helps to cut through the overwhelmingly heavy sugar content of the candy.
Commercial Examples: Westmalle Trappist Tripel, Victory Golden Monkey, Allagash Tripel Ale, Flying Fish Exit 4, Anderson Valley Brother David's Triple Abbey Style Ale
_________________________________
Skittles
Beer Pairing: American IPA
Based on sheer volume of Facebook likes, Skittles are the most popular candy amongst social media users. (23.6 million likes is no joke). Once upon a time, my friend Michael Bussman of New Belgium Brewing recommended that I try pairing Starburst with IPA. Quite pleased with the pairing, I attempted the same pairing with the similarly fruit-flavored candy, Skittles. Oddly enough, it works. The bitter flavors in the beer contrasts the sweetness in the candy, while the tart fruity flavors in the candy pair nicely with the citrus-like character of the hops.
Commercial Examples: New Belgium Ranger IPA, Bell's Two-Hearted IPA, Ten Barrel Apocalypse IPA, Bear Republic Racer 5, Sweetwater IPA, Dogfish Head 60 Minute Ale
_________________________________
M & M's
Beer Pairing: Chocolate Stout
Whether your vice be peanut or plain, its hard to deny the M&M's popularity amongst people of all ages. This fairly simple and colorful candy demands a beer that shares its love for chocolate. Like M&M's, the Chocolate Stout has many variations. From Imperial Stout, to Sweet or Milk Stout, to Dry Stout — there is a perfect Chocolate Stout for everyone. I recommend pairing the sweeter versions with milk chocolate M&M's and the drier version with dark chocolate.
Commercial Examples: Rogue Chocolate Stout, Bison Organic Chocolate Stout, Southern Tier Chokolat, Young's Double Chocolate Stout.
_________________________________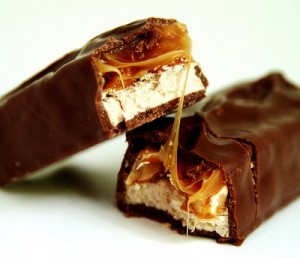 Snickers
Beer Pairing: Nut Brown Ale
Thirsty? Why wait! This nougat candy topped with caramel and peanuts, covered in milk chocolate is a perfect match for the toasty, caramel and toffee flavors of brown ales — especially versions where nuts have been added in the brewing process. This power pairing is sure to give you that energy boost needed to power through a night of trick-or-treating. 
Commercial Examples: Samuel Smith's Nut Brown Ale, Goose Island Nut Brown Ale, Rogue Hazelnut Brown Nectar, Tommyknocker Maple Nut Brown Ale, AleSmith Nautical Nut Brown Ale.
_________________________________
Sour Patch Kids
Beer Pairing: Kriek/ Cherry Lambic
Known for their abrasively sour, tongue destroying sugar crystals, Sour Patch kids are a favorite among kids and adults alike. Since you are already killing your palate by eating the candy, why not completely annihilate it by drinking a sour cherry beer? The Kriek is a style of Belgian beer that uses cherries in the fermentation process. Some are sweeter than others, some more sour. Makes a killer pairing for Sour Patch kids.
Commercial Examples: Lindeman Kriek, Hanssens Oude Kriek, New Belgium Transaltantique Kriek, Cantillon Lou Pepe, New Glarus Wisconsin Belgian Red, Cascade Kriek
_________________________________
HAPPY HALLOWEEN!