Featured Beer Blogger: DAVID VARGAS
DRINK WITH THE WENCH PRESENTS:
The Beer Blogger Interview Series
Curious what goes on in the minds of your favorite beer bloggers? Well, The Beer Wench is and she has embarked upon a mission to interview as many beer bloggers that she can — from all over the world. Are you a beer blogger? Do you want to share your story? Send me an email!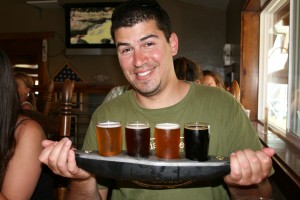 INTRODUCING: DAVID VARGAS
AUTHOR OF: CRUDE BREW CREW "BEER BLOG"
Beer Blogger Interview
Full name: David Vargas
Twitter handle: @DavidVargasCBC
Name of blog: Crude Brew Crew "Beer Blog"
Current location: Victorville, CA
Background "Snapshot"
1. Where did you grow up?
Torrance, CA (Los Angeles County, CA)
2. What sports if any did you play growing up, through college and beyond?
Football (from 5th grade to the end of high school)
3. How old were you when you had your first beer?
Um…. 21 of course! But honestly, probably closer to 18-19
4. If you can recall, what is the story of your first beer? Where did you have it? What style and brand was it?
I lived with a couple buddies when we were renting a house, they liked to throw parties with beer that tasted absolutely horrible to me. I was drinking Hamms, PBR, Riebenbach, Coors light, etc. For the longest time I couldn't stand the taste of beer, & couldn't understand why people did. Until recently, I drank mostly Corona until I was introduced to Craft Beer.
5. Where, if applicable, did you go to college? What did you study? What additional activities, organizations, sports did you partake in during college?
I tried going to college for a year, but skipped the majority of classes to go to the beach when I realized that college wasn't my calling.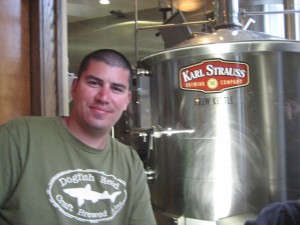 Craft Beer Epiphany
Every craft beer enthusiast has at least one pinnacle craft beer experience that completely changes ones perspective on beer. I refer to this mind-blowing moment as a "craft beer epiphany."
1. What was your first craft beer epiphany? Recall as many details about it as you can:
My buddy Noel (from the Crude Brew Crew) started homebrewing. As I tasted the beers he made, I was intrigued by the Dunkelweizen he made & decided to start homebrewing myself. As we talked more about beer, he told me to watch "Beer Wars", which I did on Netflix. It was then that I started going to Bevmo & started buying Dogfish Head, Stone, & any other interesting sounding Craft Beer I could find. I also decided to start a personal boycott against Anheuser-Busch for there poor-business-tactic-attack on Dogfish Head. (Which I still continue, but I do not push on others).
Noel & I decided after a few months that we should start our own podcast that revolves around Craft Beer, Homebrewing, & food pairing with a couple of his friends (Javier & Matt). That is how we started the Crude Brew Crew. We ended up meeting Anat Baron and I personally bought my DVD copy of Beer Wars directly from her @ a Beer/Cheese tasting with Dr. Bill & New Brew Thursday. I've visited a few breweries this year as well, and I find that I really really enjoy going to them. (P.S. – This year alone, I have been to Stone Brewery 4x, Kern River Brewing, Karl Strauss, Pizza Port, Oggi's, B.J.'s, The Bruery). I think I'm hooked. I also built a 4-tap kegerator in my garage so that I can keg my own beer, & started by buying a 15.5 gal keg of Stone Pale Ale!
2. Have you have additional craft beer epiphanies since the first? Detail as many of them as you wish:
I went to a Stone Brew event @ Naja's in Redondo Beach, CA this month for L.A. beer week. I tried the best beer I think I'll ever taste! "Stone 2006 Aged Double Bastard Oaked", it was an epiphany in liquid form!
Beer Blog Background
1. How long have you been writing your beer blog?
I just recently started, though I have been reviewing Brewery visits on Yelp.com also.
2. What inspired you to start writing your blog?
I'm having so much fun with homebrewing, & actually enjoying beer since being introduced to Craft Beer, that I want to spread the word to others.
3. Why did you choose the name of your blog?
My blog name is really just "Beer Blog" because it's just a portion of our website. But the name Crude Brew Crew started because myself & Noel both work in the "Crude Unit" of a big oil refinery.
4. What are you personal goals for your blog? What do you hope to achieve with it?
I hope that people enjoy reading the blog, and I hope to travel more to get some interviews going on it. I feel my achievements have been met for the moment, but I would like to get more feedback in our forums.
5. What is one of the coolest things that happened to you as a result of being a beer blogger?
I feel I'm more of a podcaster at the moment, rather than a blogger because I've only posted a few articles. But I've been in contact with lot's of the podcasters I've been learning from, and recently filmed a collaboration podcast with New Brew Thursday which should be released in November 2010 (Free iTunes Podcast: Crude Brew Crew). I was also able to attend the "I am a Craft Beer Drinker" Premiere by: New Brew Thursday @ The Bruery. I have a signed DVD of Beer Wars, and enjoyed a great beer/cheese tasting by Dr. Bill (Stone's Master Cicerone).
6. What are you top 3 favorite beer blogs/beer websites?
1. The Beer Wench (Blog)
2. New Brew Thursday (Podcast)
3. The Brewing Network (Forums)
Beer Talk
1. What are your top 3 favorite beer styles?
Porter, IPA, Scottish Ale
2. What are your top 3 favorite breweries?
Stone, Dogfish Head, Sierra Nevada
3. If you could work with or for any one brewery, which one would it be and why?
Stone Brewery for sure! I love the beer, & the atmosphere when I'm there. The brewery looks very clean & has "newer" state of the art equipment. The restaurant, outdoor seating, gardens, heck even the gift shop are very fun to be surrounded by, and the tour is inspiring. The business seems to have very good marketing & distribution which will sustain long-term growth, and I see more Stone beer around random stores & restaurants then other growing Micro-Craft Breweries. "My girlfriend doesn't even drink beer, & she loves going to Stone Brewery for lunch!"
4. Are you a homebrewer? If yes, what is the most unique and interesting beer recipes you've brewed as a homebrewer?
I am a homebrewer… for about 1 year now. Throughout the learning process, I have made a really good stout (which 5 gallons has been consumed already), & I'm in the process of finishing my Black IPA right now (my first dry hopped beer). I just received ingredients for my next batch, a "brown ale". And I'm hoping to design a "vanilla-almond porter" some day.
5. Do you have any beer certifications (BJCP, Cicerone, Siebel, American Brewers Guild)?? If so, what are they?
I do not have any certifications right now. I am currently a member of the AHA (American Homebrewers Assoc.), and I'm thinking about the Cicerone course too.
6. What is your favorite beer and food pairing?
I love BBQ pulled pork with a Smoked Porter or IPA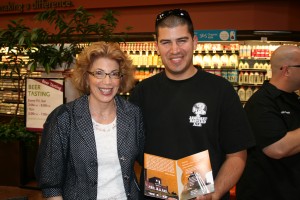 The Personal Side
1. What is your current day job?
I distill Crude Oil (must be why I made a great Stout). I am a Process Technician III (a.k.a. Process Operator) of the Crude Unit for one of the larger oil companies.
2. If you could change your career at this very moment, without any restrictions on what you could do, what would you want to do and why?
I would love to work in a brewery full time. With prior experience in food, chemicals, manufacturing process, & homebrewing, I think I would be a good candidate.
3. Are you married? Children?
I am not married. I do have a great girlfriend who is very supportive of my hobbies, and we have a beautiful daughter together.
4. Outside of beer and writing, what are some of your other hobbies?
I love music, both listening & playing. I grew up with Punk Rock and listened to bands such as Social Distortion, The Offspring, Sublime, & Rise Against, etc. I also used to play for a L.A. based metal band similar to a Pantera/Slayer style called "Busted Knuckles". Now-a-days, mostly working on my house, spending time with my family, working, homebrewing and beer podcasting! (I still have all my instruments; drums, guitar, bass, keyboard… and still jam every now and then).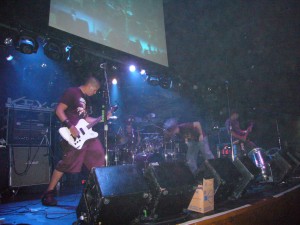 Off The Beaten Path
1. If you were a style of beer, what style would be an why?
"Brown Ale Float" – A Brown Ale with a scoop of vanilla ice cream. I don't want to be too bitter or too plain, but a little in-between, with a touch of sweetness & innovation.
2. You were caught smuggling beer illegally, which has now been made punishable by death. Right before you are sent to the executioner, you are offered one last beer. What beer would you chose and why?
Oskar Blues Gubna; it is not only a good beer, but a very bitter one too. I'm assuming the bitterness I'd have towards this particular situation though. (In general without these circumstances, I would like to have a Stone Levitation Ale… my favorite beer)
3. If I contracted you to brew a beer (or design a beer recipe) called "The Beer Wench" — what style would you chose and what, if any, extra ingredients would you add?
I would brew a "Chocolate Oatmeal Stout with a splash of Rum". A strong, smooth beer with a touch of Ye' Olde Pirate. Then I'd ask my Wench to bring me another pint. LOL
4. If you could be a superhero, what would you want your superpowers to be?
I'm not gonna lie and make this answer sound all "beerish". I'd want the power of Invisibility.
5. What is one of the craziest things you have ever done and lived to tell the story?
I tried to pet a wild wolf that was in my way to the end of a long path. After he jumped back growling with red gums and teeth showing, I had no choice but to walk an hour and a half back from where I came to make it to the same destination.
6. What are your thoughts on bacon?
Bacon has got to be one of my favorite food additions (sorry to all you vegans & vegetarians). Just yesterday I made chocolate covered bacon. It is great!
SPECIAL THANKS TO DAVID FOR AN AWESOME INTERVIEW!
CHEERS!

Tagged as
ashley routson
,
beer
,
beer blog
,
beer blogger
,
Beer Wench
,
craft beer
,
craft beer blog
,
craft beer blogger
,
crude brew crew
,
crude brew crew beer blog
,
david vargas
,
Drink With The Wench
,
the beer wench
,
the wench
+ Categorized as
Beer Blogger Interviews