The Beer Wench "in a nutshell"
Known amongst the craft beer world as The Beer Wench, Ashley V Routson is a craft beer evangelist and social media maven on a mission to advance the craft beer industry through education, inspiration, and advocacy. Ashley is a freelance beer writer and soon-to-be published author who has written for or been featured on NPR, DRAFT magazine, Beer Advocate, and Time.com, among others. Ashley has been a featured speaker at the Craft Brewers Conference, The Great American Beer Festival, and the Beer Bloggers Conference.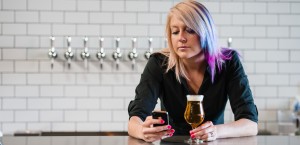 Originally from New York, Ashley attended college at The Ohio State University, where she graduated cum laude with B.A. degrees in Psychology and Criminology as well as varsity letters in both NCAA Div I Swimming and Rowing.
Outside of her passion for craft beer, Ashley prides herself in being a wine connoisseur, artisan spirits enthusiast, beer mixologist and hardcore foodie. Other obsessions include college football, pizza, wings, Doctor Who, cigars, and yoga.
Ashley's Social Media
Twitter: @TheBeerWench
Instagram: @thebeerwench
Facebook: Ashley V. Routson