Although lately I've developed a reputation as a gypsy for my rather nomadic lifestyle, I do call one place "home." And this place is New York. I grew up in the Hudson Valley — just 60 miles north of Manhattan. My parents still live in NY and, in my person opinion, NYC is the best city in the country.
So naturally, when I get wind of new and exciting ongoings in the NY beer scene, I feel compelled to share it with the world.
Fire Island Beer Company entered the craft beer realm this past spring (May 2009) with the launch of its first beer, Lighthouse Ale. I'm excited to announce that they are set to release a second beer, the Red Wagon IPA, on November 1st.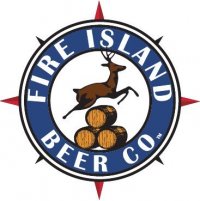 Fire Island Beer Company is the brain child of two brothers and a cousin. The story goes as follows:
For the better part of their childhood years, the boys spent their summers on Fire Island, NY (aka "The Other New York"). Just off Long Island's south shore, Fire Island is only accessible by ferry. And no cars are allowed on the island. Ever. It is there that the boys first developed a passion for home brewing, which ultimately resulted in the development of Fire Island Beer Company.
Unfortunately, Fire Island Beer Company has very limited distribution. At this time, they are only available in New York. For those of you who are lucky enough to live in New york, Fire Island has a nifty LOCATOR tool. Lucky for me though, my cunning Beer Wench ways have worked magic on the Fire Island Beer Company boys … and they will be sending me a sample to review. ROCK ON!
Interested in more information about the newest release — the Red Wagon IPA? Here is a copy of the official press release:
Fire Island Beer Company unveils Fire Island Red Wagon IPA
The Newest Craft Beer From 'The Other New York'
OCEAN BEACH, N.Y. - Fire Island Beer Company is proud to announce the launch of their second craft beer, Fire Island Red Wagon IPA.  This India Pale Ale follows the company's successful flagship beer, Fire Island Lighthouse Ale, which was introduced in May and continues to sell at a brisk pace.
Fire Island Red Wagon IPA will join Fire Island Beer Company's lineup on November 1 and will be available on Long Island, in New York City and Westchester and Rockland counties. Red Wagon is the next step in bringing to life several unique craft beer styles inspired by the experience of Fire Island.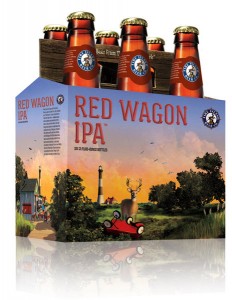 Fire Island Red Wagon IPA is the handiwork of two brothers and a cousin who developed their taste for craft beer and home brewing during the summers they spent on Fire Island, the naturally beautiful and very colorful barrier island just off Long Island's south shore. The ultra-relaxed island has attracted families, partiers, weekend beach-goers and outdoor sports lovers for generations, yet it refuses to allow cars, pretension and the frantic pace common to NY-metro area culture. This led the Fire Island Beer Company founders to coin it "The Other New York," a concept they find very refreshing.
"Fire Island Beer Company is going in a hoppier direction with Red Wagon IPA compared to our Lighthouse Ale," says Co-founder and Head Beer Maestro Tom Fernandez. "We wanted to create a smooth-bodied golden beer that blends the right amount of floral and fruity hops and finishes with a crisp taste. I think we've accomplished that with Red Wagon IPA. It's big on flavor and big on substance, or as its brewers like to say, "an IPA as grounded as the people who drink it."
"Wagons are central to life on Fire Island, and the perfect symbol of what makes this place so different," says Co-founder Jeff Glassman. "There are no cars, so people pull their stuff around in wagons instead. It's a great reminder to keep things simple in life … you can only carry so much, so focus on what's important. That is the idea that inspired Red Wagon IPA"
"Just like Lighthouse Ale, an early homebrew version of Red Wagon IPA was conceived and tested at the Shack, a casual lunch counter and bar between the bay and ocean in Atlantique Beach on Fire Island where we worked summers when we were younger," Fernandez adds. "It didn't matter if you were a local, a surfer, a fisherman or a weekender … everybody gathered there and shared stories and laughs over a few beers. It was full of really easygoing people with a ton of character, just like Fire Island itself, so the vibe there was awesome. All of our beers have been inspired in some way by this vibe and the Shack was a great venue to sample people on our early brews."
What started as a basement home brewing experiment has grown into meticulously crafted and well-received beers. Fire Island Beer Company did not want to risk the integrity of their recipes in order to share them with a wider audience, so the craft brewers enlisted some expert industry help from the Olde Saratoga Brewing Company (www.oldesaratogabrew.com) to bring their recipes to life.
"Olde Saratoga has always supported the spirit of craft brewing," said Paul McErlean, Head Brewer at Olde Saratoga Brewing Company. "When Fire Island came to us it was an exciting opportunity because we've never worked with a true home brew recipe before."
Red Wagon IPA will leverage Fire Island Beer Company's existing relationship with distribution heavyweight Manhattan Beer Distributors (www.manhattanbeer.com). As the largest single market beer distributor in the U.S., Manhattan's Craft and Micro Division will be responsible for selling the new brand into target on- and off-premises accounts.
To help create a unique look and feel for Red Wagon IPA, Fire Island Beer Company turned to local branding and design boutique rocketdog (www.rocketdognyc.com). The innovative branding features original artwork and copy that will anchor all packaging, point of sale materials and digital applications for the beer company and its brands. One way the brand will share its spirit is through the use of four separate "stories" that can be found randomly on the rear labels of Red Wagon IPA. Each will communicate something different about The Other New York and the mindset found there. For example:
"When you come to Fire Island, instead of taxis to greet you, there are red wagons. So, you kinda have to learn to live with what you can pull or toss over your shoulder. Some clean clothes. Groceries. A toothbrush. Definitely a six-pack (or two) of Red Wagon IPA. If you think about it, it's a good measure in life. To see what stuff is important. And what's just stuff."
"When we started Fire Island Beer Company, we set out with one mission: To create world-class craft beers that are inspired by the color, character and delicious experience of Fire Island. With Red Wagon IPA, we've taken the next big step in realizing that mission and are really seeing it all come together," Glassman said. "We are all about good times and great beer."
Fire Island Red Wagon IPA and Fire Island Lighthouse Ale are both available in single 12-ounce bottles, 6-packs, 5.16-gallon kegs and 15.5-gallon kegs and are available to ship immediately.
Visit Fire Island Beer Company at www.fireislandbeer.com
Facebook: facebook.com/fireislandbeer
Twitter: twitter.com/fireislandbeer
CHEERS!