DRINK WITH THE WENCH PRESENTS:
The Beer Blogger Interview Series
Curious what goes on in the minds of your favorite beer bloggers? Well, The Beer Wench is and she has embarked upon a mission to interview as many beer bloggers that she can — from all over the world. Are you a beer blogger? Do you want to share your story? Send me an email!
INTRODUCING: BRIAN KROPF
AUTHOR OF: MUTINEER MAGAZINE BEER BLOG
Beer Blogger Interview
Full name: Brian Kropf
Internet nickname: Odiedog52
Twitter handle: @Odiedog52
Name of blog: Mutineer Magazine
Current location: Fort Bragg, NC
Background "Snapshot"
1. Where did you grow up?
I grew up in Puyallup, WA, about 35 miles south of Seattle.
2. What sports if any did you play growing up, through college and beyond?
I didn't play any organized sports, but I would snowboard on the weekends with my friends.
3. How old were you when you had your first beer?
I remember sneaking sips of MGD at my Grandparents' house when they weren't looking and it was awful .. I was pretty young, probably less than 10 years old and I don't think my opinion of it has changed much over the years.
4. If you can recall, what is the story of your first beer? Where did you have it? What style and brand was it?
See above.
5. Where, if applicable, did you go to college? What did you study? What additional activities, organizations, sports did you partake in during college?
I went to community college at Pierce Community College and I took as some classes at Tacoma Community College as well. I was young, wasn't interested and I didn't pay attention and I decided that it wasn't my time for college and I followed some other dreams that I had instead.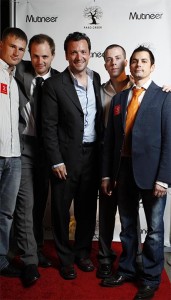 Craft Beer Epiphany
Every craft beer enthusiast has at least one pinnacle craft beer experience that completely changes ones perspective on beer. I refer to this mind-blowing moment as a "craft beer epiphany."
1. What was your first craft beer epiphany? Recall as many details about it as you can:
For me, it would have been Unibroue Maudite. I was home on mid-tour leave from Iraq and I was visiting my brother and the Mutineer Magazine crew down in LA. My good friend and Mutineer Magazine's Director of Sales JJ Bagley had a ton of great beer and treated me with just about every gem from his cellar from '07 Utopias to Lost Abbey barrel-aged rarities to just about every odd and end that Southern California had to offer. One that he introduced me to was Unirboue Maudite and I fell in love with it and Belgian strong dark ales. The spiciness, fruitiness, the dark malts .. it was amazing.
2. Have you have additional craft beer epiphanies since the first? Detail as many of them as you wish:
Bell's Two Hearted Ale was another one for me. It was such a breath of fresh air from every other IPA out there. Rochefort 8 was another one, it was an eye opener .. and it was absolutely delicious and wondrous.
Beer Blog Background
1. How long have you been writing your beer blog?
About a year now.
2. What inspired you to start writing your blog?
My brother, Alan Kropf, really wanted me to start writing for Mutineer while I was deployed to Iraq and I ended up writing a piece called "Wartime Pairings", giving readers a glimpse of a day in the life of a Soldier in the middle of combat and I talked about the food and beverages over there as well.
3. Why did you chose the name of your blog?
Alan chose it. He's a huge fan of the late journalist Hunter S. Thompson and it had to do with something HST said. Also, we were looking at making a fine beverage publication that was unlike any other out there and we really just wanted to make it approachable and bring fine beverage to the masses, without the snobbery, subjective ratings, and BS.
4. What are you personal goals for your blog?
What do you hope to achieve with it? I just want to spread the word about Mutineer and keep spreading the word of people such as yourself with the same ideals in mind and change the way people view fine beverage. There's more to a bottle of wine than a numerical rating and there is more beer out there to try than the three you see advertised during Super Bowl commercials. Our blog and magazine is still young and it can only go up and the buzz we have created by both consumers and the industry in such a short time is amazing.
5. What is one of the coolest things that happened to you as a result of being a beer blogger?
The people I've been introduced to! I've made so many connections online, it's unbelievable. Heck, a month ago I obviously knew who you were but I wasn't really using Twitter much and then one day I signed up and we started talking. Two months later, I'd be coming to California to come hang out with you for a few days and drink awesome beer and build relationships with other people with the same common goals. Pretty rad if you ask me.
6. What are you top 3 favorite beer blogs/beer websites?
I'm a huge fan of yours, of course, and lately I've been really into Hop Cast's and New Brew Thursdays' podcasts. It's nice to be able to sit back and enjoy your beer and just watch for a change, instead of reading.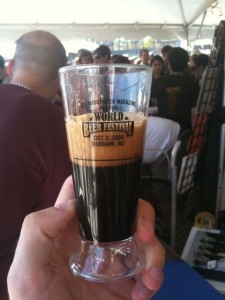 Beer Talk
1. What are your top 3 favorite beer styles?
Big IPAs, big imperial stouts, and barleywines. I'm just really into big beers right now and I'm all for some barrel aging as well.
2. What are your top 3 favorite breweries? Tough question. Being relocated for the Army in the Southeast, I've come across so many breweries I normally wouldn't have found like Founders, Bell's, Foothills, etc., but I think it would be Sierra Nevada, Lost Abbey, and Dogfish Head. I think that list is pretty self explanatory, but there are tons of other breweries that are right there with them.

3. If you could work with or for any one brewery, which one would it be and why?
Another tough question, just like the last one. Some of my favorite breweries (as listed above) aren't on the list only because they produce some of my favorite beer, but because the people who make the beer and the story behind it them is so awesome. So it's a tough question. But I think I'd like to work at Brasserie Cantillon and experience their culture and brewing techniques that they've been using unchanged since it was founded in 1900.
4. Are you a homebrewer? If yes, what is the most unique and interesting beer recipes you've brewed as a homebrewer?
Not yet, but I plan to be once I get out of the military.
5. Do you have any beer certifications (BJCP, Cicerone, Siebel, American Brewers Guild)?? If so, what are they?
Becoming a Cicerone is on my list of things to do to say the least, but it won't be happening any time soon with my current situation. It's on a very big list of things to do for me.
6. What is your favorite beer and food pairing?
I love Sam Adams Boston Lager and sea salt and vinegar kettle chips .. I could eat it all night!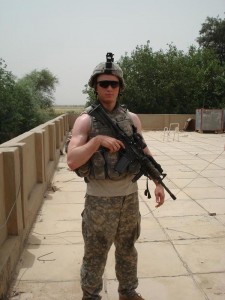 The Personal Side
1. What is your current day job?
I'm an Airborne Infantryman .. a Paratrooper with the 82nd Airborne Division. It keeps me fairly busy I guess you could say. I have about 9 months left doing this and then it will be nothing but relaxing and drinking beer and doing the magazine full time.
2. If you could change your career at this very moment, without any restrictions on what you could do, what would you want to do and why?
Honestly, I just want to become a civilian again. I'm sure that sounds weird to hear, but I'm just ready to live my life for me again. I'll be doing the magazine though.
3. Are you married? Children?
Nope and no.
4. Outside of beer and writing, what are some of your other hobbies?
I'm a big fan of being able to sit around and do nothing, which I think a lot of people take for granted sometimes. Besides that, I'm really into cars, family, friends .. I guess I don't have a lot of hobbies! I need to work on that.
Off The Beaten Path
1. If you were a style of beer, what style would be an why?
I'd be a blend and aged in something awesome, like absinthe barrels. Cause that would be REALLY rad and to my knowledge hasn't been done before.. and it would be a "one and done" type deal and when it's gone, it's gone.
2. You were caught smuggling beer illegally, which has now been made punishable by death. Right before you are sent to the executioner, you are offered one last beer. What beer would you chose and why?
23 Year Old Pappy Van Winkle Barrel-Aged Sexual Chocolate from my friends over at Foothills in Winston-Salem, NC. It's that good.
3. If I contracted you to brew a beer (or design a beer recipe) called "The Beer Wench" — what style would you chose and what, if any, extra ingredients would you add?
Something sweet … just .. like .. you …

Just kidding. It would be bold and catch everyones attention. Someone would open a bottle of The Wench and people from across the room would hear the cork pop and they'd have to come in for a closer look and whether they would want to smell it or not, you would attack their olfactory organs, being the extrovert that you are. But what kind of beer exactly? I'm thinking .. something that probably wouldn't fall into a style guideline. And the special ingredient would be buckeye nuts. True, buckeye nuts are considered to be slightly poisonous, but that's a risk I'm wiling to take.
4. What is one of the craziest things you have ever done and lived to tell the story?
My job is to jump out of an airplane going 150mph at only 800 feet above the ground for a living into combat … I have plenty of stories to tell. And there is probably a story or two from the 15 months I spent in Iraq.
6. What are your thoughts on bacon?
Love it, but I don't have good bacon nearly enough and the bacon the Army cooks is horrible. My Grandma makes good bacon and she makes it soft especially for me .. cause she likes it REALLY cooked, like you can drop it and it'll shatter.
SPECIAL THANKS TO MY GREAT FRIEND BRIAN KROPF FOR HIS RIDICULOUSLY RAD INTERVIEW!
CHEERS!