DRINK WITH THE WENCH PRESENTS:
The Beer Blogger Interview Series
Curious what goes on in the minds of your favorite beer bloggers? Well, The Beer Wench is and she has embarked upon a mission to interview as many beer bloggers that she can — from all over the world. Are you a beer blogger? Do you want to share your story? Send me an email!
INTRODUCING: TRAVIS SMITH
AUTHOR OF: 510 BREWING
*Beer Blogger Interview*
Full name: Travis Smith
Twitter handle: MrTrav
Name of blog: 510 Brewing
Current location: Fremont, CA
*Background "Snapshot"*
1. Where did you grow up?
I grew up in Fairfield, CA. Not a particularly exciting place to grow up, but it gave me the small town feel while still being close enough to the city. I got to experience the best of both worlds growing up.
2. What sports if any did you play growing up, through college and beyond?
I grew up playing mostly baseball. After about 10 years I realized I wasn't a great hitter, so I switched to a sport where the ball doesn't move, gold. I was the captain of my high school golf team my senior year and have maybe played 3 or 4 rounds since then.
3. How old were you when you had your first beer?
I think I had a sip of Coors Light as a young kid. It was so horrible I didn't drink again until after college. My first beer I remember was Heineken. I only know that because I was hungover for a week after drinking too many of them. I stuck around the macro beers for a year or so until falling upon Pyramid Hefe as my first craft beer. Pyramid's Curveball and Lost Coast's Great White were what got me stuck on craft beer, I have never looked back since.
4. If you can recall, what is the story of your first beer? Where did you have it? What style and brand was it?
(see above answer)
5. Where, if applicable, did you go to college? What did you study? What additional activities, organizations, sports did you partake in during college?
I attended DeVry University in Fremont studying Network and Data Communication Management. DeVry isn't a huge "let's get together and do stuff" type of school. The only school sponsored event I attended was a Halo tournament which me and my roommates absolutely dominated at.
*Craft Beer Epiphany*
Every craft beer enthusiast has at least one pinnacle craft beer experience that completely changes ones perspective on beer. I refer to this mind-blowing moment as a "craft beer epiphany."
1. What was your first craft beer epiphany? Recall as many details about it as you can:
The major one I can recall is my first trip to Pyramid Alehouse in Berkley. For a long time we would always get Kegs of Curveball in the summer. Being able to see the place where it's made and try it directly from the source was a novel concept. From there I started looking at other local breweries and trying their beers, it just sort of spiraled out of control from there.
2. Have you have additional craft beer epiphanies since the first? Detail as many of them as you wish:
The first would be starting up a video beer blog a few years back. I was a huge follower of social media guru Gary Vaynerchuck and his Wine Library TV video blog. One day sitting around drinking beer we though, well why the hell couldn't we do that? After a couple of episodes, I wanted to know more about what I was drinking. What ingredients made a good beer, or a bad beer? Homebrewing was the logical choice. I started out with 5 gallon extract kits on a turkey frier in the back yard and have since expanded to a two tier all grain setup doing 10 gallons at a time.
*Beer Blog Background*
1. How long have you been writing your beer blog?
I have been doing 510 Brewing only for a couple months. It is a facility to interface with craft beer enthusiasts while we document our trek to become a production brewery. However if you include the video beer blog I used to do, I have been beer blogging for a couple years now.
2. What inspired you to start writing your blog?
The love of craft beer and wanting to make a living out of my passion.
3. Why did you chose the name of your blog?
510 Brewing is going to be the name of our brewery when we open up, hopefully next year.
4. What are you personal goals for your blog? What do you hope to achieve with it?
The goal is to use it as a facility to talk to potential future customers. I want to let them know the trials and tribulations that we are going through to open a brewery. Hopefully when we actually open up it will help other aspiring homebrewers make the leap to go pro as well.
5. What is one of the coolest things that happened to you as a result of being a beer blogger?
Honestly it has to be all of the cool people I have been able to meet. I have been able to meet rock stars like Sam Calagione and Vinnie Cilurzo. I have also made great friends through beer events, probably friends I will now have for life.
6. What are you top 3 favorite beer blogs/beer websites?
Peter from Better Beer Blog is probably one of my most respected opinions in regards to the authority of beer. Jay Brooks from Brookston Beer Bulletin is also another one of my favorites. When I need a good laugh though, I turn to my buddies over at Two Beer Queers. Wait, did I mention Drink with the Wench is my all time favorite?
*Beer Talk*
1. What are your top 3 favorite beer styles?
IPA/IIPA is by far my favorite. Hops are so good for your soul, it just makes sense to have as many as possible.
2. What are your top 3 favorite breweries?
Mendocino County simply for their Double IPA seasonal. Hangar 24 for what they have been able to accomplish in such a short amount of time. Finally I would go with Dogfish Head for the creativity they bring to the table with each brew.
3. If you could work with or for any one brewery, which one would it be and why?
I would have to go with Dogfish Head. In all honesty, I haven't loved any beer of theirs I have tried. To their credit, everything I have tried was in bottle form and shipped all the way across the country. However, Sam brings much more to his company then just being their leader. He is a visionary and a story teller who I think would be very inspiring to work with/for.
4. Are you a homebrewer? If yes, what is the most unique and interesting beer recipes you've brewed as a homebrewer?
Yes, but trying to change home into pro. The beers we have been making during the winter months can get quite whacky. Our pumpkin ale was originally made by cutting off the back off of an already carved jack-o-lantern pumpkin the day after Halloween. However our most interesting beers have come by mistake. For example our Belgian Wit we made when our hop scale was MIA. We "eye-balled" the amount of hops needed and ended up with something like 65 IBU's for the wit. Interesting, yes…good, no.
5. Do you have any beer certifications (BJCP, Cicerone, Siebel, American Brewers Guild)?? If so, what are they?
I have taken tasting classes and studied for the BJCP, but haven't taken the time to schedule out the test. I am interested in the Cicerone, but I also haven't had the time to start that process.
6. What is your favorite beer and food pairing?
This is an area of the beer world where I am completely oblivious to. The best pairing I have tried though is a nice mellow IPA with a spicy chicken pasta dish.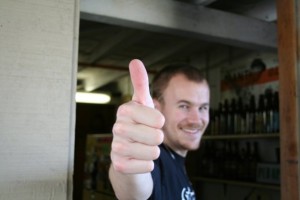 *The Personal Side*
1. What is your current day job?
Current day job is working as a software engineer for a startup in the Silicone Valley.
2. If you could change your career at this very moment, without any restrictions on what you could do, what would you want to do and why?
Hell Yes! I work part time at a brewpub in Fremont right now trying to learn the ins and outs of running a production brewery. Once financing is in order, 510 Brewing will recruit me from my current day job.
3. Are you married? Children?
Yes, married my high school sweet heart in June of 2008. No children though, way too selfish for children at this point in my life.
4. Outside of beer and writing, what are some of your other hobbies?
Softball takes up most of my time in the dry months. I am a hobby collector though, I tend to dabble in a lot of side projects.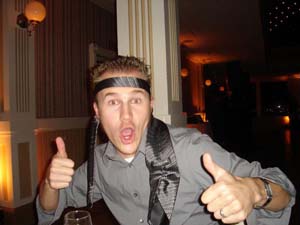 *Off The Beaten Path*
1. If you were a style of beer, what style would be and why?
Kolsch. Light bodied and easy enough to get along with to introduce people to the craft beer world.
2. You were caught smuggling beer illegally, which has now been made punishable by death. Right before you are sent to the executioner, you are offered one last beer. What beer would you chose and why?
I would have to go with a magnum of Stone Brewing Arrogant Bastard. After drinking that much, hopefully I would be passed out or die of alcohol poisoning before making it to the executioner.
3. If I contracted you to brew a beer (*or design a beer recipe*) called "The Beer Wench" – what style would you chose and what, if any, extra ingredients would you add?
I would go with a blonde ale but kick it up a notch, maybe with some habanero spices or orange zest.
4. If you could be a superhero, what would you want your superpowers to be?
I'm a huge fan of Heroes, and my favorite character is Peter Petrelli. But if I was the only one around with powers it would be kind of useless. So I will stick with the ability to fly. How awesome would that be to be able to go anywhere in the world free of charge. I would move to Hawaii and commute to Fremont every morning from there.
5. What is one of the craziest things you have ever done and lived to tell the story?
A lot of memories come up from when I was a young kid and loved racing cars and going fast all the time. I don't recall anything taking me to the brink of death, but I do remember a lot of idiotic acts. Such as trying to convince all my friends they could do donuts in their cars, including the owners of a 4,000 lb Thunderbird and a front wheel drive civic. I also recall trying to "get air" in my car and shooting sparks from my under carriage. Probably not a good idea since that's where the gas tank is.
6. What are your thoughts on bacon?
I don't know what the huge fad is with bacon. I like to munch on a piece every so often, but I don't think I will be making bacon beer anytime soon.
SPECIAL THANKS TO TRAVIS FOR AN AWESOME INTERVIEW. BEST OF LUCK TO HIM IN HIS GOAL TO OPEN A BREWERY!
CHEERS!