Being raised in "apple country" NY, I have an affinity for all things apple. During the peek of apple season, I have been known to eat up to 5 apples a day. And I'm not joking — just ask my sister.
Apples are one of my favorite ingredients with which to bake and cook. One of my favorite breakfast (or dessert) dishes is apple crisp. I love homemade apple sauce. And I love snacking on apples with peanut butter or slices of cheese.
I am not a juice person. Orange juice typically burns my esophagus and I don't care much for sugary concentrated juice beverages. Real, unpastuerized, fresh from the farm apple cider is the only juice I will actually drink. And I usually prefer it to be heated with a hint of cinnamon a splash of bourbon.
Speaking of alcohol and apples — can it get any better?
I must admit, I have a weakness for hard ciders. But, I'm very particular about them. I cannot stand the head-ache inducing, syrupy sweet hard ciders. My preferred cider is crisp, tart and dry with very little residual sugar.
This is why I am tremendously excited to announce the release of a NEW very LIMITED double fermented cider by Aspall Cyder!
ASPALL CYDER & SBS IMPORTS ANNOUNCE USA LAUNCH OF ASPALL CUVEE CHEVALLIER DOUBLE FERMENTED CYDER
Seattle, WA. December 28, 2009 – Aspall Cyder House of Suffolk, England and SBS Imports of Seattle, Washington are pleased to announce the premiere limited release of Aspall Cuvee Chevallier Double Fermented Cyder to United States market. Cuvee Chevallier joins regularly available items Aspall Dry, Demi-Sec, Organic, and Perronelle's Blush cyders.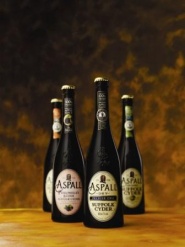 Cuvee Chevallier is produced from apples that are higher in acid and lower in sugar content – much like the grapes used for Champagne. The double fermentation process increases alcohol content but also provides greater structure and mouthfeel. This production method was first explored at Aspall in the 1920′s & '30′s by ancestor JB Chevallier and was only recently rediscovered after a visit by one of JB's assistant cydermakers.
Current cydermaker and co-director Henry Chevallier Guild (in photograph above) describes it as "pale straw coloured, pleasantly sparkling with floral yeasty notes and a fine mousse. It is dry but rounded with a complex appley palate and a balancing touch of acidity. We believe this is our finest cyder to date and a refreshing alternative to sparkling wines. "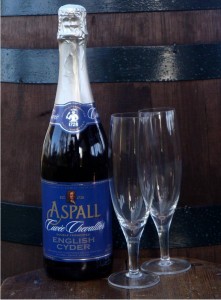 Cuvee Chevallier will ship in cases of 6 cork-finished 750ml champagne style bottles. Suggested retail price is $15.99 per bottle. It will be available in approximately 30 states coast-to-coast. Aspall and SBS anticipate occasional future limited releases around traditional champagne holiday seasons. Alcohol is 11.0% by volume.
"Since the introduction of Aspall to the U.S. in early 2003 the brand has been received with great acclaim," noted SBS Imports President, Alan Shapiro. "The addition of Cuvee Chevallier to the product family will not only enhance Aspall's position in the market, but we believe will also open the eyes to a wider range of consumers to the virtues of artisanal cider."
Established in 1728 by Clement Chevallier, Aspall is now in its eighth generation of family management under the direction of brothers Barry and Henry Chevallier Guild (in photograph above). Their ciders consistently are the top award winners at the International Beer & Cider competition, and were also awarded the highest cider scores in the history of the World Beer Championships.
In addition to representing Aspall Cyders, SBS-Imports also represents the Batemans Brewery from Wainfleet, Lincolnshire, England and the DeProef Brewmaster's Collection from Lochristi, Belgium and is a partner in the Reunion – A Beer for Hope project that raises funds for The Institute for Myeloma & Bone Cancer Research. More information is available here.