DRINK WITH THE WENCH PRESENTS:
The Beer Blogger Interview Series
Curious what goes on in the minds of your favorite beer bloggers? Well, The Beer Wench is and she has embarked upon a mission to interview as many beer bloggers that she can — from all over the world. Are you a beer blogger? Do you want to share your story? Send me an email!
Today marks the official launch of my beer blogger interview series and I'm pretty damn excited about it. I could tell you that it was hard to chose my first interviewee, but I would be lying.
For the very first interview, I chose to feature PJ Hoberman — author of Starting A Brewery. I consider PJ to be one of my best friends, despite the hundreds of miles that separate us. I have tremendous respect for PJ's knowledge of craft beer and talent for brewing.
So without further ado, allow me to present my friend and fellow beer blogger, PJ HOBERMAN:
Beer Blogger Interview
Full name: PJ Hoberman
Internet nickname: hookedonwinter, Panther Jones
Twitter handle: @hookedonwinter
Name of blog: Starting A Brewery
Current location: Denver, Colorado
Background "Snapshot"
Where did you grow up?
Outside New Haven, CT. Every weekend in high school in Ludlow, Vermont.
What sports if any did you play growing up, through college and beyond?
Soccer, Skiing
How old were you when you had your first beer?
I was legal. To drive.
If you can recall, what is the story of your first beer? Where did you have it? What style and brand was it?
My first beer was something cheap. Probably PBR. It was with a bunch of older friends / instructors in Vermont, at some random house party. I'm pretty sure I had more than one.
My first craft beer was a Magic Hat Fat Angel. I loved it. I was about the same age. I don't recall what the cap said, but I did save all my caps.
Where, if applicable, did you go to college? What did you study? What additional activities, organizations, sports did you partake in during college.
I graduated from Colorado College, class of '06, with a degree in Psychology. Other organizations: Carnivore Club (President), Sigma Chi (Vice President, Philanthropy Chair, other roles), Help Desk (IT Support), Admission Office (Tour Guide, Event Planner, Fellow), Teach For America (Recruiter), a bunch of other involvements.
Craft Beer Epiphany
Every craft beer enthusiast has at least one pinnacle craft beer experience that completely changes ones perspective on beer. I refer to this mind-blowing moment as a "craft beer epiphany."
What was your first craft beer epiphany? Recall as many details about it as you can:
I honestly can't pinpoint the moment. From the very start of my beer consuming life, I've been surrounded by craft and macro brews. They've always been completely different entities in my mind, much like New Haven pizza and Papa Johns. I prefer one over the other at all times, but sometimes when you're broke or it's 3am and you have an urge.. Well…
Have you have additional craft beer epiphanies since the first? Detail as many of them as you wish:
In general, I would say… My first craft beer was in itself an epiphany. That being the Magic Hat I mentioned earlier. College in Colorado was a series of craft beer epiphanies, from my first Fat Tire to a tour of Bristol. The day I started homebrewing obviously changed my life entirely. And now, living in Denver, having a real job where I can afford beer, my understanding of beer and the world around it shifts daily.
My first post on the Hop Press was all about this, if you want to read the detailed origins of my beer snobbery.
Beer Blog Background
How long have you been writing Starting A Brewery?
My first post was March 6, 2009. So as of today, 10 months.
What inspired you to start writing Starting A Brewery?
I'm planning on opening a brewery. I'm also sort of an Internet geek. I figured, rather than telling all my friends in person or on gChat about my plans, I'd write a blog. Turns out, other people are interested in it as well.
Why did you chose the name of your blog?
I'm starting a brewery, so I figured "Starting A Brewery" was apt.
What are you personal goals for your blog? What do you hope to achieve with it?
Information dissemination, for the most part. I like to let everyone know what's going on. Also, I really love the input and feedback from the beer and business communities. Lastly, I like to talk a lot. So it's a soapbox.
What is one of the coolest things that happened to you as a result of being a beer blogger?
I've met a bunch of people and learned some great things through the blog. Between the blog and Twitter, I went to San Diego Beer Week with some AMAZING people. That was pretty neat.

What are you top 3 favorite beer blogs/beer websites?
This is a super hard question. So, I'm going to go with blogs that are updated frequently and are directly relevant to my life. Otherwise, I'll have to list about 40. And even so, here's 5. Screw your rules. Also, sorry to all of those I didn't include. I love you all and will buy you a puppy.
Obviously this one (The Beer Wench is sort of cool. Sort of…)
Chipper Dave's Fermentedly Challenged – SO much Colorado information
Brian's Entrebrewer – Similar path as me, but further along.
Chad's Brettanomyces – One day, I'll understand this blog. Also, I love sours.
The HopCast – Great fun to watch, super informative, and now in HD!
Beer Talk
What are your top 3 favorite beer styles?
Stout, Sour (pretty much any kind), Scotch Ale
What are your top 3 favorite breweries?
What's with all these mean rules.. Favorites, ugh. Locally? Great Divide, Avery, Bristol. Others I'd include? Stone, The Bruery, Lost Abbey, Long Trail.
If you could work with or for any one brewery, which one would it be and why?
Probably Great Divide. It's local, I know most of the employees there, and they make amazing beer. Business wise, they're local, they're small in terms of visible operation, but they distribute to something like 37 states and 3 countries. I think I could learn a lot from working in the tap room, in the brew house, and in management.
Are you a homebrewer? If yes, what is the most unique and interesting beer recipes you've brewed as a homebrewer?
Yes! My favorite and most unique thus far is my Rye Dry Stout. It's made with caraway seeds, as well as flaked rye and wheat, and the normal stuff. If you take a mouthful at room temperature, you get three phases of flavor: The first is filled with the rye; that's followed by the spice of the caraway seeds; and it's finished off with a dry, roasted, almost chocolate feeling.
I also do a Dogfish Head 90 "clone". It's more just based of the constant hopping idea. Mine is much maltier. The hops are fresher if you drink it right after it's ready, but I don't have the complexity that DFH's hops give the 90.
Do you have any beer certifications (BJCP, Cicerone, Siebel, American Brewers Guild)?? If so, what are they?
Not yet. I'll probably go for the Cicerone server one, or the ABG. I'd love to go to Siebel if you'll pay my way.
What is your favorite beer and food pairing?
Pizza and PBR. I like cheese and beer. My stout with this crazy steak my roommates and I make is actually to die for. We've had to bury people it was so good.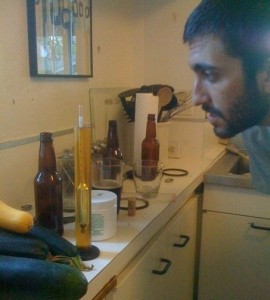 The Personal Side
What is your current day job?
I make internal websites for a large marketing company. I write code. (PHP, mySQL, jQuery, if you're into that stuff)
If you could change your career at this very moment, without any restrictions on what you could do, what would you want to do and why?
I'd open my brewery. No questions.
Are you married? Children?
No. Pretty sure not.
Outside of beer and writing, what are some of your other hobbies?
Skiing is pretty big. Hence the name HookedOnWinter. Cooking. Reading. Event planning. Other such things.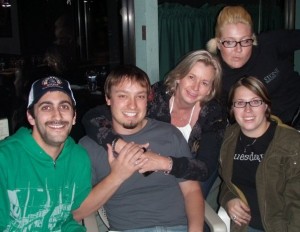 Off The Beaten Path
If you were a style of beer, what style would be and why?
Sour. Sometimes I don't smell so good, but once you try me you'll love me. And I leave a taste in your mouth. (I have no idea what my actual answer would be)
You were caught smuggling beer illegally, which has now been made punishable by death. Right before you are sent to the executioner, you are offered one last beer. What beer would you chose and why?
Duck Duck Gooze. A case of it.
If I contracted you to brew a beer (or design a beer recipe) called "The Beer Wench" — what style would you chose and what, if any, extra ingredients would you add?
It would have to be a blend. There's no way one recipe could contain all that would have to be in the Wench. It would be rich, probably a stout, with a few spices or something to give it some distinctive flavors. One of the components would probably be like the Duchesse. Chocolaty and sour. I'd have to throw bacon in there too. Mmm I'm going to make this now.
If you could be a superhero, what would you want your superpowers to be?
The power to never need sleep, but to be able to sleep at a moment's notice. Then I would have more time to do things I want to do. But I do enjoy sleeping…
What is one of the craziest things you have ever done and lived to tell the story?
I don't think the statute of limitations is up just yet…
Um, I dunno. College in general was pretty sweet. I was involved in a lot of the social planning on and off campus, so I have some stories. There was the time when 13 cop cars and a helicopter showed up to a party. Or the time with the cooking oil (KY was too expensive). Or.. well ya, buy me a beer and I'll wax poetic.

What are your thoughts on bacon?
If God didn't intend for us to eat animals, why are they made of meat?
THANKS PJ! CHEERS!