DRINK WITH THE WENCH PRESENTS:
The Beer Blogger Interview Series
Curious what goes on in the minds of your favorite beer bloggers? Well, The Beer Wench is and she has embarked upon a mission to interview as many beer bloggers that she can — from all over the world. Are you a beer blogger? Do you want to share your story? Send me an email!
INTRODUCING: BRADY WALEN
AUTHOR OF: THE DAILY PULL
Beer Blogger Interview
Full name: Brady Walen
Twitter handle: @thedailypull
Name of blog: The Daily Pull
Current location: Portland, OR
Background "Snapshot"
1. Where did you grow up?
Crystal Lake, IL
2. If you can recall, what is the story of your first beer? Where did you have it? What style and brand was it?
In high school, a group of friends pooled together some money at a backyard party to have somebody's older brother buy us some beer. He came back with six packs of Mickey's green grenades. It was the first, and last time I've had a green grenade.
3. Where, if applicable, did you go to college? What did you study? What additional activities, organizations, sports did you partake in during college?
I started college as an architecture student at Arizona State University. I finished college with a degree in Marketing from the University of Illinois at Chicago.
Craft Beer Epiphany
Every craft beer enthusiast has at least one pinnacle craft beer experience that completely changes ones perspective on beer. I refer to this mind-blowing moment as a "craft beer epiphany."
1. What was your first craft beer epiphany? Recall as many details about it as you can:
My love for craft beer started in the parking lots before and after Phish shows, where I was introduced to Sierra Nevada Pale Ale and Samuel Smiths Nut Brown Ale and Oatmeal Stout – always sold as 'one for $3, two for $5.'
2. Have you have additional craft beer epiphanies since the first? Detail as many of them as you wish:
I feel like there have been quite a few beers and experiences that have worked to change my perspective on beer; in seeking out new and/or unique beers, I'm looking forward to more of these epiphanies.
Some of the more memorable include: drinking Three Floyds Ham on Rye and Goose Island's Bourbon County Stout. My perspectives were continually challenged in my visits to the Map Room, the Local Option, and the Hop Leaf while I lived in Chicago; and the options in Portland have only worked to increase the number and scale of these experiences.
Beer Blog Background
1. How long have you been writing your beer blog?
I started writing The Daily Pull in January 2010, about four months after moving to Portland from Chicago.
2. What inspired you to start writing your blog?
I've been seeking out and drinking good beer for a long time. We moved to Portland, OR in August of last year; I was inspired by the amazing beer scene here, which is dramatically different from the beer scene we moved from in Chicago.
3. Why did you choose the name of your blog?
I didn't want a name that included the words 'beer' or 'brew', and I didn't really want to use a play on words associated with beer or brewing. 'Pull' refers to the action of pulling a draft beer handle, or drinking a swig from a bottle. For some of us, we experience either on a daily basis.
3. What are you personal goals for your blog? What do you hope to achieve with it?
I use my blog to document my experience with beer. It allows me to look back on all the great beers we've had, events we've attended, and people we've met along the way. The blog, in addition to using Twitter, has been a great way for me to meet new like-minded friends. This was especially important to me as a newcomer to Portland.
4. What is one of the coolest things that happened to you as a result of being a beer blogger?
Spending time with brewers and having them give private tours of their breweries is one of my favorite things that has happened as a beer blogger. Free beer is also very cool.
5. What are you top 3 favorite beer blogs/beer websites?
This is a tough question to answer because we have so many good local beer bloggers in Portland. I really like Brewpublic.com – these guys know and write about all the local beer happenings in the Pacific Northwest, and they're great people too. Beernews.org is a great source for national beer happenings. And, I think the idea behind Taplister.com is awesome; I'm looking forward to watching this site and the idea behind it gain traction across the country.
Beer Talk
1. What are your top 3 favorite beer styles?
American IPA, Cascadian Dark Ale, Rye Ale
2. What are your top 3 favorite breweries?
Avery, 3 Floyds, Sierra Nevada
3. If you could work with or for any one brewery, which one would it be and why?
I'd work for Portsmouth Brewery, in Portsmouth, New Hampshire. I visited Portsmouth a few years ago, and have been looking for any reason to get back there. Working for a great brewer in town would be an amazing opportunity.
4. Are you a homebrewer? If yes, what is the most unique and interesting beer recipes you've brewed as a homebrewer?
Not a homebrewer, but it's something I'd like to delve into this year.
5. Do you have any beer certifications (BJCP, Cicerone, Siebel, American Brewers Guild)?? If so, what are they?
I don't have any official beer certifications, and have never really given much thought to pursuing them.
6. What is your favorite beer and food pairing?
Pork & Red Rye Ale
The Personal Side
1. What is your current day job?
Marketing Consultant
2. If you could change your career at this very moment, without any restrictions on what you could do, what would you want to do and why?
I'm passionate about food and beer. I'd own a small brewpub with awesome food and drink, with a focus on sustainability.
3. Are you married? Children?
Married to my amazing wife Jessica. No kids, but we have two dogs: Reno & Jack.
4. Outside of beer and writing, what are some of your other hobbies?
Cooking, eating, hiking with the dogs, road trips to the coast, riding bikes, playing music, traveling when we can, and hanging out with our friends.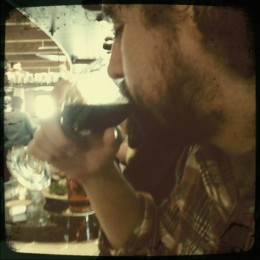 Off The Beaten Path
1. If you were a style of beer, what style would be and why?
Anything coffee: you can usually find me with a beer or a cup of coffee nearby.
2. You were caught smuggling beer illegally, which has now been made punishable by death. Right before you are sent to the executioner, you are offered one last beer. What beer would you chose and why?
Two Brothers Cane & Ebel. This beer tastes like fall in Chicago to me, which are two of my favorite things.
3. If I contracted you to brew a beer (or design a beer recipe) called "The Beer Wench" — what style would you chose and what, if any, extra ingredients would you add?
Upright Brewing in Portland made a beer earlier this year called Fatali Four, a Belgian style beer aged in Pinot barrels with Fatali peppers. There's something about the flavor and spice combination that comes to mind when I hear 'beer' and 'wench'.
4. If you could be a superhero, what would you want your superpowers to be?
I'd want to teleport from one place to another.
5. What is one of the craziest things you have ever done and lived to tell the story?
We went deep sea fishing on a boat that was way too small and ran out of gas two hours off shore. When that happened, our fishing guide pulled out a huge bloody knife – for a second we thought we were dead, but we're still here. He used the bloody knife to connect and siphon another gas line to the motor. When he got the boat working again, we celebrated with a beer.
6. What are your thoughts on bacon?
Love it. Bacon makes everything better.
SPECIAL THANKS TO BRADY FOR AN AWESOME INTERVIEW!
CHEERS!