DRINK WITH THE WENCH PRESENTS:
The Beer Blogger Interview Series
Curious what goes on in the minds of your favorite beer bloggers? Well, The Beer Wench is and she has embarked upon a mission to interview as many beer bloggers that she can — from all over the world. Are you a beer blogger? Do you want to share your story? Send me an email!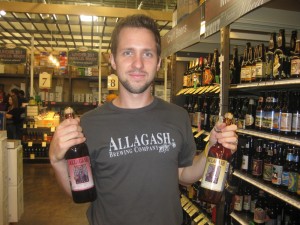 Beer Blogger Interview
Full name: Lucas C. Widrick
Twitter handle: @nighthops
Name of blog: A Night With The Hops
Youtube Channel: Night Hops
Current location: Winter Park, FL
Background "Snapshot"
1. Where did you grow up?
Lewis County, NY in the triangle of New Bremen, Beaver Falls, and Croghan. There was not one traffic light among them.
2. What sports if any did you play growing up, through college and beyond?
Other than some backyard football I ran cross country and track and played a bit of basketball in high school. Not much beyond that.
3. How old were you when you had your first beer?
There is a picture of me (that I wish I had a copy of) reaching for a Genesee as an infant and I am almost certain I had my first taste before starting kindergarten.
4. If you can recall, what is the story of your first beer? Where did you have it? What style and brand was it?
Though I don't remember exactly, it was most certainly a Genesee product while in my teens and was likely with family at camp or when fishing with friends.
5 Where, if applicable, did you go to college? What did you study? What additional activities, organizations, sports did you partake in during college?
Syracuse University and studied architecture. There was not a lot of time for much else in the curriculum, but there was the occasional flag football, basketball, foosball, whiffle ball, frisbee, beer pong, video games, and general buffoonery.
Craft Beer Epiphany
Every craft beer enthusiast has at least one pinnacle craft beer experience that completely changes ones perspective on beer. I refer to this mind-blowing moment as a "craft beer epiphany."
1. What was your first craft beer epiphany? Recall as many details about it as you can:
I probably owe my love for craft beer to MacGregors' in Syracuse (RIP) that had 70-some beers on tap at the time. I started going there after turning 21 , while still in college and with the first taste of Delirium Tremens I was hooked for life. I almost cried the day my Tremens glass (that was lovingly smuggled from the establishment) fell and broke in the sink.
I (unfortunately) also remember being incredibly uncomfortable at graduation during Bill Clinton's speech because of sampling way too many of the 70-some the night before and getting home only hours before the ceremony was to begin. That may have been the beginning of my efforts to taste all that there is out there.
2. Have you have additional craft beer epiphanies since the first? Detail as many of them as you wish:
After moving to Florida I remember having Dogfish Raison D'Etre for the first time. Being exposed to Dogfish opened my eyes a bit and got me even more excited about beer. Enjoying Kronenbourgs and Leffes in Paris with my wife also gave me a different perspective on drinking beer.
Beer Blog Background
1. How long have you been writing your beer blog?
I have posted something daily since (I believe) July 31, 2009.
2. What inspired you to start writing your blog?
I started "officially reviewing" beers early in 2009 as a way to keep track of what I was drinking and to figure out exactly what my likes/dislikes were. I took (and continue to take) hand written notes on printed out BJCP scoring sheets for each beer and eventually I started typing them out. At some point it made sense to share my experiences with whoever may find them interesting.
3. Why did you chose the name of your blog?
I was trying to think of a name that I could incorporate hops into and I randomly recalled seeing a show on PBS as a child called "Evening at Pops" (or something to that effect). Random thought led to name of blog. I think that all happened after realizing that "Barley and Me" was taken.
4. What are you personal goals for your blog? What do you hope to achieve with it?
In the beginning I never thought of it as anything but a sort of beer journal of mine and I hoped that maybe I could get a few people out there to try some new or different beers. That still holds true, but I would love for it to somehow lead to a job in beer or maybe writing.
5. What is one of the coolest things that happened to you as a result of being a beer blogger?
Other than being able to do this interview? Seriously. Really just meeting and hearing from a lot of very nice people. It is nice to have people send me beer articles to read and to have others be excited to have me try a new beer after finding out that I am into it so much. Getting reactions from people at breweries (like Shmaltz and Dunedin) in response to my reviews has also been incredibly cool for me.
6. What are you top 3 favorite beer blogs/beer websites?
An incredibly tough question. Among many, many others I will go with these for a well-rounded list of three:
Brookston Beer Bulletin
The Beer Nut
Beervana, the Blog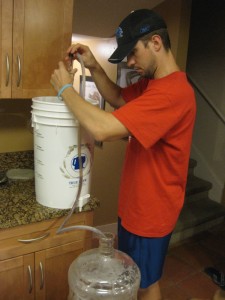 Beer Talk
1. What are your top 3 favorite beer styles?
The questions seem to be getting more difficult . . .
American Imperial IPA
Imperial Stout
American Strong Ale
2. What are your top 3 favorite breweries?
This is almost impossible to answer . . . today I will say (and cheat by including four):
Great Divide
Avery
A tie between Allagash & Ommegang
3. If you could work with or for any one brewery, which one would it be and why?
Wow, ummm . . . I guess I would go with Avery Brewing right now. I love the Boulder area as a beer and active lifestyle environment, I like the scale of the operation the people, and I love the beers and the motivation behind them.
4. Are you a homebrewer? If yes, what is the most unique and interesting beer recipes you've brewed as a homebrewer?
Yes I am. My Pumpkin Ale (with real pumpkin) has been the most popular among friends, but I have also experimented a bit with using grapes, pineapple, cayenne, ginger, cranberries, and cherries. Pretty tame so far, but I am still relatively new to home brewing and plan on branching out more as I get better at it.
5. Do you have any beer certifications (BJCP, Cicerone, Siebel, American Brewers Guild)?? If so, what are they?
Nope. The thought of taking the BJCP exam hurts my head right now. Maybe it is a good thing to have the whole ignorance crutch as an option?
6. What is your favorite beer and food pairing?
Most of the time I drink what I want without pairing concerns, but I do love some cold Kirin or Sapporo with my Thai food and sushi.
The Personal Side
1. What is your current day job?
Other than house husband I do not have one right now. I quit my job as an architect a few months ago to chase other dreams in life. When the situation became one where I would daydream of what beers I would be reviewing for the week and leaving work early to go home and brew beer, it was pretty clear that I should move on. It occurred to me recently that I am essentially living out "Office Space" though, unfortunately, I missed out on destroying some office equipment on my way out.
2. If you could change your career at this very moment, without any restrictions on what you could do, what would you want to do and why?
If money and hassle were of no concern it would be a toss up between operating a small brewpub with some friends and being a travel writer/vlogger. Both of which involve things that I truly enjoy and I figure that even my worst days of work still would be pretty damn good.
3. Are you married? Children?
Married with no children quite yet . . . unless you count two big dogs and two fat cats.
4. Outside of beer and writing, what are some of your other hobbies?
Exercise, outdoor activities, food, travel, reading (very slowly), playing with my dogs, watching sports obsessively, and the occasional video gaming session.
Off The Beaten Path
1. If you were a style of beer, what style would be and why?
I will say a stout because there is much more complexity to me that what you can tell by appearance only and I really enjoy some quality time with bourbon and whiskey (barrels).
2. You were caught smuggling beer illegally, which has now been made punishable by death. Right before you are sent to the executioner, you are offered one last beer. What beer would you chose and why?
I might go with an Oak Aged Yeti, but I think maybe a World Wide Stout would better help me forget what is about to happen.
3. If I contracted you to brew a beer (or design a beer recipe) called "The Beer Wench" — what style would you chose and what, if any, extra ingredients would you add?
There are a few friends that would like me to figure out how to incorporate bacon and maple syrup into my home brewing. I think "The Beer Wench" would be a good name for that, though I am not quite sure what style would work with bacon quite yet.
4. If you could be a superhero, what would you want your superpowers to be?
Invisibility with some time controlling abilities . . . though if I had to start somewhere lower I would settle for the ability to read super fast.
5. What is one of the craziest things you have ever done and lived to tell the story?

We had to find many ways to entertain ourselves in our very rural area. Among other things, we would ride around with a friend of ours who would pull the emergency brake going 55-60 mph down icy roads. We spent a lot of time removing the car from snow banks and ditches.
6. What are your thoughts on bacon?
Are you kidding? One of the culinary highlights of my life was the first taste of the bacon maple bar at Voodoo Doughnuts.
SPECIAL THANKS TO LUKE FOR AN AWESOME INTERVIEW!!
CHEERS!