DRINK WITH THE WENCH PRESENTS:
The Beer Blogger Interview Series
Curious what goes on in the minds of your favorite beer bloggers? Well, The Beer Wench is and she has embarked upon a mission to interview as many beer bloggers that she can — from all over the world. Are you a beer blogger? Do you want to share your story? Send me an email!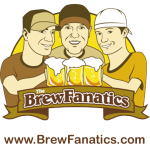 INTRODUCING: THE BREWFANANTICS MINI INTERVIEW SERIES!
The Brewfantatics are a group of 3 talented homebrewers on a mission to create 100 new home brewers by the end of 2010! They want to spread the word and educate people about the fun, exciting hobby of brewing beer while they pursue their own dream of opening a brewery.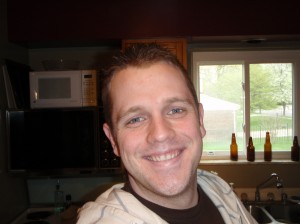 INTRODUCING: DAVE HARNEY
Beer Blogger Interview
Full name: David M. Harney
Twitter handle: @thebrewfanatics
Name of blog: brewfanatics.com
Current location: Cincinnati (Dave and Josh)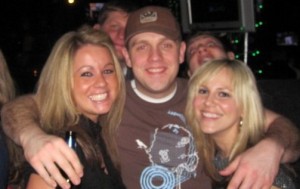 Background "Snapshot"
1.        Where did you grow up?
Grew up all over. I've lived in 4 different states (IN, OH, IL, MI) I consider IL my home though….
2.       What sports if any did you play growing up, through college and beyond?
Football, basketball and track. Even set a school record in track J  Just intramural in college.
3.       How old were you when you had your first beer?
Depends on what 'first beer' means.  Honestly, my first taste of beer I was probably 8 or 9 and took a sip of my dads beer during a Notre Dame football game.  Definitely made a bitter beer face, (maybe because it was that yellow barley water out of a red and white can

4.       If you can recall, what is the story of your first beer? Where did you have it? What style and brand was it?
See above
5.        Where, if applicable, did you go to college? What did you study? What additional activities, organizations, sports did you partake in during college?
Michigan State University.  Studied Econ, went to a lot of sporting events, tailgates etc.  as far as playing, just stuck with the intramurals.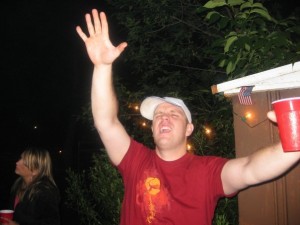 Craft Beer Epiphany
Every craft beer enthusiast has at least one pinnacle craft beer experience that completely changes ones perspective on beer. I refer to this mind-blowing moment as a "craft beer epiphany."
1.        What was your first craft beer epiphany? Recall as many details about it as you can:
My first real epiphany had to come with my first batch of home brew back in 2003.  My brother Josh got me my first recipe and my girlfriend at the time bought me a kit for my bday from an old British dude named Dodger.  The first batch I made was great.  Of course, we were accustomed to drinking Busch Lite up to this point,  but I didn't know beer could taste so good. I didn't even let friends waste it on drinking games, they had to enjoy it!
2.       Have you have additional craft beer epiphanies since the first? Detail as many of them as you wish:
Too many to list J
Beer Blog Background
1.        How long have you been writing your beer blog?
We've only had the beer blog going for a couple months, but we have years of notes from past batches J
2.       What inspired you to start writing your blog?
Honestly, it was a book called 'Crush It' that talks about how to use social media to get the word out about ones passion.  I never knew much about creating websites/blogs, but the book gave a lot of great detail on how to build it and (in my case) share the good word on craft beer!
3.       Why did you chose the name of your blog?
This might be one of my recent 'beer epiphanies' …I was literally just sitting at my computer trying to think of domain names for our new website, and brewfanatics just hit me over the head, and fortunately it wasn't taken already!
4.       What are you personal goals for your blog? What do you hope to achieve with it?
Part of our mission is to help influence 100 home brewers this year, if we can do that, I think we will have had a very successful year!  We would also like to establish a solid brewing community where people can share recipes/stories/experiences.  Through all of this we're hoping to create some credibility for ourselves as well, so when we start our brew pub, people know they're going to be drinking great  beer from people who care a lot about it!
5.        What is one of the coolest things that happened to you as a result of being a beer blogger?
Running into some people we had never met before in Chicago, and hearing from them that they were fans of the site, and were thinking about brewing at home.
6.       What are you top 3 favorite beer blogs/beer websites?
Probrewer.com
beeradvocate.com
realbeer.com
Beer Talk
1.        What are your top 3 favorite beer styles?
IPA, Stout, and pretty much anything Bell's makes J
2.       What are your top 3 favorite breweries?
Bells, Dogfish Head, Great Lakes
3.       If you could work with or for any one brewery, which one would it be and why?
Definitely Dogfish Head.  I love their creativity and Sam's (Caligione) passion for great beer.
4.       Are you a homebrewer? If yes, what is the most unique and interesting beer recipes you've brewed as a homebrewer?
Starting brewing back in 2003 with extract.  Just got into full mash brewing over the past couple years.  Just made a bourbon barrel imperial stout that turned out great!
5.        Do you have any beer certifications (BJCP, Cicerone, Siebel, American Brewers Guild)?? If so, what are they?
No, not yet J
6.       What is your favorite beer and food pairing?
Easy, hot bbq wings with an good IPA (prolly Bell's 2 hearted)
The Personal Side
1.        What is your current day job?
Operations manager for an exterior residential paint company
2.       If you could change your career at this very moment, without any restrictions on what you could do, what would you want to do and why?
Run a brew-pub.  I love making good beer.  More than that, I like it when other people enjoy the beer I make.  Let's face it, on Friday after a long week, people want to get away from the stress of work and enjoy a good meal with a good beer.  I would love to play a part in providing that outlet.
3.       Are you married? Children?
No, aaaand, no.
4.       Outside of beer and writing, what are some of your other hobbies?
I like to get out and play golf, basketball, and love being in/on/around the water in the summer.
Off The Beaten Path
1.       If you were a style of beer, what would you be and why?
Dogfish Head's Pangaea because I've traveled around a lot, taken a lot from all of those experiences, and come up with a pretty good product J
2.       You were caught smuggling beer illegally, which has now been made punishable by death. Right before you are sent to the executioner, you are offered one last beer. What beer would you chose and why?
Probably a Natty Lite so the last look on my face is bitter beer face which will remind everyone what will happen while drinking yellow barley water.
3.       If I contracted you to brew a beer (or design a beer recipe) called "The Beer Wench" — what style would you chose and what, if any, extra ingredients would you add?
When I hear 'wench' it makes me think of Medieval Times and a bunch of drunk ogres singing songs around the table at the pub….Probably some type of Red Ale with a little extra malted barley to kick up the ABV
4.        If you could be a superhero, what would you want your superpowers to be?
…hmmm, flying always comes to mind first, then probably also teleportation
5.       What is one of the craziest things you have ever done and lived to tell the story?
5 years at MSU
6.       What are your thoughts on bacon?
Bacon is great, and pretty much makes everything taste better.  I even had a Listermanns Brewing Co. "Smoked Bock" that kind of reminded me of bacon and it was great.
SPECIAL THANKS TO DAVE FOR AN AWESOME INTERVIEW!
STAY TUNED FOR THE NEXT BREW FANATICS INTERVIEW!
CHEERS!!!