DRINK WITH THE WENCH PRESENTS:
The Beer Blogger Interview Series
Curious what goes on in the minds of your favorite beer bloggers? Well, The Beer Wench is and she has embarked upon a mission to interview as many beer bloggers that she can — from all over the world. Are you a beer blogger? Do you want to share your story? Send me an email!
INTRODUCING: JOSHUA LEPLEY
AUTHOR OF: BARLEYDINE
Beer Blogger Interview
Full name: Joshua Rand Lepley
Internet nicknames: LEP Himself or Uncle Barley Josh
Twitter handle: Barleydine
Name of blog: Barleydine
Current location: North Central PA

Background "Snapshot"
1. Where did you grow up?
North Central PA
2. What sports if any did you play growing up, through college and beyond?
None
3. How old were you when you had your first beer?
9 or 10 it was a sip, YUCK
4. If you can recall, what is the story of your first beer? Where did you have it? What style and brand was it?
My grandfather gave me a taste of his Genny
5. Where, if applicable, did you go to college? What did you study? What additional activities, organizations, sports did you partake in during college?
I've attended Kutztown University, Pennsylvania College of Technology and Lycoming College. I've studied Art Ed and Graphic Design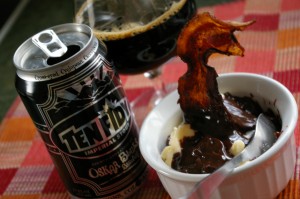 Craft Beer Epiphany
Every craft beer enthusiast has at least one pinnacle craft beer experience that completely changes ones perspective on beer. I refer to this mind-blowing moment as a "craft beer epiphany."
What was your first craft beer epiphany? Recall as many details about it as you can:
It was the late 90's and I had been in love with Brooklyn beers for some time. I had a keg of Black Choco on tap and noticed the recommendation of the Brandy snifter as the appropriate glass. I bought a snifter the next day and taste tested side by side with a shaker pint. The difference was phenomenal, I've been deeply in love with craft beer ever since.
Beer Blog Background
1. How long have you been writing your beer blog?
1 year and 5 months
2. What inspired you to start writing your blog?
Reading the BrewMasters Table
3. Why did you chose the name of your blog?
What says beer and food better than Barleydine? If you haven't noticed it's a play on Barley Wine
4. What are you personal goals for your blog?
Gain notoriety in the world of beer and food. What do you hope to achieve with it? Ah, perhaps a paying gig, so I can live my passion every day.
5. What is one of the coolest things that happened to you as a result of being a beer blogger?
Getting free beer.
6. What are your favorite beer blogs/beer websites?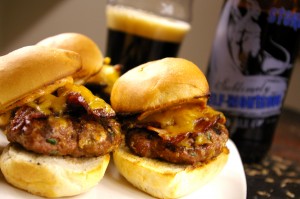 Beer Talk
1. What are your top 3 favorite beer styles?
DIPA, Farmhouse, Wilds
2. What are your top 3 favorite breweries?
Oskar Blues, Fantome, Bullfrog
3. If you could work with or for any one brewery, which one would it be and why?
Dogfish or Brewdog, they're always breaking the boundaries.
4. Are you a homebrewer? If yes, what is the most unique and interesting beer recipes you've brewed as a homebrewer?
Retired, a wild raspberry ale
5. Do you have any beer certifications (BJCP, Cicerone, Siebel, American Brewers Guild)?? If so, what are they?
Working towards Cicerone
6. What is your favorite beer and food pairing?
I have a lot, check my blog

The Personal Side
1. What is your current day job?
Managing a family owned Construction biz and overseeing a small Graphic Design firm.
2. If you could change your career at this very moment, without any restrictions on what you could do, what would you want to do and why?
Work at a brewery, building and designing any and everything.
3. Are you married? Children?
Married with my son Porter
4. Outside of beer and writing, what are some of your other hobbies?
Photography and woodworking


Off The Beaten Path
1. If you were a style of beer, what style would you be an why?
Farmhouse Ale. I'm simple, yet complex and a little rough around the edges.
2. You were caught smuggling beer illegally, which has now been made punishable by death. Right before you are sent to the executioner, you are offered one last beer. What beer would you chose and why?
Cantillon Gueuze.
3. If I contracted you to brew a beer (or design a beer recipe) called "The Beer Wench" — what style would you chose and what, if any, extra ingredients would you add?
You seem spunky, yet feminine. I'd say a Belgian Strong Golden Ale. Fantastic and delicate presentation with a kick in the tongue.
4. If you could be a superhero, what would you want your superpowers to be?
That I could understand my wife's line of thinking.
5. What is one of the craziest things you have ever done and lived to tell the story?
Got Married
6. What are your thoughts on bacon?
Best damn condiment ever. Check out my post of Ten Fidy and a bacon & fudge sundae.
SPECIAL THANKS TO JOSHUA FOR AN AWESOME INTERVIEW!
CHEERS!