DRINK WITH THE WENCH PRESENTS:
The Beer Blogger Interview Series
Curious what goes on in the minds of your favorite beer bloggers? Well, The Beer Wench is and she has embarked upon a mission to interview as many beer bloggers that she can — from all over the world. Are you a beer blogger? Do you want to share your story? Send me an email!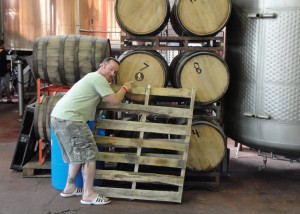 INTRODUCING: JASON THALMAN
AUTHOR OF: THE GREATEST BEER OF ALL TIME
Beer Blogger Interview
Full name: Jason Thalman
Twitter handle: @TGBOAT
Name of blog: The Greatest Beer Of All Time
Current location: Oswego, IL
Background "Snapshot"
1. Where did you grow up?
Westmont, IL
2. What sports if any did you play growing up, through college and beyond?
Soccer, Football, Wrestling, Cycling and Track
3. How old were you when you had your first beer?
I Plead The 5th…probably 1 ½ – 2, I was notorious for swiping beers of end tables.
4. If you can recall, what is the story of your first beer? Where did you have it? What style and brand was it?
I believe it was in H.S. and it was a Killian's Irish Red. Nothing too exciting, friends parents out of town and it was what I could sneak out of the fridge without my father noticing.
5. Where, if applicable, did you go to college? What did you study? What additional activities, organizations, sports did you partake in during college?
Out of High School I attempted to attend a local Community College and hoped to become a professional photographer and due to the brain cell killing qualities of Macro Brews I didn't attend much and decided to get my ass straightened out by enlisting in the Marines. About two years after getting home from the Marines, I went to College Of DuPage and earned an Associates in Marketing and one in Management.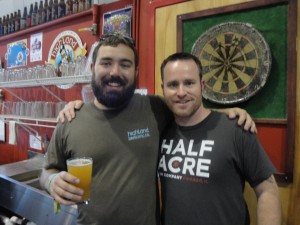 Craft Beer Epiphany
Every craft beer enthusiast has at least one pinnacle craft beer experience that completely changes ones perspective on beer. I refer to this mind-blowing moment as a "craft beer epiphany."
1. What was your first craft beer epiphany? Recall as many details about it as you can:
It was October of 2002 and my sister was attending Colorado State University in Fort Collins. My folks decided to take my kids and have my wife and I go see my sister for family week. We made the 17 hour drive and pulled into Fort Collins around 8:00ish and asked the lady at the front desk of the hotel and she told us about a little Mexican place around the corner. We got there and were seated quickly and were brought menus.
There were a bunch of beers listed on the menu of which I was familiar with except one. Fat Tire from New Belgium Brewing Company. I proceeded to ask the waitress "what the hell is Fat Tire?" She looked at me as if I had 10 heads and replied, "you've never heard of Fat Tire?" I responded, "No." She then stated, "well, have you heard of Coors?" I figured WTH and ordered a Fat Tire. I was blown away and amazed and asked her where the heck was New Belgium located and she told me about 4 blocks up the road and that we should take a tour while we were in town.
The next day the wife and I proceeded to head over to New Belgium, we took a quick self walking tour of the brewery (of which I had no clue what the hell I was looking at) and then sat at the counter and were kindly greeted by one of the craft beer baronesses. She placed a tray in front of me and my wife and started bringing glasses. It was one amazing brew after another and my life has been changed since. My favorite at the time was their 1554 Brussels Style Black Ale which is now known as 1554 Enlightened Black Ale. We purchased 2 Cases of beer, 2 Shirts, 2 glasses, stickers, a visor and walked out $255 lighter. That day changed my life. I refer to this moment as getting my Craft Beer cherry popped!!
2. Have you have additional craft beer epiphanies since the first? Detail as many of them as you wish:
The second was when I had my first Hopslam from Bells, at that point I had never tasted anything so amazing in my life. There are only two other craft brews that have had the same euphoric effect, Dogfish Heads Squall IPA and Oskar Blues Columbian Supreme.

Beer Blog Background
1. How long have you been writing your beer blog?
Since December of 2009
2. What inspired you to start writing your blog?
Tired of the standard CSI treatment of Craft Beer. I believe that it turns off the average beer drinker and has the potential to turn of people that would be willing to explore Craft Beer. There is too much snobbery from some of the websites I've visited and I wanted to create a fun alternative.
3. Why did you choose the name of your blog?
I am a person of extremes, The Greatest Beer Of All Time just seemed right.
4. What are you personal goals for your blog?
What do you hope to achieve with it? My only goal is to spread the gospel of Craft Beer and hopefully generate some ad revenue someday so that I can at least break even. This is one expensive hobby!! I also hope to create some interactive options on the site as soon as I can put some scratch together to get some web development done.
5. What is one of the coolest things that happened to you as a result of being a beer blogger?
Being sent beer to review, unsolicited and getting to tour Mother Earth Brewing Company in Kinston, NC and meet Josh Brewer. They have a great thing going on over there!! Meeting and getting to speak with Greg Koch from Stone Brewing and he asked to use a phrase I came up with for Saison Du Buff. I also enjoy corresponding with different representatives from breweries across the country.
6. What are you top 3 favorite beer blogs/beer websites?
I really dig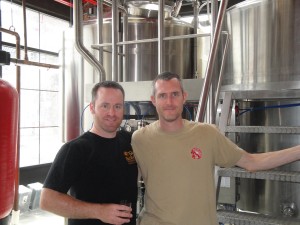 Beer Talk
1. What are your top 3 favorite beer styles?
This is really tough to answer…IPAs, Pale Ales and Porters
2. What are your top 3 favorite breweries?
Founders, Breckenridge and Two Brothers Brewing Co. They consistently produce my favorite brews to consume on a regular basis.
3. If you could work with or for any one brewery, which one would it be and why?
Oskar Blues, I took a tour while being in Denver for GABF and fell in love with the place! Plus I dig the whole Can Revolution!!
4. Are you a homebrewer? If yes, what is the most unique and interesting beer recipes you've brewed as a homebrewer?
Yes, I love home brewing and it has helped me understand beer on a much more technical basis. I developed a recipe for a dry hopped Irish Red that is to die for, amazing!!
5. Do you have any beer certifications (BJCP, Cicerone, Siebel, American Brewers Guild)?? If so, what are they?
Nope, as it was once said, "There is no such thing as a beer expert, only beer drinkers with opinions.
6. What is your favorite beer and food pairing?
This may sound strange but Cracked Black Pepper Triscuits and New Belgium Brewing Co's Ranger IPA.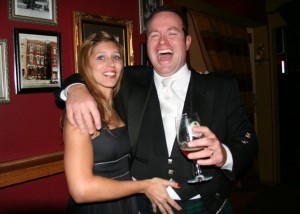 The Personal Side
1. What is your current day job?
Marketing/Advertising Consultant
2. If you could change your career at this very moment, without any restrictions on what you could do, what would you want to do and why?
I'd start a brewery in a heartbeat!
3. Are you married? Children?
Married to a very loving & understanding woman for over 14 years and have three daughters, Lauren (13) and twins Isabelle and Elise (10).
4. Outside of beer and writing, what are some of your other hobbies?
Yoga, Running, Photography, Playing Guitar and Theater.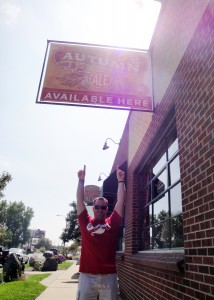 Off The Beaten Path
1. If you were a style of beer, what style would be and why?
Another tough one, I'd have to say Porter. Cheesy Answer…because I'm sweet, have a ton of character, easy to get along with and not too in your face.
2. You were caught smuggling beer illegally, which has now been made punishable by death. Right before you are sent to the executioner, you are offered one last beer. What beer would you chose and why?
It's a toss-up between Dogfish Head's Squall IPA and Oskar Blues Columbian Supreme. It would depend on how I felt at that moment but it would be one or the other. Maybe if it's Spring or Summer the Squall IPA and Fall or Winter the Columbian Supreme. Two of the greatest beers ever brewed!
3. If I contracted you to brew a beer (or design a beer recipe) called "The Beer Wench" — what style would you chose and what, if any, extra ingredients would you add?
Imperial IPA, I'd go 100 IBUs +, Dry Hop the hell out of it, Oak Age it and brew it with fresh Grapefruits. I love em' bitter!!
4. If you could be a superhero, what would you want your superpowers to be?
The ability to read minds. I'd love to truly know what people's deepest and darkest thoughts are because I'm twisted like that.
5. What is one of the craziest things you have ever done and lived to tell the story?
I trained for and completed the Chicago Marathon, it was one of my greatest personal achievements. Rewarded myself with a tattoo of the shoe print (life size) on my side with 26.2 (miles) my bib number and my time.
6. What are your thoughts on bacon?
Bad bacon sucks, gourmet fresh bacon is second to none. Reams Meat Market in Elburn, IL has the best bacon ever!
SPECIAL THANKS TO JASON FOR AN AWESOME INTERVIEW!
CHEERS!