DRINK WITH THE WENCH PRESENTS:
The Beer Blogger Interview Series
Curious what goes on in the minds of your favorite beer bloggers? Well, The Beer Wench is and she has embarked upon a mission to interview as many beer bloggers that she can — from all over the world. Are you a beer blogger? Do you want to share your story? Send me an email!
INTRODUCING: MIKE UPSON
AUTHOR OF: THE BEER COMMUNE
Beer Blogger Interview
Full name: Mike Upson
Twitter handle: @StonePurist + @BeerCommune
Name of blog: The Beer Commune
Current location: Escondido, California
Background "Snapshot"
1. Where did you grow up?
I was born in San Diego, and moved to Escondido when I was 5. Have been there ever since.
2. What sports if any did you play growing up, through college and beyond?
I'm not too big on sports, but if I had to choose any, they would be Billiards, Bowling, and Croquet.
3. How old were you when you had your first beer?
Um…probably 12. No, I did not reverse the numbers accidentally.
4. Where, if applicable, did you go to college? What did you study? What additional activities, organizations, sports did you partake in during college?
I went to Palomar College in San Marcos for 3 years before I decided I had had enough of institutional education. I now independently research a variety of topics for my "higher learning." I was majoring in English.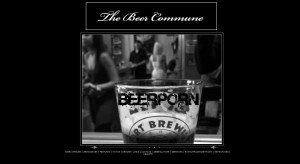 Craft Beer Epiphany
Every craft beer enthusiast has at least one pinnacle craft beer experience that completely changes ones perspective on beer. I refer to this mind-blowing moment as a "craft beer epiphany."
1. What was your first craft beer epiphany? Recall as many details about it as you can:
I was a BMC man (boy) and drank that crap for a long time. I slowly moved up the chain to Newcastle, and then Guinness. One day I walked into a Liquor Store in Oceanside, Ca and saw a bomber of Stone Old Guardian on the shelf. I had gone in to buy a sixer of Coors, but the $5.99 pricetag, Gargoyle, and 11.26% ABV on the 2007 Old guardian was calling my name. I gave it a shot, and voila! Instant Craft Beer LOVER! I have not looked back since.
2. Have you have additional craft beer epiphanies since the first? Detail as many of them as you wish:
My least favorite style was Sours, as I was a Hop Head. I had a tasting with Veritas 004, Rosso E Marrone, and many other top notch sours and was instantly converted. Needless to say, sours are my favorite style now.
Beer Blog Background
1. How long have you been writing your beer blog?
Since July 31st 2010
2. What inspired you to start writing your blog?
I felt the local craft beer scene needed something to bring everybody together, and that's what The Beer Commune is, or will be. I plan on it being the "go-to" for Craft Beer Aficionados.
3. Why did you choose the name of your blog?
There is a wine auction site called The Wine Commune (I work in the fine wine industry) and I liked the sound of it. I checked the availability of www.beercommune.com, and it was available. I had to grab it up. I also own www.bottletradingnetwork.com and my partner in this venture, Mike Gagos aka Mikedashg owns www.2MikesDrink.com, which is a play on our friends' website which is www.2GuysDrink.com.
4. What are you personal goals for your blog? What do you hope to achieve with it?
I plan on converting this venture into a full fledged business. The Beer Commune will be a multi-faceted site with everything the Craft Beer enthusiast can dream of. The site is currently down, and in the middle of a redesign, but my original blog is still up, and contains information on the site's future. Please see the following links for more details:
http://beercommune.wordpress.com/
http://beercommune.wordpress.com/2010/08/05/current-site-status/
http://beercommune.wordpress.com/2010/09/11/beercommune-com-update-2/
5. What is one of the coolest things that happened to you as a result of being a beer blogger?
I'd have to say my involvement with the IAACBD video. I am very pleased with the results, and think it is a monumental step for the Craft Beer Revolution. The guys at New Brew Thursday did an awesome job. They are great guys, and are a huge part in why I'm doing what I'm doing with The Beer Commune. I have been touted as a Beer Celebrity, and am humbled to receive industry discounts at many of my favorite watering holes.
6. What are you top 3 favorite beer blogs/beer websites?
1. NewBrewThursday.com
2. Drinkwiththewench.com (Of Course!)
3. 2GuysDrink.com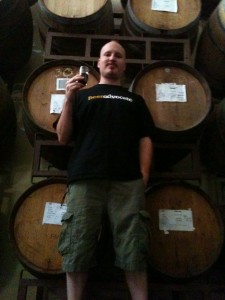 Beer Talk
1. What are your top 3 favorite beer styles?
Sours, Barleywines, Double IPA's
2. What are your top 3 favorite breweries?
Stone, Lost Abbey, The Bruery
3. If you could work with or for any one brewery, which one would it be and why?
Stone. I am a huge fan of EVERYTHING they do.
4. Are you a homebrewer? If yes, what is the most unique and interesting beer recipes you've brewed as a homebrewer?
I am a future homebrewer. I have way too many other beers to try before I start making my own.
5. Do you have any beer certifications (BJCP, Cicerone, Siebel, American Brewers Guild)?? If so, what are they?
I plan on going for the Cicerone title. When this will occur, I do not know.
6. What is your favorite beer and food pairing?
I'd have to say Muenster Cheese, Whole Grain or Water Crackers, and Craft Beer.
The Personal Side
1. What is your current day job?
I work for RL Liquid Assets in Carlsbad. I work as a Receiving Manager, Bottle Grader, Photographer, and do a little web work.
2. If you could change your career at this very moment, without any restrictions on what you could do, what would you want to do and why?
I'd like to work in promotions for Stone. You know what they say about shitting where you eat though.
3. Are you married? Children?
I have a 3 year old daughter, but have separated from my fiancée unfortunately.
4. Outside of beer and writing, what are some of your other hobbies?
I am an underground conscious hip hop artist. I go by the name "Kasper Martyr Phantom" and am in a group called "Food For Thought."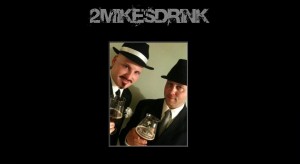 Off The Beaten Path
1. If you were a style of beer, what style would be and why?
I would be a sour. I may be difficult to get used to, but once you love me, you love me.
2. You were caught smuggling beer illegally, which has now been made punishable by death. Right before you are sent to the executioner, you are offered one last beer. What beer would you chose and why?
Lets make this a Top 3 question. Otherwise, I'll never be able to answer this. 1. The Bruery's Chocolate Rain, Stone's Stonewall Ale, Lost Abbey's Russ.
3. If I contracted you to brew a beer (or design a beer recipe) called "The Beer Wench" — what style would you chose and what, if any, extra ingredients would you add?
I'd make "The Beer Wench" a Imperial Sour brewed with Lemon Zest, Sage, and Pomegranate.
4. If you could be a superhero, what would you want your superpowers to be?
Teleportation, of course.
5. What is one of the craziest things you have ever done and lived to tell the story?
I'll let you know when I do it.
6. What are your thoughts on bacon?
Bacon is, of course, one of the best foods on this great Earth. In a beer, I'd have to pass.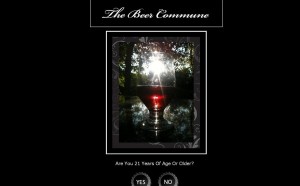 SPECIAL THANKS TO MIKE FOR AN AWESOME INTERVIEW!
CHEERS!