DRINK WITH THE WENCH PRESENTS:
The Beer Blogger Interview Series
Curious what goes on in the minds of your favorite beer bloggers? Well, The Beer Wench is and she has embarked upon a mission to interview as many beer bloggers that she can — from all over the world. Are you a beer blogger? Do you want to share your story? Send me an email!
INTRODUCING: TRACY CORNELIUS
AUTHOR OF: THE PISSED LIBEERIAN
Beer Blogger Interview
Full name: Tracy Cornelius
Twitter handle: @PissedLibeerian
Name of blog: The pissed liBEERian
Current location: The 253 (Tacoma), WA
Background "Snapshot"
1. Where did you grow up?
Small town girl from Camano Island, Washington.
2. What sports if any did you play growing up, through college and beyond?
I played on a bowling league at the ripe age of 12. I still bring it up to this day (16 yrs later) if I ever go out bowling with friends. I like to talk up my skills so I'm picked first for teams then amaze them with my gutter balls.
3. How old were you when you had your first beer?
I was 22 years old. Yes, you read that right, and in case you are wondering, I am making up for lost time now. At least, I completely surpassed the era of drinking cheap beer, and I can have whatever I want whenever I want.
4. If you can recall, what is the story of your first beer? Where did you have it? What style and brand was it?
By the time I decided to start drinking, it wasn't really a big deal since I wasn't trying to get away with anything, so I don't recall my first beer.
5. Where, if applicable, did you go to college? What did you study? What additional activities, organizations, sports did you partake in during college?
I tri-majored in Psychology, English and Anthropology through Washington State University's Distance Degree Program. You might be asking yourself at this point, "What the heck would someone do with that kind of degree?" The truth is I don't know either. I find it humorous that the pissed liBEERian got her university education from the biggest party college in the state while never setting foot on campus and hardly touching a drop of alcohol til she was out of college.
Craft Beer Epiphany
Every craft beer enthusiast has at least one pinnacle craft beer experience that completely changes ones perspective on beer. I refer to this mind-blowing moment as a "craft beer epiphany."
1. What was your first craft beer epiphany? Recall as many details about it as you can:
June 19th, 2010… I remember the day, well. Attended the Brewer's Festival in Kenmore, WA for the first time. About halfway through the day I handed over my little wooden token to the Schooner Exact booth and had my first taste of Seamstress Union Raspberry Wheat. I call it the non-fruity fruit beer even guys like it! I think I spent an additional 10+ tokens getting more Seamstress Union that day. I couldn't get enough, and it started me on the journey that has brought me here today. Once that pink hued liquid hit my mouth, I was bound to never be the same again.
2. Have you have additional craft beer epiphanies since the first? Detail as many of them as you wish:
I would say following the Seamstress Union encounter, my most note worthy craft beer epiphany was at Seattle International Beer Fest over 4th of July weekend in 2010. Sunday featured a special pour from Delaware's Dogfish Head Brewery. On tap was the 120m IPA, World Wide Stout, and a Black and Tan made from the two called Heaven & Hell. My partner in crime and I were first in line and felt like festival celebrities. Had to make a dash out to the car to collect more glasses after we did the math: 2 people, 2 glasses, 3 beers = Epic Fail.
This was my first experience liking an IPA, and the whole event was just so surreal. It was an amazing weekend, and the Heaven & Hell was to die for. I enjoyed it to the very last drop and even got back in line for another round, which we barely got before the kegs blew. After SIB, I was committed to advancing my palate and integrating IPAs into my collection of loved beers.
Beer Blog Background
1. How long have you been writing your beer blog?
My first post was on August 2nd, 2010. A craft beer mission statement of sorts.
2. What inspired you to start writing your blog?
I was having too many ale-induced/inspired adventures and had to start keeping some kind of a record. I really got into trying new craft beers and having the time of my life with friends in the process. My whole world has been different since the beginning of the summer, like something out of the Matrix. Seamstress Union opened my eyes as if I had chosen the red pill (or pink in this case) and now see the Real World.
3. Why did you choose the name of your blog?
I work for a library + I love beer + I enjoy random English slang (hence pissed instead of drunk) = the pissed liBEERian
4. What are you personal goals for your blog? What do you hope to achieve with it?
I hope this blog mostly entertains and informs those who read it. I'm trying to spread the word about the greatness of craft beer (especially local craft beer) and maybe convert a few people to the dark side. Since I find myself so amusing along with the random experiences that happen while drinking, all I can hope to inspire is a few chuckles along the way.
If I could make a blog related wish, it would be to get paid to do what I do. Go out, drink & review beer, and make a living in the process. If someone wants to offer me a job in marketing for their company, that would be amazing too. You haven't seen obsessed until you've seen me enthusiastic about something, I go ALL the way with it.
At this time, I will totally settle for meeting a host of awesome people in the business and enjoying life one pint at a time.
5. What is one of the coolest things that happened to you as a result of being a beer blogger?
Free stuff and lots of attention! That's what comes from having a fortunate face, a big rack, and being a chick who is really into beer tasting as a hobby. The blog is becoming more widespread locally and around the globe (it warms my little liBEERian heart to see blog hits in places like Slovenia, Australia & Turkey), so I am getting more recognition personally. I've gotten free tickets to events and free beer, lots of random swag, and the opportunity to get to spend time with some really cool folks who own/run breweries around the Northwest.
When someone comes up to you in a bar and says "Hey, don't you have a blog?" all I can think is "It's pretty damn awesome to be me right now."
6. What are you top 3 favorite beer blogs/beer websites?
99 Bottles' Shopkeeper Blog
Beer Blotter
Blogfish by Dogfish Head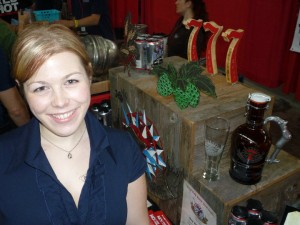 Beer Talk
1. What are your top 3 favorite beer styles?
Barleywines, Wheats and India Pale Ales. This last one (IPA) was a hard won battle. Initially, I could hardly stand to have an IPA in my mouth, let alone swallow it. It took me two solid months of drinking IPAs because I wanted to like them, and now I do. Love 'em.
2. What are your top 3 favorite breweries?
Schooner Exact of Seattle, WA
Dogfish Head of Milton, DE
Big Al of Seattle, WA
3. If you could work with or for any one brewery, which one would it be and why?
Without a doubt, Schooner Exact. They are a small brewery that started up during 2006 in Seattle owned by Heather and Matt McClung with brewing help by Dave "Hutch" Hutchinson. Due to being so awesome, they were both able to quit their day jobs to run the brewery full time. Kudos to them, living the dream! They are friendly and down to earth people who I have had the pleasure to get to know over the last few months. It started with my obsessive pursuit of Seamstress Union which caused me to email the brewery on a regular basis to find out where kegs of it had been recently delivered to Tacoma, WA.
They seem like a close knit organization and you gotta love a group of people with a sense of humor. Take for example their beer, The Shocker. A delightfully enjoyable combo of 2 parts Raspberry Wheat and 1 part King Street Brown. They brew over a dozen varieties of beer including seasonals and special-event beer. They are as fun to chat up in their tasting room as they are to hang out with at events.
4. Are you a home-brewer? If yes, what is the most unique and interesting beer recipes you've brewed as a home-brewer?
I see so many interesting beers that are being made, and I can't get my hands on all of them. I think it would be fascinating to become a home brewer at some point, maybe when my life slows down a bit. Possibly once I hit the big 3-0 I'll feel some need to become domesticated and that includes making my own brew. For now, I will just enjoy the fascinating creations of others. There are plenty to try!
5. Do you have any beer certifications (BJCP, Cicerone, Siebel, American Brewers Guild)?? If so, what are they?
Sadly, I do not. However, I do possess a bar towel from CAMRA though, Campaign for Real Ale. A group that promotes good-quality real ale and pubs, as well as acting as the consumer's champion in relation to the UK and European beer and drinks industry.
6. What is your favorite beer and food pairing?
It's simple but does the trick–pizza and beer. To me, they will always be a perfect match. Maybe a nice pesto and artichoke pizza with a mild IPA. I am hoping to add some more knowledge to my plethora of brain waves and enlighten others, so I am currently working on putting together a 10 course menu featuring a variety of beer selections. The book that has been my savior in planning this event: "He says beer, She says wine" co-authored by Sam Calagione and Marnie Old.
The Personal Side
1. What is your current day job?
My 2 day jobs include working for the library system (bet you think I pulled the 'liBEERian' thing out of nowhere 'cause it's hot, right?) and a local university as an online technical liaison.
2. If you could change your career at this very moment, without any restrictions on what you could do, what would you want to do and why?
I've never felt like I was on one solid career path since growing up so my interests shift greatly at times. Although I love what I currently do for a living, I would really like to pursue a career in Marketing or PR. I've learned a lot about myself this last year and have realized that I have some skills and/or attributes that would probably lead me to a lot of success in this field. Being a spokesperson or marketing for a company I truly love and believe in would be a dream come true. I have been told that I am a marketing persons dream when it comes to events and fun things going on. I'd do anything if I have a reason. IE Beer Punch cards. I think I could be great at creating these events. I am intelligent and creative and personable which I think are all assets to this particular field.
3. Are you married? Children?
I am not married and have no kids. As a woman who is almost 30 you may be thinking I'm ugly or that something is wrong with me, but neither is true. I assure you it is by choice. I am not in any hurry to settle down, I am enjoying my life with virtually nothing holding me back from doing what I want to. The other things will come when they are meant to, if they are meant to.
4. Outside of beer and writing, what are some of your other hobbies?
When I'm not blogging it up or doing empirical research for the blog, my free time is usually divided between reading and exercising. Gotta work off all those beer calories somehow! I am hoping to participate in a marathon & a triathlon in 2011. Time with family and friends are my first priority, and I will always find enough hours in the day to try and do it all.
Off The Beaten Path
1. If you were a style of beer, what style would be an why?
An IPA. They are always the most inventive and uniquely named beers (I have about 20 different nicknames) plus you never really know what to expect when you go to drink one. The nose could be floral or citrusy: Is she wearing Victoria's Secret Pink or Clinique today? The tastes can range from mild to extremely bitter: Will she be sweet and adorable or a little crazy and sexy? Don't even get me started on the mouth feel…
2. You were caught smuggling beer illegally, which has now been made punishable by death. Right before you are sent to the executioner, you are offered one last beer. What beer would you chose and why?
A Schooner Exact Seamstress Union Raspberry Wheat. It's my favorite beer in the world. Although many would choose an ale more profound or complicated, it is not only the taste of SU that appeals to me but all that it represents. The flavor would not only explode on my tongue, but it would remind me of: what it has been to learn about and love beer; the people I have met and befriended because of my beer pursuits; and the best summer of my life being full of love and laughter.
To me it is the equivalent of hugging a diary or licking a photo album, it takes me back.
3. If I contracted you to brew a beer (or design a beer recipe) called "The Beer Wench" — what style would you chose and what, if any, extra ingredients would you add?
A brew called "The Beer Wench" would have to simply be a Barleywine. Sweet and smooth going down but will knock you on your ass once you've finished with it. Extra special ingredients… a surly smile and a hair toss on her way out the tavern door.
4. If you could be a superhero, what would you want your superpowers to be?
Without a doubt, TELEPORTATION. Gas prices are a killer, and I spend most of my time in my car since my life is so nomadic at the moment.
5. What is one of the craziest things you have ever done and lived to tell the story?
Wow… now that's a loaded question. Let's just say that every time I've gone to the Top of Tacoma bar in the 253, it's led to an 'experience'. Don't get me wrong, it's a great place to drink and dine. Randomness seems to ensue whenever I hang out there.
6. What are your thoughts on bacon?
I have never been a huge lover of bacon. My desires usually lean toward a big, fat, juicy sausage. However, now that I've gone all vegetarian like in the last 6 months let me just say this: I'm super happy for people who are bacon obsessed. You can find it everywhere and in everything. It must be a dream come true.
BIG THANKS TO TRACY FOR AN AWESOME INTERVIEW!
CHEERS!