One of the great perks to writing a blog is having the complete creative freedom to write about whatever you want, however you want. By now, most of you are probably aware of my rather opinionated approach to beer writing. And when I get excited about something, it is hard for me not to express it or share it with the world.
Before I get into my story, there are a few things I need to disclose. This past weekend I was flown by Black Star Beer to Whitefish, Montana. The company paid for my flight, my 2-night stay at the lodge, dinner on Friday night, and (copious amounts of) beers all weekend long. I also received a fun little gift package that included a tin beer mug, a six pack of beer, coffee, and a t-shirt. Okay, now that I've followed the "blogging rules" of disclosure, we can move on…
Although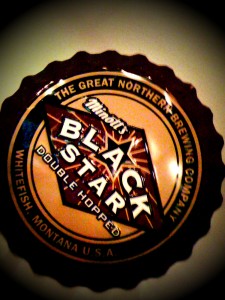 I did attend its "relaunch" party last spring, I must admit that,
prior to this trip, I did not know that Black Star Beer was the flagship brand of the McKenzie River Corporation, a beverage marketing firm based in San Francisco, CA. I've since learned that the company is also responsible for launching other beverage brands such as Sparks, Steel Reserve (oh how proud this would make my friends at Bistro Sabor), and even an absinthe called Le Torment.
Now for all of you craft beer snobs that have speculations and assumptions about Black Star Beer, put down the boxing gloves and step away from the hater-ade. Although it is associated with a marketing corporation responsible for more mass-produced products, Great Northern Brewing Company is a legitimate craft brewery in every sense of the word, dedicated to producing delicious beer from high quality ingredients.
And y'all know by now that I would never stand behind a corporate brand, so have faith in me on this one.
The McKensie River Corporation was founded by Minott Wessinger, whose family tradition of brewing dates back to 1856. In 1995, Minott founded the Great Northern Brewery, a three story brewhouse with a 20 barrel system that utilizes a traditional "gravity flow" brewing process. Great Northern Brewing Co. currently produces approximately 8000 barrels per year. At this time, the brewery produces all of its smaller production beers as well as Black Star on draft. Black Star bottles are brewed at a separate production facility.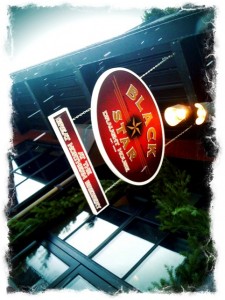 By now, I've toured and brewed in several different breweries of all sizes. I must admit that Great Northern was one of the coolest breweries I've ever visited. Although small, the three-tiered brewing system was really impressive and, apparently, very efficient. It was also very clean, which is crucial — especially with breweries that mainly brew lagers.
Typically viewed as the "gateway" to craft beer, the craft lager family is often under-appreciated, if not completely ignored. Personally, I find the category completely liberating and refreshing, especially with the recent flood of high-octane, extreme beers in the market.
Minott developed the Black Star lager because he saw a need in the market for a well-made, flavorful, craft lager. He recognized that the average everyday corporate beer drinking consumer needed an approachable, full-flavored beer to help them make the transition into craft beer. And that is preciously what Black Star is — an easy to drink, light-bodied beer brewed with quality ingredients and lots of flavor.
Although I di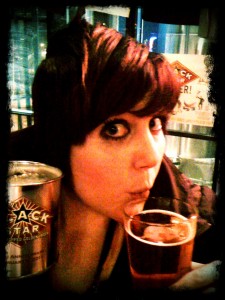 d enjoy probably what equates to the volume of one keg of Black Star beer over the duration of the weekend, it was Fred's Black Lager that really stole the show. It had balanced notes of chocolate and roasted malts, no esters, a light and smooth body, and I found it to be a perfect breakfast beer.
Another excellent beer was the "Going to the Sun IPA" — a nicely balanced, crisp IPA around 55 IBUs and 6% abv. The hops were floral and slightly citrusy with notes of pine and complimented the very light malt bill (mostly two-row with some munich and a hint of crystal for color).
When I learned I would be attending the Black Star Barter and the Whitefish Winter Carnival, I was excited but really didn't know exactly what to expect. What ever expectations I might have had were completely exceeded by the Black Star beer crew.
I flew in Friday evening, and was taken immediately to the Lodge at Whitefish Lake. Words cannot give justice to the hospitality of the lodge staff. From the moment our car pulled up, till the moment I was dropped at the airport, the staff was unbelievably friendly and accommodating.
Black Star hooked me up with a PIMP suite in the main building of the lodge. I had a balcony, fireplace, kitchen, enormous king size bed, and a bathroom that any female would envy. Naturally, all the travel made me extremely parched, and I was very excited to find a mixed six-pack of Great Northern beers. I popped a Black Star open, freshened up, and then headed to the lobby to meet the rest of the Black Star team.
I would like to interrupt this post now to make the following announcement: I AM IN LOVE WITH THE ENTIRE BLACK STAR CREW (and Great Northern and all of their partners). Each and everyone of them had a great personality, sincere passion for Black Star and commitment to each other and the company. The group dynamic was bewitching and I was helpless against their charm. I had only one option this weekend, fall under the Black Star spell.
The weekend
, in a word, was EPIC. I know the word is overused, but I really cannot find a better term to describe my experience. Friday night consisted of one of the most unique and extraordinary beer dinners I've ever attended. Great Northern Brewery set up a huge banquet table on the floor of its brewery, lined up against the fermenters. Lights were turned down low and the brewery was illuminated by candle light.
The dinner deserves an entirely separate editorial, as does the Black Star Beer Barter. So I will close my first post by thanking the entire Black Star crew for their amazing hospitality and all of the really goods times I had this past weekend.
CHEERS! (And stay tuned for more on my weekend in Whitefish…)