DRINK WITH THE WENCH PRESENTS:
The Beer Blogger Interview Series
Curious what goes on in the minds of your favorite beer bloggers? Well, The Beer Wench is and she has embarked upon a mission to interview as many beer bloggers that she can — from all over the world. Are you a beer blogger? Do you want to share your story? Send me an email!
INTRODUCING: KYLE
AUTHOR OF: THE BEER GUNNER
Beer Blogger Interview
Full name: Kyle
Twitter handle: @BeerGunner
Name of blog: The Beer Gunner
Current location: Brooklyn, NY
Background "Snapshot"
1. Where did you grow up?
Richmond, Virginia
2. What sports if any did you play growing up, through college and beyond?
I love sports. I grew up playing baseball, soccer, basketball, and golf. Though these days I usually prefer to have a beer in hand while watching.
3. How old were you when you had your first beer?
I was a sophomore in high school…so about 15 or 16.
4. If you can recall, what is the story of your first beer? Where did you have it? What style and brand was it?
I went to a friends house whose parents were out of town and we got someone's older brother to buy us some beers. I think it was miller lite. So it's a pretty typical scenario.
5. Where, if applicable, did you go to college? What did you study? What additional activities, organizations, sports did you partake in during college?
I went to James Madison University where I studied Geographic Science and Anthropology. I was involved with the Geography Club, the Student Conservation Association and a few study abroad programs.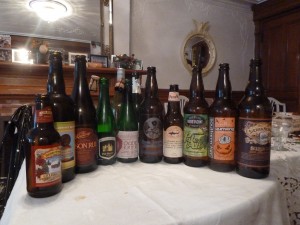 Craft Beer Epiphany
Every craft beer enthusiast has at least one pinnacle craft beer experience that completely changes ones perspective on beer. I refer to this mind-blowing moment as a "craft beer epiphany."
1. What was your first craft beer epiphany? Recall as many details about it as you can:
The very first one I ever had was probably Sammy Smith Oatmeal Stout. That beer completely changed the way I thought about beer. I remember telling my dad that it was like thanksgiving dinner in a bottle when I was a senior in high school.
2. Have you have additional craft beer epiphanies since the first? Detail as many of them as you wish:
Rochefort 10 was my first Belgian that I absolutely fell in love with. I had my mom buy me that beer on Christmas as a stocking stuffer for a few years while I was in college.
Lately, I've gotten into the sour lambics by Cantillon. At first I did not really have the palate for them but now I can't get enough…and I love sharing that style with others who have never experienced it before.

Beer Blog Background
1. How long have you been writing your beer blog?
1 month
2. What inspired you to start writing your blog?
Well…I've been toying with the idea of starting a bar…and I've always loved craft beer so it just seemed like a great way for me to document all the new beers I try and increase my knowledge of the beer world.
3. Why did you choose the name of your blog?
My grandfather was a tailgunner in WWII…so I guess you could say it was a homage to him. Plus I just like the imagery it brings to my mind.
4. What are you personal goals for your blog?
What do you hope to achieve with it? I hope to learn as much as I can about beer…maybe get some ideas for a future bar venture…meet some fellow craft beer lovers…and share some good times with good people.
5. What is one of the coolest things that happened to you as a result of being a beer blogger?
Well…I have not been at it for too long…but all my friends are starting to bring me beers from different places they go on their travels…and I have a lot more impromptu beer tastings at my apartment in Brooklyn.
6. What are you top 3 favorite beer blogs/beer websites?
Simply Beer, The Brew Noob, and Hoptopia are ones I check out pretty regularly…plus they all live in the NYC area so it's nice to see what they are drinking and what's new in NYC.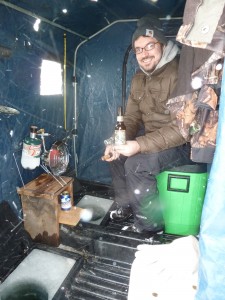 Beer Talk
1. What are your top 3 favorite beer styles?
This is always changing depending on the season but right now I'd have to say Imperial Stouts, IPA's, and Lambics.
2. What are your top 3 favorite breweries?
I've been drinking a lot of Founders lately…I love most of their offerings. They are usually in the top 3. Other than that it depends on the day.
3. If you could work with or for any one brewery, which one would it be and why?
Sixpoint brewery in Brooklyn because I could ride my bike to work and I really like the direction they are heading with the Mad Scientist series and their new line of lagers.
4. Are you a homebrewer? If yes, what is the most unique and interesting beer recipes you've brewed as a homebrewer?
I've brewed a few batches. The one that I probably enjoyed the most was a coffee stout.
5. Do you have any beer certifications (BJCP, Cicerone, Siebel, American Brewers Guild)?? If so, what are they?
No. I just drink a lot of different styles and have a lot of tastings…though I might consider it in the future.
6. What is your favorite beer and food pairing?
A stout with any kind of rich chocolate desert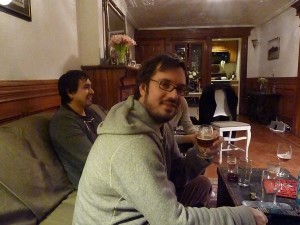 The Personal Side
1. What is your current day job?
Cartographer
2. Are you married? Children?
No and no.
3. Outside of beer and writing, what are some of your other hobbies?
Outdoors, food, traveling, sports
Off The Beaten Path
1. If you were a style of beer, what style would be an why?
Tripel because it is a classic style that goes well with any situation…yet has a menacingly high ABV…and several layers of complexity.
2. You were caught smuggling beer illegally, which has now been made punishable by death. Right before you are sent to the executioner, you are offered one last beer. What beer would you chose and why?
Westy 12 because I have not had one yet.
3. If I contracted you to brew a beer (or design a beer recipe) called "The Beer Wench" — what style would you chose and what, if any, extra ingredients would you add?
I'd brew a nice crisp well balanced session beer like an English Bitter served in a cask so you could wench all night long…
4. If you could be a superhero, what would you want your superpowers to be?
I'd like to destroy all hangovers.
5. What is one of the craziest things you have ever done and lived to tell the story?
I've hitchhiked all over the Middle East and Central America…so that has led to a few different crazy stories…which are too long to tell here…maybe we could grab a beer first?
6. What are your thoughts on bacon?
I like it for breakfast, lunch, and dinner.
SPECIAL THANKS TO KYLE FOR AN AWESOME INTERVIEW!
CHEERS!