When asked to put together an event for PDX Beer Week, local beer writer and organic beer proponent Abram Goldman-Armstrong didn't want to do a standard beer event. "Portland beer sage Fred Eckhardt once conducted an "organic beer and junkfood pairing," says Goldman-Armstrong. "With that inspiration, I decided to pair organic beer and bacon. All too often organic beer gets pigeon-holed as "health food," pairing organic beers with bacon is a little decadent, a little fun and a whole lot of delicious. We've got quite the gamut of styles from chocolate stout and Irish Red Ale to Belgian Farmhouse, American strong ale, to the traditional breakfast beer of Bavaria, hefeweizen."
"Bacon is definitely my crutch," says Grain and Gristle chef-owner Ben Meyer. I've said if I ever retire it will be because I could retire on my bacon."
Each week the Grain and Gristle gets a whole pig from the Payne family farm, west of Corvallis, Oregon and the staff butcher it into delectable menu items. The walls of the pub are laden with house preserved fruit and vegetables, and eight rotating taps offer a wide variety of local craft beers. Artisan spirits and wines round out the beverage selection.
The Organic Beer and Bacon Pairing is part of PDX Beerweek a celebration of the diversity and depth of Portland's unique beer culture.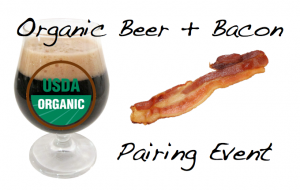 Organic Beer and Bacon Pairing
Where: Grain and Gristle
1473 NE Prescott
Portland, Oregon 97211
503-298-5007
When: Sunday, August 21st, 2-5pm
Cost: $21 for 7 3oz organic beers and 7 bacon samples
Facebook Event Page
The Pairings:
Bison- (Berkeley, California)- Chocolate Stout  5% abv with Housemade Chocolate-dipped bacon
Crannóg Ales- (Sorrento, British Columbia)- Gael's Blood Potato Ale 5.2%abv 48 IBUs with House-brined Back bacon
Eel River- (Scotia, California) Triple Exultation Strong Ale  9.7% abv with Molasses and Coffee Cured Bacon
Hopworks Urban Brewery- (Portland, Oregon) Velvet ESB 5.2% abv Tails and Trotters hazlenut finished pork pepper bacon
Laurelwood- (Portland, Oregon) Free Range Organic Red Ale. 6.1% abv 60 IBUs with Dry cured Applewood Smoked Bacon
Logsdon-
Organic Farmhouse Ales-
(Hood River, Oregon)
Twee Bretta Farmhouse Ale 8% abv paired with local Hood River bacon
Upright-
(Portland, Oregon)
Offen Weisse 5.2% abv paired with House-cured Tesa an Italian-style fresh bacon.
For more information contact: Abram Goldman-Armstrong: abe@brewingnews.com