DRINK WITH THE WENCH PRESENTS:
Behind the Twitter Avatar Series
Are you curious about the men and women "hiding" behind Twitter avatar of the world's most beloved craft breweries? Well, you are not alone. The Wench has gone behind the scenes to reveal and introduce you to the individuals who possess the ever coveted social media positions in the craft beer industry.
Behind the Twitter Avatar: @Karl_Strauss

Ryan A Ross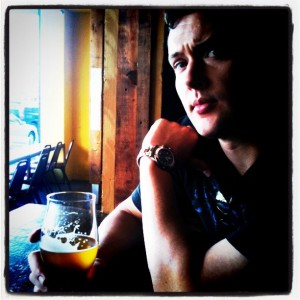 Brewery: Karl Strauss
Location: San Diego, CA
Personal Twitter Handle: @RyanARoss
What is your "official" position with Karl Strauss?
My "official" position is Marketing & Community Manager but as anyone in the industry knows, we craft beer folks wear many hats. Aside from managing KARL's social media, I'm the resident copywriter, marketing program manager, and Certified Cicerone.
What is your favorite beer from Karl Strauss?
This is like asking a parent if they have a favorite child. My favorite beer is usually the one in my hand and those tend to be dry, hoppy and sessionable. I'm a big fan of our Pintail Pale Ale and always look forward to March when it's back in season.
What is your favorite beer and food pairing?
I get to do a lot of R&D for KARL's Blog and my most recent favorite is Two Tortugas Belgian Quad with a Bucherondin and fig jam on brioche grilled cheese. Red Trolley Ale-brined pork chops with an Off The Rails Imperial Red is also a favorite.
If you were a style of beer, what would you be and why?
I'd be an English-style Old Ale. When I was young, I was hot and a little rough around the edges but I just keep getting better with age.
And last but not least, what does craft beer mean to you?
This is where I'm supposed to get up on a soapbox with a megaphone and preach the craft beer gospel? Sorry, homey don't play that. For me, craft beer means community and I think the community we're building is pretty swell.
Special thanks to Ryan for rockin' out the Karl Strauss Social Media and making all of our social media lives that more interesting!