DRINK WITH THE WENCH PRESENTS:
Behind the Twitter Avatar Series
Are you curious about the men and women "hiding" behind Twitter avatar of the world's most beloved craft breweries? Well, you are not alone. The Wench has gone behind the scenes to reveal and introduce you to the individuals who possess the ever coveted social media positions in the craft beer industry.
Behind the Twitter Avatar: @Ninkasi
Winter James Gibbs Archibald III Esquire
(Winter Gibbs)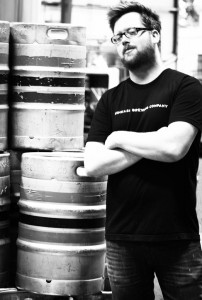 Brewery: Ninkasi
Location: Eugene, Oregon
Personal Twitter Handle (if applicable): @thepongwiz (pretty much just a live feed of blip.fm. Kinda boring.)
What is your "official" position with Ninkasi?
Assistant Art Director and Social Media Guru
What is your favorite beer from Ninkasi?
Quantum Pale
What is your favorite beer and food pairing?
PBR and pizza
If you were a style of beer, what would you be and why?
I'd probably be a sour beer of some kind cause I'm notoriously a fairly grumpy dude.
And last but not least, what does craft beer mean to you?
Essentially I think it's cool to be a part of a industry that has so many passionate people in it. Craft beer is all about the attitude and as we say around here, "Beer is Love"
Awwww, agreed. Beer is Love. And you are freaking adorable. Thanks to Winter for rockin' out social media for Ninkasi!