Curious about the brilliant minds behind some of the world's best craft beers? So is The Wench, which is why I've started the "Inside the Mash Tun" brewer spotlight series featuring some of the most talented men and women in the craft beer industry.
Today I would like to introduce to Eric, brewer at Rock Bottom in Des Moines, Iowa. For those unfamiliar with it, Rock Bottom is a franchise restaurant and brewpub concept that prides itself on offering fresh craft beers, made in house, at all of its locations.
Inside the Mash Tun: Eric Alan Clarke Sorensen
Regional Brewer, Rock Bottom – Des Moines
West Des Moines, Iowa
Twitter handle: @RBDesMoines (formerly @sorebrewer)
How did you get into the craft beer industry?
I started as an apprentice brewer at Lost Coast in 1992. Went to UC Davis after the first year & Siebel Institute after (the then required) two years.
How long have you been brewing at Rock Bottom?
Nearly nine years now.
Out of all the beers you have brewed, what is your all-time favorite?
I don't really have a favorite beer or even a favorite style. There are beers that I'm proud of and they aren't just the ones that have received medals. I enjoy different beers for different occasions and moods. Mostly, what I like doing is surprising folks with a beer that they don't expect; but you just cannot beat seeing a roomful of people enjoying the fruits of your labor. That said, the challenge I set for myself was to make a great beer with the most simple malt bill and one variety of hops. I was so pleased with the first attempt, Van Der Pils – made with Calypso hops, that I brewed Nelson Sauvin Reserve Pils.
What is you favorite beer and food pairing?
I really am equally broad in my approach to food and believe that you should drink the beer you want with the food you enjoy. Contrast is just as important as congruence and complement. I dislike being prescriptive…part of that may be having grown up in the anti-establishment punk ethos in San Diego and part of it likely stems from my education in anthropology & linguistics. I really enjoy foods from a variety cuisines and it drives me nuts that so many restaurants whose cooking I enjoy only stock pale lagers or at best a more limited selection than their wine lists. We've come a long way but there is still room to grow.
What is the best part about working for Rock Bottom?
Our ability and freedom to create beers that cater to local tastes and trends while still being able to push those limits and educate our guests about the variety of beer. I get immediate feedback about my beers so I will often work through ideas with a trusted circle. I am making very different beers than I did when I started here, yet I still brew a few of the old favorites.
If you were a style of beer, what would you be and why?
When I started there weren't quite so many "styles" and we often brewed out of style. The world of artisanal, craft or small breweries has changed and yet I would probably be something somewhat funky and out of style. I know that categorization is a human trait but I think being somewhat unexpected is good.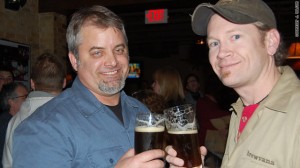 Outside of craft beer, what are some of your other hobbies and interests?
Back when I lived in California, I really enjoyed surfing & gardening. Having moved the family to the Midwest, I have more time for cooking, reading, watching my four girls play sports, and teaching them music. Life is pretty full and I hope to get back to metal working at some point.
And lastly, what does craft beer mean to you?
Craft Beer means more to me than any of the usual definitions; it means I care about what I make and whether it is enjoyable. It's being able to create a whole range of experiences that broadens and uplifts our minds & lives.
————————————————————-
Want to see one of your favorite brewers featured? Just leave a note in the comment section below or shoot me an email!