Curious about the brilliant minds behind some of the world's best craft beers? So is The Wench, which is why I've started the "Inside the Mash Tun" brewer spotlight series featuring some of the most talented men and women in the craft beer industry.
Today I would like to introduce to my friend Gary O'Flanagan — the head brewer of Mendoncino Brewing. In addition to his own beers, Gary also oversees the production of many other contract brews from Northern California!
Inside the Mash Tun: Gary O' Flanagan
Head Brewer, Mendocino Brewing Co.
Ukiah, Ca.
Twitter handle: @GaryOFlanagan
How did you get into the craft beer industry?
In 1994 I was on sabbatical as an Options Specialist from the investment banking firm of Morgan Stanley Dean Witter and during that time I managed to get into home brewing. It wasn't long before I was managing the Home Brewery (now Beer Beer and More Beer) and working as an assistant brewer for Main Street Brewery in Corona, Ca. When the brewmaster position at Riverside Brewing became available to me I knew my days on Wall Street were over and I've never looked back. At the 2000 GABF I took gold and bronze medals and it wasn't long thereafter Mendocino Brewing was knocking at the door.
How long have you been brewing at Mendocino?
I've been a craft brewer for 16 years of which 11 have been at Mendocino.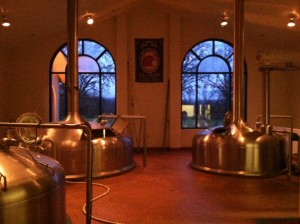 Out of all the beers you have brewed, what is your all-time favorite?
Wow. That's really a tough one Ashley since my favorite beer is always the one currently in my glass at any given time.
What is you favorite beer and food pairing?
I can never get enough of any Imperial Stout with oysters.
What is the best part about working for Mendocino?
Being a part of the New Albion/Mendocino Brewing legacy. It's truly an honor being a part of the team and working with the very people who created the craft beer movement. Although Jack McAuliffe and our founders have all retired and no longer roam the Brewhouse, their spirit is still very much here.
If you were a style of beer, what would you be and why?
That style hasn't been created yet. But if you blended the complexity of my Barley Wine with the arrogance of Greg's Double Bastard and topped it with Sam's off centered 90min you'd be in the ballpark.
Outside of craft beer, what are some of your other hobbies and interests?
In the summer you will no doubt find me on Lake Mendocino boating and wake-boarding before and after work. I'm also a pilot so during the fall/winter season you'll find me at 13,000ft taking in everything scenic northern California has to offer.
And lastly, what does craft beer mean to you? Dang Ashley, that's another tough question. Let's see. I work in an industry that encourages me to challenge my creativity, places no restriction on my innovation and surrounds me with peers of the highest integrity. Even after 16 years I still wake up and look forward to start mashing in. All of which wouldn't be possible without the craft beer fans who by far are the most discerning drinkers in the world. There is nothing more gratifying than standing in the checkout line behind people with a cart full of Eye of the Hawk who don't recognize me and listening to them rave of the great time they're gonna have enjoying their favorite beer. Priceless. Craft beer to me is not only my passion, it's also my way of life. Cheers!
————————————————————-
Want to see one of your favorite brewers featured? Just leave a note in the comment section below or shoot me an email!