Curious about the brilliant minds behind some of the world's best craft beers? So is The Wench, which is why I've started the "Inside the Mash Tun" brewer spotlight series featuring some of the most talented men and women in the craft beer industry.
Today, I would like to introduce you to Robert Demaria — the owner, brewmaster and Mad Scientist of Prism Brewing Company in North Wales, PA.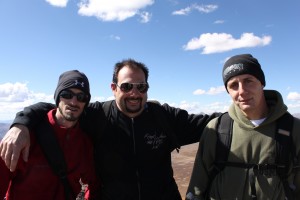 Inside the Mash Tun: Robert Demaria
Mad Scientist (aka owner/brew master), Prism Brewing Company
North Wales, PA (Philly suburbs)
Twitter handle: @prismbeer
How did you get into the craft beer industry?
I was a home brewer whose soul was being slowly sucked out by corporate America. Having a background in film/TV, my creative side soul was dying in that stuffy office. While finishing my MBA I researched the craft industry for all of my assignments and saw a great business opportunity AND a way to get my soul back.
How long have you been brewing at Prism?
A year and a half.
Out of all the beers you have brewed, what is your all-time favorite?
Insana Stout… there is something about brewing with chocolate and bacon that turns me on I guess.
What is you favorite beer and food pairing?
That would be our Insana Stout with chocolate covered bacon hanging off the pint glass… throw in maple pancakes with some fresh syrup and you have breakfast for dinner.
What is the best part about working for Prism?
The freedom to be creative and not brew to style. Nearly every beer here is brewed with adjuncts and so it is a real challenge to think about a new ingredient and work to balance flavors and compliment our base style. It's not just opening your refrigerator and tossing stuff in… it takes a creative and scientific balance to get it to work right.
If you were a style of beer, what would you be and why?
I wouldn't be any classic style… I can't be defined so perhaps "experimental" would be my style. I, like my beers, are multifaceted and can't easily be defined.
Outside of craft beer, what are some of your other hobbies and interests?
Sleeping… I'm here all the time. But when I forego sleep, I like to ride my motorcycle, go to concerts, gamble, and even make an attempt at connecting a club and a ball. Everyone at the brewery also has an oath to do a 14er every year at GABF… or at least try.
And lastly, what does craft beer mean to you?
Craft beer to me is a celebration of diversity. As lame as it sounds I love hanging out with people from different back grounds, ethnicities, sexual orientations and so on. Craft beer is diverse like our culture… apart we are nothing, but put us all together and you get one hell of a party.
————————————————————-
Want to see one of your favorite brewers featured? Just leave a note in the comment section below or shoot me an email!