Curious about the brilliant minds behind some of the world's best craft beers? So is The Wench, which is why I've started the "Inside the Mash Tun" brewer spotlight series featuring some of the most talented men and women in the craft beer industry.
Today I would like to introduce to Todd Parker, one of the tallest, funniest, most talented and passionate brewers that I've ever had the pleasure of sharing beers with. Todd's Apple Streudel Tripel is seriously one of the best beers I've ever had in my life (hint hint). I seriously love this man, and you will to after you meet him!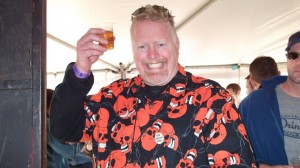 Inside the Mash Tun: Todd Parker
Head Brewer ( technically I could be called Brewmaster also, but out of deference to friends who have real German Brewmaster credentials, I do not use it), Copper Canyon Brewery
Southfield, MI (just a few miles Northwest of Detroit)
Twitter handle: @Beertodd
How did you get into the craft beer industry?
While a grad student at CSUF, I had gotten to know the brewers at BJ's Brewhouse in Brea, and they had gotten to know me and my homebrews. After I finished my degree, the Head Brewer there asked me what I was doing, I replied "just looking for a job", his response was "well, why don't you work for us in the meantime." I've been in the industry since.
How long have you been brewing at Copper Canyon?
4 ½ years
Out of all the beers you have brewed, what is your all-time favorite?
That's tough, like asking a parent what their favorite child is. I have had some hits and a few misses here and there. My RyePA and Apple Streudel Tripel are two of my favorites, however, probably one of my most successful beers is my Summerzest, which is a beer I have to make all summer. It is a modified Wit made with orange peel, lemongrass, ginger, and honey. I am very proud of a beer that I just made called Faux Bruin. It had been a project ruminating in my brain for several years. It is my take on the Flanders Red/Brown styles of beers, except I made it without adding souring bacteria and wild yeast post boil. I used a sour mash technique to develop the acidity as well as by adding some Balsamic vinegar to the boil. I added some raspberries, strawberries, cherries, and cranberries to develop the fruitiness, and some vanilla and an oak spiral to add some of the characteristic background flavors. I fermented it with a Belgian yeast that develops a tartness in the beer. While I did not get the acidity characteristic with the style, I am happy with the results that I got and with future batches, I might let the sour mash go longer to build the acidity.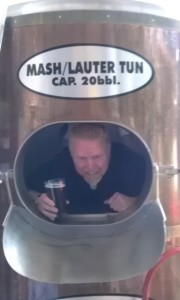 What is you favorite beer and food pairing?
Girl Scout Samoas with bourbon barrel stouts, esp. Founders KBS
What is the best part about working for Copper Canyon?
I am allowed the freedom to be as creative as I want, which is a nice feature. I can brew a Saison with 12 different flowers, or a Stout with chocolate, or an 8% Marzen.
If you were a style of beer, what would you be and why?
Sometimes I'm an IPA fermented with Brett., sour and bitter. Other times, I'm a Scotch Ale, a big sweet thing, chock full of fun. In general though, I see myself as a Belgian Strong Ale, a non-traditional beer, with a little spice and a heck of a kick.
Outside of craft beer, what are some of your other hobbies and interests?
I have a stinker of a dog called Flipper, who can be a handful, much of which is my fault. He has diabetes now, so that means daily insulin shots and consistent feeding times. I enjoy playing soccer when I can as well as BBQing meat.
And lastly, what does craft beer mean to you?
Craft Beer means Passion, it is the embodiment of that Brewers passion to create something beautiful. It isn't a product, it is art. It isn't the "be all, end all" that pays the bills, it is why I do what I do, why I exist. It is not designed to be inoffensive to the masses, it is designed to be good.
DVD bonus features:
Beervangelism efforts: member of the MBAA, Michigan Brewers Guild (on Marketing Committee), monthly Beerposiums, official mascot of the Detroit Draft Divas womens group, and contributor to the Beertoddcasts with the Brew Bubbas podcasts (Brewbubbas.com).
Have you ever experimented with Beer cocktails, if so, what was your favorite concoction?
Yes, Beer Cocktails are the natural progression from Bourbon Barrel beers, Maple beers, and Chardonnay Barrel beers. It is trying to enhance an already good product with some different flavors. It is just evolution, expanding the palette of colors for the mixologist to use. Personally, I have played with a few, adding a splash of Tequila to my Apple Streudel Tripel works very well, and I do not know why. My favorite though is a Summermaker, which is a shot of Whiskey in a pint of Summerzest, the Summerzest acting like sour mix, for a very tasty Whiskey Sour.