According to one of its founders, Jay Brooks of Brookston Beer Bulletin: "The Session, a.k.a. Beer Blogging Friday, is an opportunity once a month for beer bloggers from around the world to get together and write from their own unique perspective on a single topic. Each month, a different beer blogger hosts the Session, chooses a topic and creates a round-up listing all of the participants, along with a short pithy critique of each entry." (Some of you might remember that I had the honor of hosting The Session in October of 2010)
Today's topic was chosen by none other than my new husband (sorry if this is news to any of you, more details to come), Angelo De Ieso of BREWPUBLIC.com — arguably Portland's most beloved beer blogger and beer blog. The topic of today's discussion is: What Drives Beer Bloggers?
As with most beer bloggers, my original reasons for starting this blog are drastically different from my current goals  and direction.
I make absolutely no claims at being a beer expert but, in my defense, I am no beer novice either. Instead, I prefer to think of myself as a student of the art of crafting beers. In his post, Angelo sites About.com's 10 Reasons to Start a Blog. Using this list as a reference, I originally started this blog to:
#5 Connect with People Like Me (aka beer lovers): When I started my blog, I was a regular member of The Columbus Underground, a large social media based community focused on all things Columbus (food, beverage, politics, sports, etc). At the time, my passion for beer was growing and I noticed that the city didn't have a beer blog or anyone organizing beer events. So, I took a stab at it.
#7 Stay Active or Knowledgeable in a Field or Topic (aka beer): In my very first blog post I wrote, "My personal goal is to become more educated on the world of beer. The goal of the blog is to take my readers along on my adventure and train ride through beerland. I intend on learning through a plethora of experiences including beer tasting, home-brewing, traveling to breweries, taking courses, and so on and so forth." I had left the restaurant industry for a career in marketing, and I saw my blog as an opportunity to stay connected to the world of food & beverage — specifically, beer.
#10 Have Fun and Be Creative: I'm a writer by trade, true story. As a kid, I spent hours and hours reading science fiction — and then more hours attempting to write my own sci-fi short stories. Throughout my years in school, I won several essay writing competitions. (Ironically, I won the opportunity to speak at my 5th grade "DARE" graduation ceremony — ha! And look where that got me…) When I graduated college, I took the GRE with the intention of getting a Master's in Journalism. That dream shortly ended when I landed a gig as a restaurant manager — which ultimately put me on the path to where I am today. Moral of all this: I needed a creative outlet for my writing, and starting a blog turned out to be the perfect solution.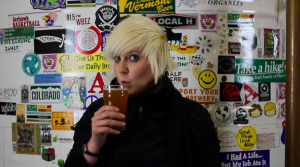 What originally started as a fun project and virtual notebook, has since turned into a platform for advocating and advancing the craft beer industry. Craft beer is my life, it is my raison d'etre. It is my hobby, it is my career. It is what I wake up for every morning, and the reason I can't sleep at night.
Here is the part where many of you might want to stop reading, as I am about to get philosophical and deep.
9/11 happened two days after I moved into the dorms my freshman year of college. As with many people, that day completely altered the course of my life. I grew up in a historical town named for a Revolutionary War general in NY, just 60 miles north of Manhattan. American history was extremely important to my town, my family and myself. As a kid, my parents and teachers taught me to always fight for what I believe in, and to always seek and believe in justice.
When I left for college, my sights were set on the FBI. After 9/11, everything I thought I knew about the world completely changed. My extremely liberal teachers unveiled a world that I had never seen before — a world of injustice, broken promises, lies and deceit. I felt betrayed and broken-hearted, and started to search for a new purpose in life. 2nd quarter, I found it….
International Studies 201: Introduction to Peace Studies - The meanings of peace and peacelessness in today's world, varied approaches to peace, contributions of many disciplines and professionals, and the significance of peoples' movements.
Learning Objective #3: Students develop abilities to comprehend and assess individual and social values, and recognize their importance in social problem solving and policy making.
My professor's name was Dr. B. Kardaras. I would linger after every class just to listen to him talk with other students and, on occasion, bombard him with philosophical questions that had no concrete answers. On the last day of class, I approached him with tears in my eyes, fear in my heart, and the question that haunts and drives us all…."What should I do with my life?"
His response, in its simple yet inspirational glory, has never left me. "Ashley, it has been a long time since a Ghandi-like figure has been in this world." He went on to say that people should never underestimate the impact they can make on this world, no matter how small the contribution or trivial the subject. And so, this brings us to the purpose of this blog and my answer for the question: "What Drives Beer Bloggers?"
"Be the change you wish to see in the world."
Although the origins of this quote are widely disputed, but it doesn't stop the words from being true. "If we could change ourselves, the tendencies in the world would also change. As a man changes his own nature, so does the attitude of the world change towards him." — Ghandi.
I have always wanted to make a significant difference in this world. But until I found craft beer, I didn't know what I would do and how I would do it.
Over the years, Drink With The Wench has metamorphosed into more than just a blog. I am more than just a blogger. I don't want to just be a part of the craft beer movement, I want to be a leader in it. Although my actions appear selfish at times, my focus has and always will be on promoting craft beer and the people who make it. My goal is to create and inspire change in the beer and beverage culture. I want to be the change.
I am proud to say that I am no longer the novice enthusiast that first set out to write this blog.
I am a craft beer evangelist on a mission to revolutionize the beer industry through education, innovation & advocacy.
I blog, therefore I am…. or should I say: I am, therefore, I blog.
Cheers!