True story: I love to Google random word combinations that involve beer. And by doing so, I stumble across some pretty awesome (and some not-so-awesome) things. So I have decided that, from now on, I am going to start posting my awesome discoveries on Drink With The Wench in the category I am calling FTW — aka For The Win.
If you have a habit of biking and drinking like me, boy do I have a tool for you!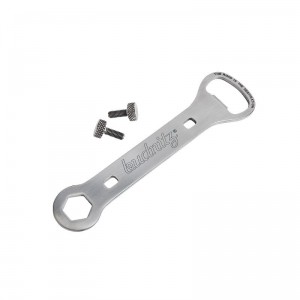 Known for his super-light bicycles made of titanium, stainless steel, and cro-moly, Paul Budnitz has taken his vision of optimizing the bicycle ride to the next level with his latest titanium design — a Beer Wrench. No kids, not a Beer Wench (that's me), but a Beer Wrench.
The Budnitz Beer Wrench has a titanium 15mm spanner on one side, and a bottle opener on the other.  Two titanium thumb-screws attach it securely the the water bottle mounts on most bicycles. The 15mm wrench will remove rear axle bolts, Alfine internal hub bolts, and Pitlock keys — whatever all that means. Essentially, it is perfect for removing a wheel on the road — and opening a cold one while you (me) completely destroy a bike because you have no idea what you are doing.
The Beer Wrench only costs $38, making it a pretty solid gift for that beer cycling fiend in your life.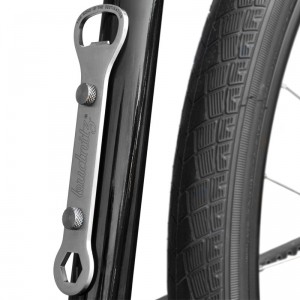 Paul Budnitz Biography
Paul Budnitz is an artist, author, filmmaker, product designer & entrepreneur.
Budnitz is well known as the founder of Kidrobot, the world's premiere creator of art toys. He has designed hundreds of products, created Kidrobot's apparel lines and retail stores, and collaborated with many of the world's top artists and designers. More than a dozen of his toys are featured in the collection of the Museum of Modern Art.
Budnitz regularly appears in the media and lectures on creativity worldwide. He is the author of several books, is an award winning filmmaker, and is often recognized for his innovative use of technology in art and business.
You can read Paul Budnitz' biography in greater detail here.