This Thursday, I'm hitting the road to Portland with my eyes set on the North American Organic Brewers Fest. Although it will be my first time attending, this will be the 8th year that the NAOBF has been in existence. It will take place in Portland's Overlook Park, June 29th-July 1st. The event organizers are predicting that over 18,000 people will be in attendance — which is a huge feat for organic beer, the often misunderstood and overlooked segment of craft beer.
If you are among the herd attending this year, make certain to pit stop at Bison Brewing — the 100% certified organic brewery headquartered in Berkeley, CA. We will be featuring our Organic Honey Basil Ale and our Organic Chocolate Stout this year. And if you want to meet up with me at the fest and grab a beer, don't hesitate to send me a tweet @TheBeerWench on the day of!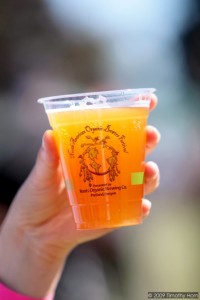 It is also important to note that the NAOBF is sustainable in a number of ways: festival attendees sample beer from reusable and compostable cornstarch glasses made from domestically grown corn by a zero-waste, solar-powered company. Onsite composting and recycling stations are provided for festival waste and are supervised by recycling czars. Food vendors are required to use compostable cutlery and plates and employ sustainable practices. Electricity needs are met with a combination of biodiesel and solar generators. Volunteers wear organic cotton and hemp t-shirts, and all event signage is reusable.
Event hours are Noon to 9 p.m. Friday and Saturday, and Noon to 5 p.m. Sunday. Admission into the event is free. The purchase of a $6 reusable, compostable cornstarch glass is required for tasting beer, as are tokens, which sell for $1 apiece.
Why an organic beer festival? Studies show that the world's population currently consumes 30% more natural resources than the Earth's ecosystems can replenish. According to the Environmental Protection Agency, commercial agriculture is accountable for 70% of the pollution in our country's rivers and streams. Genetically modified ingredients can be found in nearly every grocery store. The NAOBF believes that education and exposure leads to awareness, and awareness can translate to passion. If everyone becomes passionate about sustainability, as a whole we can make the planet a cleaner and healthier place for all of us to habitat. If the conversation starts with an organic beer, that's even better!