"The worst scientist is he who is not an artist; the worst artist is he who is no scientist." — Armand Trousseau
There is no denying that every brewer is both a scientist and an artist. Whereas engineering, biology and chemistry are all essential to brewing, so are imagination, vision and creativity.
After all, craft brewers are not robots. Many brewers, whether they know it or not, express themselves artistically through brewing. Each beer, like a paint stroke, is a personal reflection of the brewer.
"Painting is self-discovery. Every good artist paints what he is." — Jackson Pollock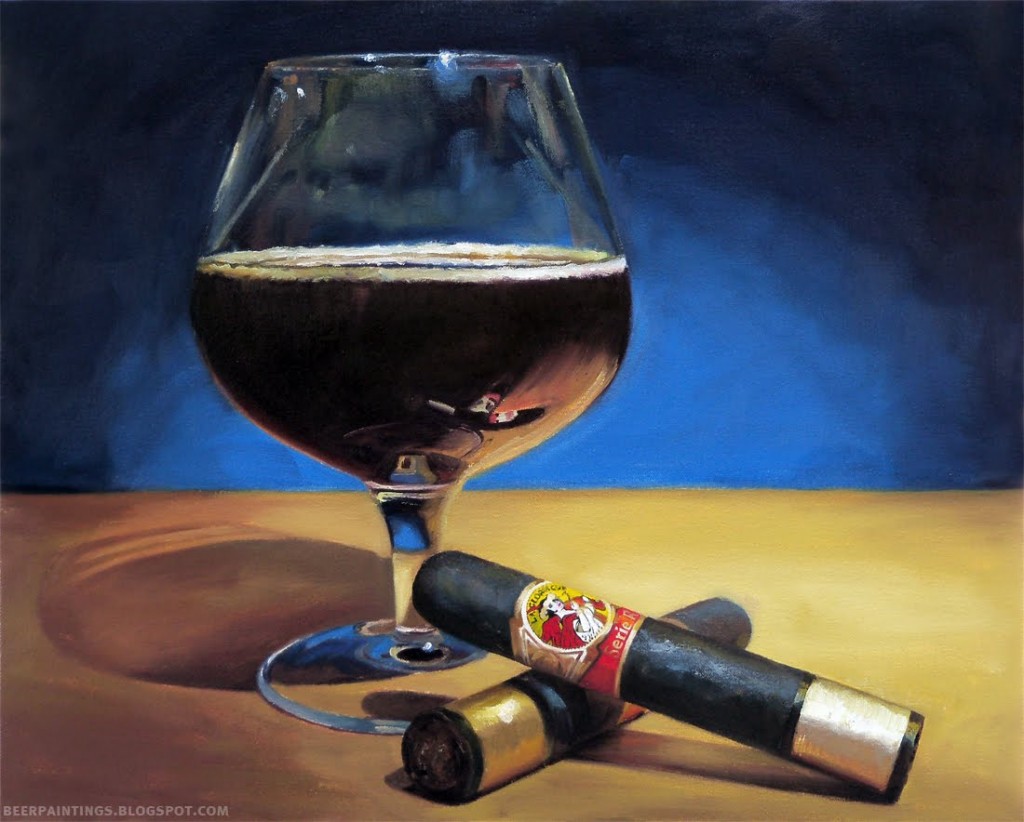 Painting of Stout and Cigars by Cara and Louie. More information: http://beerpaintings.blogspot.com/
Great beers, like great artwork, can visually, emotionally and psychologically stimulate the brain and the senses. Beer, much like art, can lead to inspiration, insight and self-reflection. One could argue that the greatest differentiation between craft beer and its macro counterpart is the intimacy and artistry of its creation.
When you think about it, beer and art belong together – in one place, at one time. And this is precisely what the brilliant minds at Victory and Dogfish Head have teamed up to do. Aptly named Amber Waves, the nation's first art & beer pairing exhibit will premiere during the 2013 Craft Brewers Conference in Washington D.C.

"Amber Waves is an art exhibit pairing "art" in its standard forms (painting, sculptures, etc.) with art as we brewers know it — in the form of craft beer. But that's not all!," exclaims Karen Noonan, Communications Manager at Victory. "As attendees are being visually stimulated by commissioned artwork, their palates will be wowed by the flavor spectrum that can be achieved by beers that all look the same. That's right, every beer in the exhibit will be amber in color. "
To give credit where credit is due, the Amber Waves exhibit is the brainchild of Bill Covaleski, Brewmaster & President of Victory Brewing Company.  Whereas many brewers have a background in engineering, biology, or something to do with science – Bill is an artist, specifically a graphic designer, by trade. And don't let the word "President" fool you, Bill wears many hats at Victory, including the title of Creative Director.
Painting by Karen Eland using only beer & water. More information: http://www.beerpainter.com
Bill's passion for art, design and well-crafted beer led him to develop the concept of Amber Waves. It took little to no convincing to get the like-minded, art-loving friends at Dogfish Head to jump on board with idea!
The Amber Waves art and beer show will take place on March 28th at the District Architecture Center during the 2013 Craft Brewers Conference. The exhibit will feature 25 original amber-colored beer recipes paired with 25 pieces of art. All of the art will be auctioned off for charity during the exhibit (the beer is, of course, for consumption).
The only requirement for entry is that each beer must be amber in color and strike between 16 and 24 SRM. Other than that, there are no restrictions. Any yeast, malt combination, hop blend and other additives can be used – as long as it's an amber hued beer! Old recipes, new recipes – it doesn't make a difference.
Painting of Michael Jackson by Cara & Louie. More information: http://beerpaintings.blogspot.com/
Instead of hand selecting the "best" recipes themselves, Victory and Dogfish Head have commissioned the help of seven esteemed beer writers, who will assume the role of jurors for the art exhibit. In a juried art exhibit, art curators consider and evaluate works of art before accepting them in to the exhibit.
Karen explains, "For the purposes of Amber Waves, we are asking breweries to submit written beer recipes to be juried by a group of beer writers. The beer writers will evaluate piles of recipes and ultimately choose 25 recipes that will get the honor of exhibiting at Amber Waves."
The brave panel of jurors includes Greg Kitsock, Todd Alstrom, Jason Alstrom, Chris Furnari, John Holl, Lew Bryson and, wait for it, myself. Like you, I'm quite surprised and very honored to see my name alongside all of these well-known and prestigious members of the beer press. If anything, my presence will break up the monotony of a virtually all-male panel of judges (chromosome Y, represent!).
The aforementioned jurors will vote on the recipes based solely on descriptions provided by the breweries – not on a physical tasting. Essentially, the jurors will be challenged to use their imagination to chose the best beers based upon concept, rather than final execution. This odd judging process should make the final unveiling of the beers that more interesting.
Painting of PBR Break During the Tour de France by Karen Eland. More information: http://www.beerpainter.com/
Judging stops after the beers have been selected, and the focus turns to the art show and auction. The art itself is not a part of the judging process – it comes after the fact. Each of the 25 breweries that make the "cut" will be required to bring some sort of artwork to the exhibit. The type of artwork (sculpture, photograph, painting etc.) does not matter, but it is suggested that each brewery provide something enticing enough to auction off for charity.
The deadline for recipe submission is December 20th. If you are interested in submitting a recipe, check out the submission form on the event website: http://amberwavesevent.com/.
Stay tuned for more news on this exciting concept, including the list of finalists and ticket information for the art show.
Lastly, please don't approach me for advice on recipe development. I'm easy to bribe in most situations, but this is an exception. I prefer to remain untainted. Thanks in advance. Cheers and Good Luck to those that enter!