There are several reasons I wish I lived in Colorado and, having access to Odell's liquid of the gods definitely tops the list. Cool, quirky, imaginative and sustainability-minded, Odell Brewing is everything I look for in a craft brewery. And their beer is good, damn good.
Usually, when I hear about an awesome beer release that I don't have access to, I throw something heavy at the wall and scream out a bunch of profanities. But then, I ultimately calm myself down enough to write about it.
Odell has just announced that it will be releasing a new 12 oz. 4-pack offering this coming January. The beer, as you might tell from the title of this blog past, is Lugene Chocolate Milk Stout, a full-bodied stout brewed with lactose (milk sugar) and milk chocolate.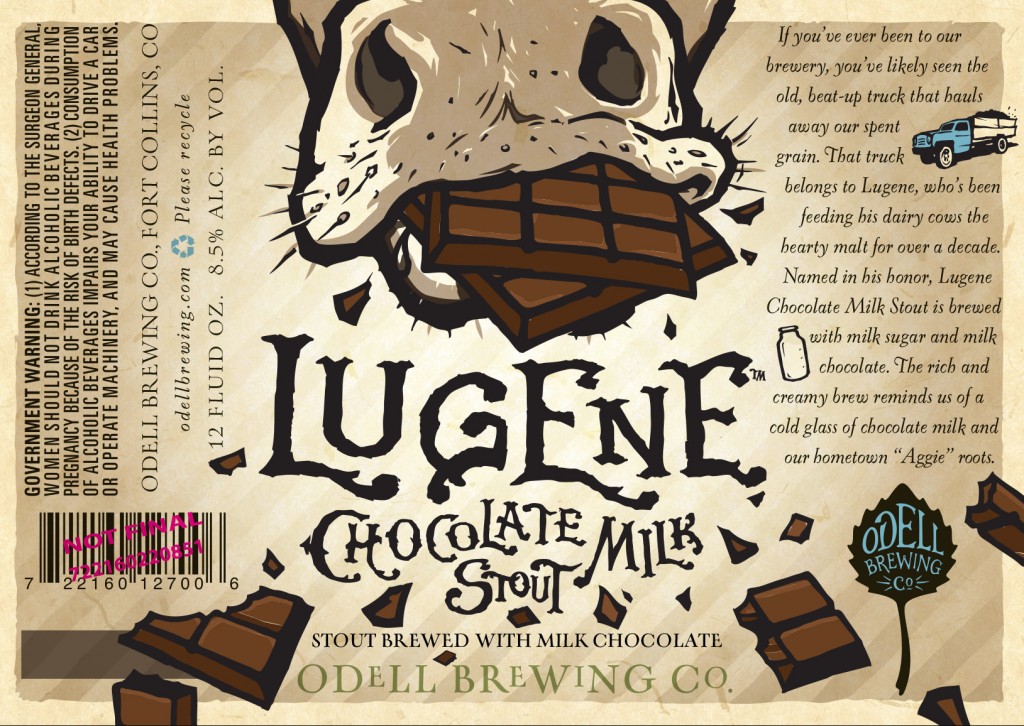 According to the sources, Lugene boasts roasted malts and milk chocolate that mingle with just a hint of vanilla. The rich flavor and creamy mouthfeel create a beer that is reminiscent of a glass of chocolate milk.
The beer is named for Odell's longtime friend and farmer, Lugene Sas, who's been feeding his dairy cows the brewery's spent grain for over a decade. Brewery visitors have likely seen Lugene's old beat-up rig, a rusty blue Chevy, which hauls the grain to his small local dairy. Lugene combines the hearty malt mixture with organic alfalfa hay, organic grass hay and silage to create complete feed for his very happy "girls."
See, I told you these kids were sustainability minded.
"Fort Collins has deep agricultural roots, and that is part of our brewery fabric," said Eric Smith, director of Sales and Marketing at Odell Brewing. "We wanted to honor our friend as well as our hometown 'Aggie' roots."
Lugene Chocolate Milk Stout will be available in four packs beginning in January throughout the brewery's ten state distribution footprint. Odell Brewing plans to celebrate the release in the Tap Room on Sunday, January 6th with samples of the beer, local food truck fare, and live music by Hwy 287. The brewery will also feature Lugene at the 2013 Vail Big Beers, Belgians and Barleywines Festival. Please visit the Odell Brewing blog to see more about Lugene and his spent grain use.
 About Odell Brewing
Founded in 1989, Odell Brewing was started by Doug Odell, his wife Wynne, and his sister Corkie. Twenty-three years later, the culture of family and collaboration still thrives fostering a brewery full of beer-centric people. It is this passion for beer that inspires Odell Brewing to create quality, hand-crafted, innovative brews. As a regional craft brewery, Odell Brewing is committed to serving the communities in which it distributes by sourcing local raw materials, and through its charitable giving program known as Odell Outreach. Odell Brewing was recently named a "Top Company of 2010" by ColoradoBiz Magazine and is an award winning brewery, nationally and internationally: 2012 Brewers Association Recognition Award, 2011 Great American Beer Festival® – gold medal for Friek. 2010 North American Beer Awards – gold medal for Woodcut No. 3. 2009 BrewNZ Awards – gold for 5 Barrel Pale Ale. 2008 World Beer Cup® – gold for IPA. 2007 Great American Beer Festival® – gold medal for IPA.