Last year, I partnered with my now-husband, Angelo De Ieso of BREWPUBLIC.com, on a year end blog post recapping our favorite craft beer moments of 2011. It was so much fun, we decided to do it again! Here is the 2012 recap of our year in beer!
His and Hers: Best Craft Beer Moments of 2012
2012 was a year filled with a lot of ups and downs, and punctuated with a lot of great craft beer. What are some of the best craft beer related moments or otherwise that stand out in your mind?
Ashley: One the best craft beer moments for me, this year, was being the beer sponsor at the SF-based Food Revolution event. Led by celebrity chef Jamie Oliver, the Food Revolution is dedicated to saving America's health by changing the way people eat – something that both I as a person and Bison as a company can get behind 100%.
We poured our organic beers alongside delicious boutique wines, locally-sourced cheeses, meats and dishes prepared by local chefs. Jamie Oliver also joined out celebration via Google+ hangout – a super cool bonus. The event was great because it really showed just how progressive and sustainably-focused the San Francisco Bay Area is!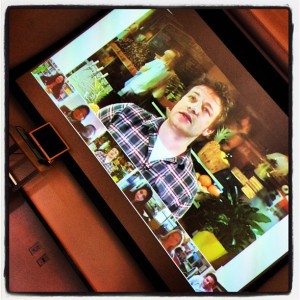 This year I had the honor of attending my first KillerBeerFest, organized by none other than my loving and talented husband, Angelo De Ieso of this very website. It's the only event, ouside of large festivals, where I've witnessed so many rare beers and one-offs on tap AT THE SAME TIME. I was truly blown away not just at the amazingness of the beers, but how well-organized and excuted it was. Big props Ang!
Lastly, I got to mix up beer cocktails at the Firestone Walker From the Barrel event using Firestone Walker's beer. They positioned me at the table with Firestone Walker, so I got to spend the night rubbing elbows with some of the best brewers in the country. Seriously, an awesome event. And, David Walker approved of my cocktail – which made the night even better!
Angelo: For me, 2012 was a year of change. Great change. I moved to the Bay Area, leaving behind my comfort zone of a world class craft beer community in Portland. But on the flipside, I discovered another thriving region for artisan brew where I landed. My wife introduced me to a lot of great people down here making some top notch offerings. Some moments that stand out for me this year included catching some games at AT&T Park in San Francisco to take in some World Championship SF Giants baseball. The Public House at the stadium features some of the best brews from the Bay Area including an amazing bottle selection. Love grabbing a Russian River Blind Pig or a Highwater Retribution Imperial IPA to take back to my seat. Ever seat in the house offers a great view and there's nothing like taking the ferry across the bay from Oakland's Jack London Square for front row service to the stadium. Loved it.
I also loved attending the 1st Firestone Walker Invitational in Paso Robles that featured handpicked breweries from all over the country – many of which are not regularly available to us on the West Coast, like Founders, Bells, 3 Floyds, Cigar City, etc. It was an amazing display of beer with killer live music by one of my favorite bands, The Mother Hips. It was a great opportunity to network and make new friends.
Regular trips back to Portland for some of my favorite events like the Oregon Brewers Fest in July, the Holiday Ale Fest in late fall, and my favorite because I put so much work into it, was KillerBeerWeek in October.
Lastly, I should include my experience at Beer Revolution where I began beertending in June. Beer Rev is the best beer bar in the East Bay and features 47 rotating taps. Lots of regional as well as national and international specialty beers. Spectacular opportunity and a great way to make new friends!
_______________________________
You and I drink so much damn beer all year long – is it really possible to choose a favorite? What three beers top your list for 2012?
Angelo: Wow. That's a challenge for sure. When I think of bests of, I think of criteria in which to choose such a triumvirate of great brews. Drinkability and sessionability? Cellar beers and big vintage sippers? Well, I offer this: my three go-to beers of 2012 – the brews that I could most often be found imbibing upon: Trumer Pils – brewed right here in Berkeley, and in my humble opinion, the best crafted German-style Pilsner in the United States that I've tastes thus far. Crisp, refreshing, and simply fun to drink and always consistent. Moonlight Brewing Death & Taxes – a well-rounded schwarzbier, black lager, what have you, this brew by Santa Rosa's small brewing outfit that makes a wide range of dynamic offerings, is full bodied with a touch of chewy chocolate notes yet stamped with a distinct crisp satiating character that only a classy lager beer can provide. For my third choice, I will say Cascade Blueberry. This beer is not cheap by any stretch. I think the beers at Cascade are a bit on the spendy side for me, keeping me from enjoying them more, but I really love this rich tart Lactobacillus treat with a beautiful violet hue and lots of juicy blueberry flavor. I was stoked to find this beer on the shelf at my local Berkeley Bowl food store and snagged the last two bottles on the shelf despite the hefty price tag.  I am such a fan of Blueberry beer when it is done right, as an honorable mention, I'll throw in Marin Brewing's Blueberry Ale, a  superbly light wheaten summer brew from one of my favorite breweries in the region, hailing from Larkspur, CA….in Marin County.
Ashley: Thanks to you, I've gotten to try awesome beers from a lot of great Oregon breweries. The beers that top my list are: Black Cap Raspberry from Cascade, Killer Weiss from Commons Brewery and….. German Sparkle Party from 10 Barrel. Yep, I love my sours!
_______________________________
New breweries are opening left and right across the country. What are some of your favorite new breweries that opened in 2012?
Ashley: At the top of my list is probably the some-what-local Berryessa Brewing Company in Winters, CA. We went up there for the opening celebration and each and every one of the beers I tasted were spectacular! Other than that, the launch of Societe in San Diego was much anticipated and ever exciting. Sadly, I haven't visited the brewery yet – but I did get to try the beers at GABF.
Angelo: For me I have to tip my hat to a few standouts that came out the gate making great beer with no apologies. Base Camp Brewing in Portland is making some lagers and lighter, drier Belgos that are right up my alley. Their first packaged product, the "In-Tents" IPL in aluminum bottles is a real treat and perfect for hiking and camping. I really love their wide open artfully done tasting room in the heart of Portland's East Side. Here in the Bay Area, I've taken a shine to Beltane Brewing in Novato. On a  3-barrel brew system, accomplished homebrewer Alan Atha has made the switch to pro in a big way. His Luminesce Tripel, Saison, and Golden Ale are all excellent brews. Lastly, I am anxious to see what comes of 101 North Brewing in Petaluma, CA. Their Oregon-style IPA known as "Heroine" is a great pizza beer, and their second release Naughty Aud Imperial Stout, a big 10% ABV beast is getting dialed in. Brewmaster Joel Johnson, formerly of Bear Republic, is sure to be killing it soon!
____________________________
Sometimes you have to take the bad with the good – what were some of your biggest craft beer disappointments this year?
Angelo: Disappointments, eh? Hmmm… haven't thought about that one much… Thinking… thinking… I suppose a disappointment for me in craft beer include mediocrity of some brands, overpriced beers by some breweries, and the trend of everyone making "sours" and Belgian-style beers that just don't hit the mark. Overall, though, I would say I have not been very disappointed with this year's craft beer turnout, because even if there have been some lackluster openings and releases, with this boom has come a LOT of great new choices, and the overall increase in options makes me a happy man.
Ashley: Biggest disappointment for me was, by far, getting sick during GABF. My allergies got so bad I could barely keep my eyes open. I went to bed early every night and missed all of the cool after parties. SUPER BUMMER. Another disappointment for me was having to miss the 1st Firestone Walker Invitational. Everyone that went raved about it and I feel like I missed out on tasting some really great beers as well as hanging out with a lot of awesome people. Sad face!

_______________________________
Are there any new beer festivals or craft beer events that you have not yet attended that you would most like to attend in 2013. Also, what other must attend beer events are you planning on revisiting?
Ashley: One event that I wish I could attend in 2013, but doubt I will be able to, is the Sour Beer Fest that Avery hosts in Boulder every year. As a lover of sours, that fest has my name written all over it. As always, I will be going to GABF and most likely the Holiday Ale Fest – my two favorite beer events. I hope to get out to Portland, OR for NAOBF and OBF again – but we shall see if I can swing it. Lastly, I cannot wait for you and me to have our first Boonville Fest together!
Angelo: I hope I can make it to the Great Taste of the Midwest in Madison, WI. Not sure that will happen for me this year, but it's one that is for sure on my bucket list. I'd also like to take advantage of hitting up a bunch of Bay Area festivities while I am still living here. SF Beer Week is one I've been meaning to attend and I am happy to say I am working on organizing and event for the first weekend (Saturday February 9, 2013 at Beer Revolution, Wine Barrel-aged Beer Tastival). As for ones I've done in the past that I look forward to, NABA/Mountain Brewers Beer Fest in Idaho Falls, ID, and the Boonville Beer Fest are high on my list, as is another fun-filled KillerBeerWeek in Portland, OR.
_______________________________
Did any beer and food pairings this year completely blow your mind?
Angelo: I know a lot of beer geek foodies are going to hate hearing this, but I am not a huge beer and food pairer. Maybe it is because I am vegan and most craft beer events and literature don't cater to the vegetarian diet. Or maybe it is that I see beer itself as a food suitable to consume on its own. This isn't to say I don't enjoy a great meal with a great beer. I guess for me the best pairing would be what I often mention in this situation: Tofurky Pizza with a nice IPA like a Bison Organic IPA or a Laurelwood Workhorse IPA.
Ashley: I'm a huge advocate for beer and food pairings. Even the most simplest of foods can pair with beer. And conversely, even the most complex of dishes can also pair with beer – often times better than with wine!! This year, I found myself exploring more junk food & beer pairings. I've been working closely with Kettle Brand Chips to develop beer pairings for many of their chips flavors as well as have been dabbling in beer & candy pairings. Tough life, I know

_______________________________
What are some of the most prevalent trends in craft beer that you witnessed in 2012?
Ashley: One trend that I've watched get bigger and bigger each year is nanobrewing. More and more homebrewers are taking the next step – brewing slightly bigger batches, getting alcohol licenses, and selling to local bars. Nanobreweries have really put a new definition to the term drink local. Other than that, I've noticed that almost every brewery in the country has experimented with barrel-aged and wild yeast/ sour beers. There are about 5 times as many barrel-aged and sour beers in the market today than I remember there being about 5 years ago. Which is good for me, since I absolutely adore my sours!!!
Angelo: Growth, growth, and more growth. Expansion by some, and simply opening for others. Canning beer seemed like a big one this past year. Even the breweries that bottle are going to cans to supplement their bottled brews. Mobile canning companies and added canning lines make this possible. A few other trends that stick out, good or bad, include sour beers, more sessionable brews, more Belgian-style offerings, and new experimentation with new hop varietals. Trying for new styles like the smoked IPA is a mixed bag, but kudos to the brewers for always staying imaginative. One trend I am a big fan of and hope to see more down the road is the emergence of the IPL (India Pale Lager). I love lager beers and am happy to see this hoppy new style forge new ground!
_______________________________
What brewer or brewery surprised or impressed you the most this year?
Angelo: I think the most impressive brewery in 2012, for me, was The Commons. Taking home two medals on the big stage at World Beer Cup and GABF in their first year of entrees. Everything I've tasted from them has been outstanding and their attitude is what I like to see in a brewery. They are humble yet unafraid to push boundaries and take chances. I am also very impressed with Berryessa Brewing of Winters, CA. To come out of the gate as strong as he did after uprooting himself from Washington, proves that Chris Miller is one of the best in the biz. Tip of the hat to these folks who are not just great brewers but people I consider friends.
Ashley: SO many breweries impressed and surprised me this year. Although I had high expectations going in, I was really impressed by Crooked Stave's line of artisanal sours and barrel-aged beers. Chad truly is a master of Brettanomyces. Speaking of sour beers, I'm really excited that Berryessa Brewing has officially opened. Chris Miller is a great brewer and I'm really excited to watch his sour program develop. Last but not least, I am blown away by the growth that many craft breweries are experiencing in the U.S. It is definitely a great day and age to be a craft beer lover!
_______________________________
What do you most look forward to in 2013?
Ashley: I most definitely look forward most to celebrating my first anniversary with my amazing, talented and extremely loving husband, Angelo De Ieso (you!) Beer wise, I'm excited about touring new breweries this year with you! Although we drink a lot of beer together, we rarely leave the home. So I'm looking forward to going on more beer adventures! I'm also excited about SF Beer Week this year. Bison is trying something new for beer week. Instead of hosting our own events, we are teaming up with 7 other bay area breweries to co-host a series of "Band of Gypsy" tap takeovers as well as brew a special collaboration beer to be released during beer week. I'm also REALLY excited to present a seminar with 3 colleagues during the 2013 Craft Brewers Conference. And then, of course, I'm stoked about attending all the awesome beer events throughout the year!
Angelo: 2012 had it's ups and downs. For 2013 I am looking forward to making way for more ups. This means continuing to learn and love with my partner. Personally, I am looking forward to growing personally and professionally. I am excited to sink my teeth into the Bay Area craft beer community. I've met a lot of cool people and I expect to meet many more in 2013. Beer wise, I am anticipating the opening of the Old Depot Taphouse next to Beer Revolution (same owners, too). They will have a vegan kitchen and 42 taps! I am excited about working together with my wife more and to make more friends. SF Beer Week, Boonville, more camping, more getting out and moving around. I am also excited about new beers from Bison now that they've locked in some great new organic hops. Man, like Tom Petty says "the future is wide open!"
________________________________
HAPPY NEW YEAR!!!