Happy New Year (or Rose Bowl Day, as a I like to call it) to all my craft beer friends! In honor of the start of the new year, most people around the world are pledging to lose weight, exercise more, stop smoking, start saving money, try new things, volunteer more, manage time, take a trip and so on and so forth.
YAWN! Who needs boring resolutions this year? Instead of resolving to do something you will stop doing next week,  make a beer resolution! I've recruited the help of some of my favorite professionals in the beer industry to help inspire my craft beer loving friends and readers to create their own beer resolutions.
Have a beer resolution? Add it in the comment section below! Cheers!!!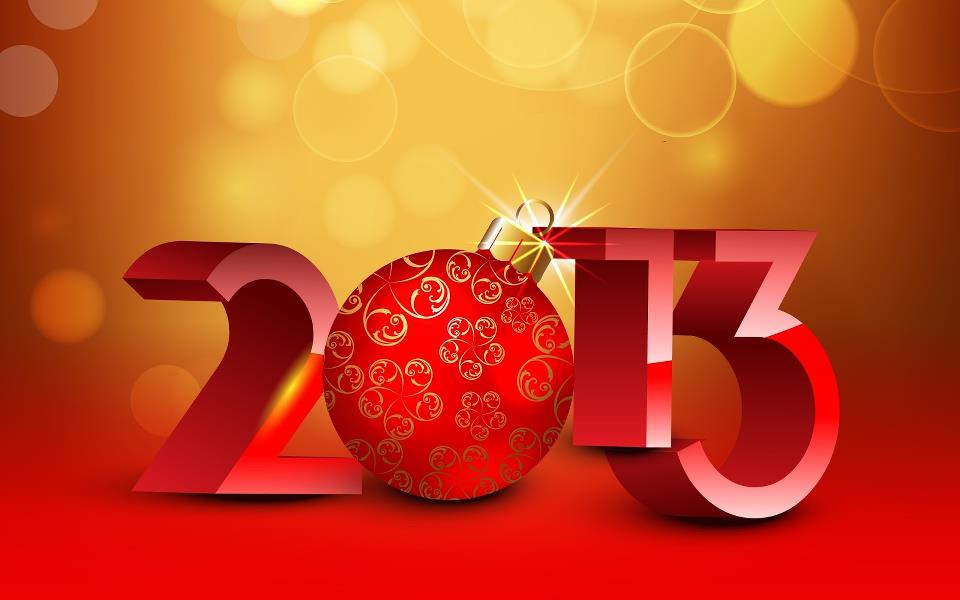 2013 New Year's Beer Resolutions of the Craft Beer Industry
___________________
Julia Herz
Brewers Association Craft Beer Program Director | Publisher, CraftBeer.com
Twitter: @herzmuses

New Years Resolution(s): In 2013 I plan to continue deeper into my beer studies which will even further expand my craft beer appreciation. 2 big goals:
1) Get better at describing what I taste. I want to share all the juicy details just like a gossip girl wants names and a blow by blow of the entire story! Describing should be less big picture and more specifics. Instead of saying, "This craft beer has lots of caramel, nutty notes and chocolate." How about, "It busts with butter cream, almonds show through in mid-taste and bitter dark chocolate lingers in the background throughout." Now that is more specific AND enticing AND what I continue to strive for.
2) Further my ability to describe what is happening during pairing. As a result of my job in preaching pairing via CraftBeer.com and tastings I've had to find tools and understandable basics that work for me. If I can identify elements (like the primary colors or sweet/salt/sour/bitter/roast/fruit/etc.) in craft beer and food then I have reference to identify/describe what interactions (sweet calms sweet/acidic calms acidic/ bitter calms sweet) occurred to create new 'elevated' elements (like the secondary colors or for example the sugar sweet in that cheese cake was calmed down and lessened by the bold hop bitterness of the IPA so I could then better taste the cream cheese tart of the cake). It's a lot to digest I know.
For anyone trying to describe pairings, if you've never done it before, it's as hard as trying to describe the primary colors, but being visually impaired or blind. I am fully on this journey. By the way another way to think of food elements or primary colors is like prime numbers in math. They are the most basic and cannot be broken down further. Sweet is a pure element like a prime number. So is salty, sour, bitter, etc.
___________________
Anat Baron
Entreprenuer | Director/Writer/Producer, Beer Wars
Twitter: @beerwars

New Years Resolution: To get over my allergy to alcohol… so I can FINALLY drink craft beer.
___________________
Kirk Coco
President, NOLA Brewing Company
Twitter: @NOLABrewing

New Years Resolution: I resolve to push the envelope and get beyond the basics with our beers, starting a sour beer program and brewing more imperials, doubles and getting lagers onto the market.  Personally, I resolve to vary my drinking to enjoy wine and cocktails as well as beer, to train my palate for varied tastes and to make myself a better brewer.
___________________
Jason Oliver
Brewmaster, Devils Backbone Brewing Company
New Years Resolution: To become a hop master and a master of using hops. To really focus on the finer points and subtleties of using hops above and beyond merely adding more to a brew and have Devils Backbone win both small brewpub & small brewing company of the year at the 2013 GABF.  That's not too much to ask is it??
___________________
Win Bassett

Social Media & Beer Education, All About Beer Magazine | Executive Director, North Carolina Brewers Guild | Interim Secretary, North American Guild of Beer Writers

Website: http://winbassett.com
Twitter: @winbassett @allaboutbeer

New Years Resolution: Stan Hieronymus' recent blog post about the "two-ounce culture" (http://appellationbeer.com/heyolllllo-better-copyright-two-ounce-culture/) really resonated with me. For 2013, I plan to do less "tast[ing], rat[ing], mov[ing] on" and more enjoying beer experiences with friends. Cheers to a new year in beer!
___________________
Lucy Saunders
Author / Founder, Great Lakes Water Conservation Conference
Website: beercook.com
Twitter: @lucybeercook and @GLwater

New Years Resolution: My new year's beer resolution is to read a new book about beer and brewing every month! Top on my list, For the Love of Hops by Stan Hieronymus. I also plan to be a tourist in my home state of Wisconsin, and take more brewery tours, even the ones I've already visited….if it's been more than a year, it's worth the repeat to see what's changed.
___________________
Photo: Grapes & Grains NYC
Ron Jeffries
General Mischief Maker, Jolly Pumpkin Artisinal Ales

New Years Resolution: The only thing I can think of is that, while we are almost finished installing our new 50 bbl brewhouse, what I am most happy about is getting to brew again on our old 10 bbl, slow it down to one brew a day, and come out with some super….uhhhh… "interesting" stuff.
___________________
 Mitch Steele
Brewmaster, Stone Brewing Co. | Author
Twitter: @MitchAtStone

New Years Resolutions: Brew several kick-ass IPAs.
Always look at my glass as half full.
Drink responsibly.
___________________
Garrett W. Marrero
Founder, Maui Brewing Co.
Twitter: @MauiBrewingCo

New Years Resolution: I'd love to spend more time with family and friends enjoying great craft beer from around the world, that and to not lose my mind building the new brewery!
___________________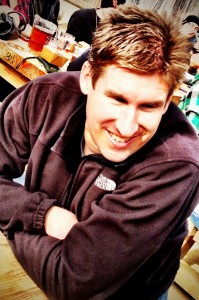 Dan Del Grande
Chief Hoperations Officer, Bison Organic Beer
Twitter: @bisonbrew
New Years Resolution: I'm inspired (by my friend Natalie) to have a social hour every week day with a different person–a beer after work, a quick lunch or cup of joe mid day.  Too many times I say, "Let's get together" but we never do.  I'm changing that.
___________________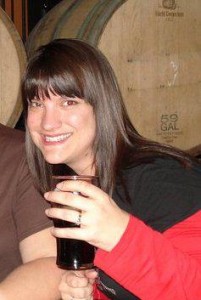 Angela Arp
Special Events & Social Media Coordinator, Nebraska Brewing Co.
Twitter: @AngelaArp | @NEBrewingCo
News Years Resolution: My 2013 resolution is to spend my energy promoting what I love rather than bashing what I hate.
___________________
Stan Hieronymus

Author/ Journalist

Website: www.appellationbeer.com
Twitter: @StanHieronymus

New Years Resolution: Remember the philosophy "Less is more" in all things, including writing, certainly life, and – of course – beer.
___________________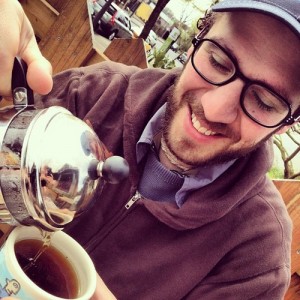 Angelo M. De Ieso II
Founder, Brewpublic.com | Beertender at Beer Revolution
Twitter: @BREWPUBLIC
New Years Resolution: To continue to become a more accepting and well-rounded person; to grow professionally and personally. I want to continue to learn more about beer and to taste more interesting styles. I'd really love to find steady work outside of my blog doing something in the craft beer community. I'd like to embark upon more collaborative projects with my wife. I also want to travel to more breweries in Northern California while I am living here.
___________________
William Sysak – AKA "Dr. Bill"
Craft Beer Ambassador & Certified Cicerone ® at Stone Brewing Co.

Twitter: @BistroBeer @MasterPairings @ExpertDrinking

New Year's Resolution: To continue spread the word on Craft Beer! To inform & educate the masses about the wonders of a hoppy IPA or a tart Flemish Red. Basically to continue to do what I and many others have done for the past 35 years. You may have seen this before; http://vimeo.com/14803129

___________________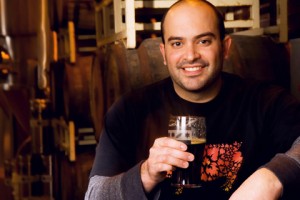 Jared Rouben
Brewmaster of the Goose Island brewpubs

Twitter: @jbrew312
New Years Resolution: To explore more farmer's markets for better ingredients to use in my beers. And to experience more restaurants that are  focusing on beer and food to challenge my palette.
___________________
Randy Clemens

Freelance food & drink writer / author of The Sriracha Cookbook and co-author of The Craft of Stone Brewing Co.: Liquid Lore, Epic Recipes, and Unabashed Arrogance

Website: http://www.randyclemens.com
Twitter Handle: @RandyClemensEsq
New Years Resolution: I've long placed a high priority on purchasing organic food, but I need to place the same emphasis on seeking out organic beer, wine, spirits, coffee, tea… you name it. How? Well, besides buying and drinking more of it, I'll also ask for it… EVERY time.
Even after scanning a menu and seeing no organic beers or wines, I'll ask the bartender or server or store clerk if they carry any. Why? Because demand creates supply, and I'd love to see organic drinks available in more places.
Sure, there are a good number of reputable establishments carrying them now because they too care about the negative impacts that so-called "conventional" farming has on our health and our environment, but many places simply aren't aware or haven't yet been enticed enough to care or worse yet, think their customers don't care. Well, I care, and I intend to help draw more attention to and create more demand for organic beers and wines. I'm Randy Clemens, and I approve this message.
___________________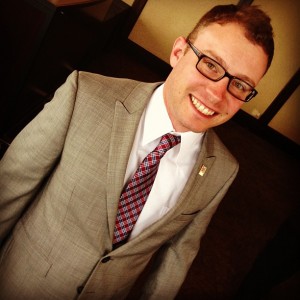 Andy Sparhawk
Craft Beer Program Coordinator, Brewers Association
Twitter: @AndySparhawk
New Years Resolution: I look forward to attempting to look at the beer world with a wide lens. Recognizing that there will always be something new to learn about or experience.
___________________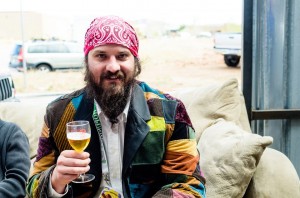 Jason Yester
President, Trinity Brewing Company
Twitter: @Saison_Man

New Years Resolution: More Saison!
___________________
Photo: Cal Poly
Tyler King
Sr. Director of Brewing Operations, The Bruery

Twitter: @thebruery
New Years Resolution: Beer? What is thing you call beer? I should probably learn more about this next year!
___________________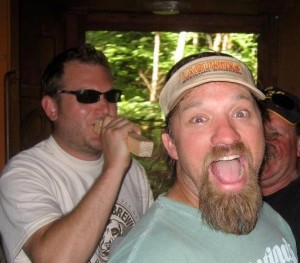 Don Chartier
Northern Hemispherical Vice Captain for Supply Vectored Marketing Analysis, Lagunitas Brewing Co.
New Years Resolution: Basically just spending more time with friends and family,try and be a better person to all I encounter and continue on my journey in this wonderful world of craft!
__________________________
Stephen Johnson
Co-Founder, New Brew Thursday
Twitter: @newbrewthursday | @darthweef
New Years Resolution: My new years resolution is to introduce myself to at least 50 craft breweries that I have never tried before.
__________________________
Ashley V Routson
Director of Awesomeness, Bison Organic Beer | Founder, DrinkWithTheWench.com
Twitter: @TheBeerWench
New Years Resolution: In 2013, my beer resolutions are to…
1. Taste, taste, taste. There is really no excuse for my failing the tasting portion of the Certified Cicerone Exam other than pure laziness. This year, I am determined to taste more beers in style categories that I am not particularly fond of so that I can have a more well-rounded palate. And I also vow to dedicate more time to off-flavor tasting.
2. Visit more breweries. I live so close to so many awesome breweries, yet almost never venture out to visit them, taste their beers and get to know the people that work at them. This year, I plan on visiting at least one brewery a month as well as attending more industry events. (I really need to get out of the house).
3. Read more books – beer books, that is. I have both Mitch's IPA book and Stan's For the Love of Hops – and I've barely read 20 pages of each. If I want to get smarter about beer, I really need to read those books!
4. SPEND MORE TIME IN THE NOW, and less time on social media. I used to be the girl who was so busy tweeting, facebooking and instagramming at events, bars, and parties that I would completely miss out on all human interactions. This year, I vow to be in the now when I'm out with people and save the social media posts for later.
__________________________
Happy New Year!
Note: Most of the photos above are either media photos from breweries or Facebook profile pics, unless stated otherwise. If a photo needs credit, do not hesitate to contact me! Cheers!