Keweenaw – Craft Beer In a Can
Some of you may have noticed the recent trend in the craft brew industry towards packaging (craft) beer in cans.
Until about five years ago, putting craft beer into cans was taboo. But times, they are a changing. Dale Katechis, the brewery owner of Oskar Blues Cajun Grille and Brewery in Lyons, CO., pioneered the craft beer canning movement in 2002 when he put his Dale's Pale Ale into cans.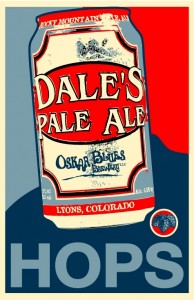 Craft beer in cans put Oskar Blues on the map. And many other craft breweries around the country are jumping on the canned beer bandwagon.
One such brewery is Keweenaw Brewing Company — a microbrewery located in the small town of Houghton, Michigan. While visiting the Midwest for the Great Lakes Brew Fest, I had the opportunity to meet up with Keweenaw team. They were kind enough to take a moment to taste me on their four core beers as well as explain the "method in the madness" behind their decision to can craft beer.
Why can craft beer?
Since cans are lightproof, they protect beer from being "skunked." When the beer has been exposed to ultraviolet light for a period of time, the hop-derived molecules breakdown and bind with sulfur atoms and develops "skunk" aroma. This is why it is NEVER ideal to store beer in sunny areas.
Canned beers are IDEAL for outdoor activities — especially in places where glass is not allowed (i.e.: pool decks). Cans are lighter and take up less space, making them ideal for camping trips and anything involving a boat.
Cans are sealed with very little air, which allows beer to be kept fresh longer.
Cans are more environmentally friendly than glass bottles. They are significantly cheaper to recycle. Heck, there are several states that do not have glass recycling facilities within the state … LAME!
Okay so all of these reasons are very logical. But the real question is … does craft beer in a can actually taste good?
ANSWER = YES!!! And here are my notes:
KEWEENAW PICK AXE BLONDE
Appearance: Hazy, light golden blonde color with excellent carbonation
Aroma: Sweet hay
Taste: Light pale malt flavor, earthy hops, mild bitterness
Mouthfeel: Very light-bodied, crisp, dry
Overall: Very light, crisp and refreshing session beer. This beer would make an excellent thirst quencher for outdoors activities such as a softball game, volleyball match, fishing, tailgating etc…
KEWEENAW RED JACKET AMBER
Appearance: Bright, golden amber color with medium carbonation
Aroma: Caramel malts, earthy hops, spice
Taste: Toasted malts, cane sugar, earthy bitterness
Mouthfeel: Light-to-medium bodied, smooth
Overall: This is a really great American interpretation of the Oktoberfest-style. Perfect for autumn weather drinking. Would love to take this beer on a hike in the Catskill Mountains just as the leaves are changing colors. I would totally make beer can chicken with this guy.
KEWEENAW LIFT BRIDGE BROWN ALE
Appearance: Slightly hazy, reddish-brown in color, medium carbonation
Aroma: Brown sugar, toasted malts, molasses
Taste: Sweet toasted caramel malts, subtle earthy hops, dry finish
Mouthfeel: Light-to-medium bodied, smooth
Overall: This is a nice brown ale. Very drinkable, well- balanced and smooth.
KEWEENAW WIDOW MAKER BLACK ALE
Appearance: Cloudy black, medium carbonation, diminishing head
Aroma: Chocolate malts, toasted wood, roasted coffee
Taste: Dark chocolate, roasted coffee beans, toasted wood
Mouthfeel: Surprisingly light-to-medium bodied, low carbonation, super smooth
Overall: For a session beer, the Widow Maker has a lot of flavor. It is the quintessential "light" beer for dark beer lovers. Being so light in body, this beer is ultra drinkable. Out of the four I tasted, this was the most flavorful and probably my favorite. This is an excellent beer for college football Saturdays — i.e. drinking beer for 12 hours straight.
BIG THANKS TO THE FOLKS AT KEWEENAW BREWING COMPANY!!! Thank you for providing me with my FIRST craft beer in a can drinking experience! CHEERS!!!