The Wench vs. SDBW: ROUND 3
Although San Diego was able to severely kick my a$$ on my first day of beer week, I was able to regain momentum and score a win for The Wench on the second day.
Morning came fast on Day 3. Unfortunately, our party of 4 (Pj, Alex, Tay & myself) dropped down to a party of 3 (we lost Alex to Law school — damn those smart kids). In order to sustain ourselves for the long day of beer consumption ahead, we chowed down on some whole wheat bagels with red onions, tomatoes, capers, cream cheese & lox — hey, we were just trying to be good Jews (and Jew wannabes).
Sometime before noon, the 3 Musketeers dragged our slightly disoriented butts up to San Diego Brewing Co. to meet up with head brewer, Dean Rouleau, for open house brew day with guest brewer Scott Jennings from the Sierra Nevada "Beer Camp" pilot brewery. We were greeted at the door and within seconds of being inside the bar, we had beers in our hands. Not a bad way to start a day, eh? I was pleasantly surprised by the scene inside San Diego Brewing Company's brewpub. A bunch of homebrewers turned out for the event with several interesting brews in tow. But more importantly, almost every TV in the bar featured a Big Ten game. And if you have not learned by now, I'm obsessed with college … err … Big Ten … err Ohio State football. Dean was awesome enough to provide us with a tour of the SDBC facility. Just as the tour finished, it was time for the boys (Dean & Scott) to add the hops to the boil. The Cascade hops for the collaboration brew came from Star B Ranch Bison & Hops Farm in Pamona, CA.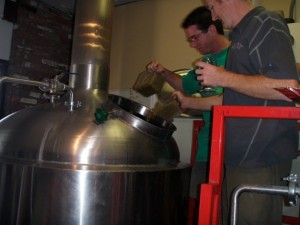 Time quickly caught up to us and, before we could order another beer, we found ourselves running out the door to pick up our good friends Renee & Jordan Rounds for the 7th Anniversary Green Flash Charity Beer Festival. All proceeds from ticket sales to the 7th Anniversary Green Flash Charity Beer were donated to the FIGHT ALD ORG.
Adrenoleukodystropy (ALD) is a genetic disease that affects 1 in 15,000 boys in childhood but is most often diagnosed or goes undetected until it is too far progressed for treatment. A inexpensive blood test can easily identify boys at risk and it is treatable if caught before there is cerebral involvement.
Fight ALD educates medical professionals and the community about the early onset symptoms and diagnostic test with the hope that every affected boy will have a chance to win their fight with Adrenoleukodystrophy. On an interesting yet related side note, the President of Fight ALD, Bill Sherwood, is also the facilities manager for Stone Brewing Co. His wife Janis founded Fight ALD after loosing their son Sawyer back in 2003. Janis has visited at least 600 medical facilities in 22 states educating medical professionals on recognizing early symptoms of ALD. I had the honor of meeting Janis during the festival and I have tremendous respect for her amazing "one woman" fight against ALD. I'm just sorry that it was inspired by a loss. RIP Sawyer Benjamin Sherwood.
Upon arriving at the festival, we were distributed neon green wristbands with 10 tasting tokens, a meal ticket & a 7th Anniversary tasting glass. Being the clever professional photographer that she is, Renee Rounds shot a cool pic of the Green Flash Anniversary beer with the shadow from the glass.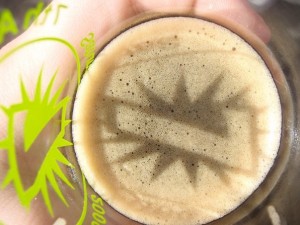 Despite the large crowd, it was extremely easy to navigate the festival. In addition to Green Flash, other featured breweries included: AleSmith Brewery, Backstreet Brewery, Ballas Point, Coronado Brewing Co., FireHouse Brewery, Karl Strauss, La Jolla Brewhouse, Lightning Brewery, The Lost Abbey, Mission Brewery, OGGI's, Pizza Port Brewing, Port Brewing Co., San Diego Brewer's Guild, San Diego Brewing Co., San Marcos Brewery and Stone Brewing Co.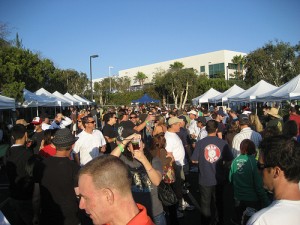 In need of a super refreshing "Pacific Northwest" hopped brew, I made a bee-line to Ballast Point for a sample of one of my favorite IPAs — Sculpin. After being refreshed by Sculpin, I found myself hitting up the Green Flash tent for samples of the Anniversary Ale, Hop Head Red Ale & Summer Saison. Somewhere along the way, around sample 4 or 5, we ran into our good pal Dr. Bill.
Dr. Bill convince us that we needed to go inside Green Flash's tasting room where they were pouring tastes of a few limited special release beers. Not ones to turn down the opportunity to taste rare barrel-aged beers, the crew assembled and obediently marched to the tasting room where we ran into our new buddy Gordon, a brewer for Lost Abbey. Gordon poured us samples of Green Flash Little Freak — a barrel-aged Saison inoculated with Brett– as well as Green Flash Super Freak — the Green Flash LeFreak (Belgian-style IIPA) aged in San Pasqual Grenache wine barrels with brettanomyces. Little Freak was light and refreshing with hints of barnyard, while the Super Freak was more full-bodied and more complex. Gordon surprised us by whipping out a bottle of Lost Abbey Carnevale from underneath the table. Pj and Jordan got really really excited about that … as you can see.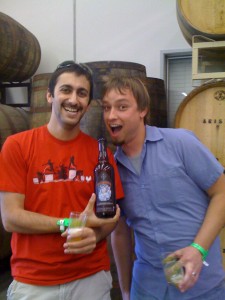 For those of you unfamiliar with Lost Abbey Carnevale, it is a dry hopped saison ale sporting a hazy yellow color and moderately spicy nose with hints of oranges and tangerines from Amarillo and Simcoe hops. The yeast phenols add layers of clove and allspice. Weighs in around 6.5% with a medium-to-light body. It is seasonal and released around Lent.
After a few hours of quality beer drinking, it became apparent that the group needed to seek out some substance — in the form of meat products. The two food vendors for the day were Pizza Port & Kansas City Barbeque. On the way to the food tables, I ran into Greg Koch and got distracted by beer.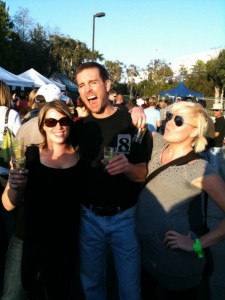 Before we knew it, the festival was wrapping up and it was time to embark upon yet another beer drinking mission. Dr. Bill invited the crew up to Stone Brewing Co. for a tasting of some rare beers from his collection. Once again, we are not ones to turn down opportunities to taste rare and interesting beers. Traffic was utterly unbearable and … sobering.
After what seemed like a year and a day, we arrived at Stone World Bistro & Gardens where Dr. Bill secured us the VIP section for our private tasting. Among many beers, Bill brought us Avery Dugana, De Dolle Special Reserva Ourbiera, the super exclusive (club membership only) Lost Abbey Sinners blend 09′, Hansens Oude Geuze, Hansens Oude Kriek and various vintages of Stone Double Bastard Ale.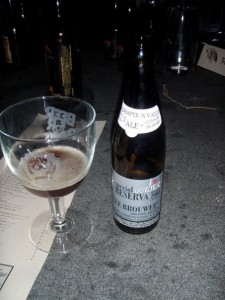 Being that I had been distracted from obtaining food at the Green Flash Festival, Dr. Bill was also kind enough to provide us with a plentiful helping of Wild Boar Baby Back Ribs & Artisan sausages — which I devoured like it was my job. Earlier in the day, Stone hosted the Brewdog bahash bash where they tapped bashah, the latest collaboration brew by Scottish brewers BrewDog and Stone.
Bashah is the world's first ever Black Belgian Double IPA. According to the BrewDog blog, there are five hops used in the beer: Hercules, Magnum, Warrior, Centennial and Amarillo. It is currently available in bottles. Dr. Bill couldn't resist showing up the "disposable" keg in which bashah was distributed. Personally, I've never seen anything like it. It looks more like something you'd find at a NASA than a bar …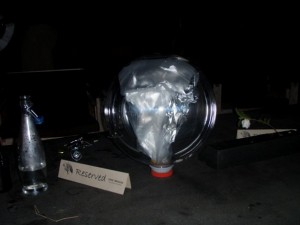 After getting our fill of meat products and amazing rare beers, it was once again time to hit the road in search of more beer week escapades. By the time we got to Taylors house, the crew was exhausted from hours of day drinking. We loaded up on a few cups of espresso while we debated our next stop. One of our friends, Beverly Bancroft, had charted a limo for the entire day and offered to send the limo to pick us up and bring us out on the town.
The limo took us to Toronado in South Park, San Diego — where we met up our new Twitter beer geek buddies Tab Brewer and Beverly & Mark Bancroft. My heart stopped when Tab ordered a bottle of (the rare) 2003 Boon Mariage Parfait. Some of you may not be aware (bad stalkers!) of my obsession with the gueuze. Long story short, the gueze is one of my all-time favorite styles of beer and I've put myself on a mission to taste as many variations of the style from as many brewers possible.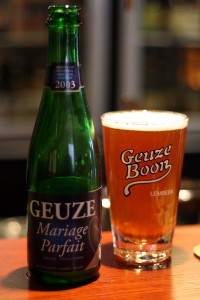 When Tab handed me the glass of Mariage I felt like a giddy little school girl who just got passed a love note from her biggest crush. It was bright golden in color with a, what is in my opinion, pleasant earthy, hay & barnyard aroma typical of Brett Bruxellensis. Overall, I found Boon Mariage Parfait to be light-bodied, highly carbonated & tart with a crisp, dry finish. That beer definitely had it going on. And I was really digging the funk … until of course I reached the bottom of the glass. Which was a very, very sad moment. But I quickly cheered up when the server delivered my beer brat smoothers in peppers and onions in a toasted pun with housemade potato salad on the side.
Now, I know what you are probably thinking. And yes, I have a bottomless pit for a stomach. Especially, when drinking beer in vast quantities. And especially when it comes to pork products.
I have a weakness for the pig.
You see, I was deprived of most pork products as a child. This is because my mother has been a vegetarian for 30+ years as well as a health & fitness fanatic. I'm oddly grateful that she never introduced me to the beautiful world of bacon, sausage, brats, pulled pork, BBQ ribs and so on and so forth — for I think I may have been an obese child if she had.
In Autumn of 2008, I tried bacon for the FIRST time — EVER. (FYI: I was 25 years old). And then I had my first bratwurst, first pulled pork sandwich, first rack of ribs etc… Food was never the same. And to come to think of it, either was my waistline. (Bacon belly anyone?)
Being both a beer connoisseur & pork fiend, it was pertinent that I try Toronado's beer sausage — even if I had just previously pigged out (no pun intended) on sausage at Stone Brewing Co.  Toronado's houesmade sausage was very juicy with a perfect blend of spices. It was so tasty, in fact, that it made me extremely thirsty for more beer. Hamilton's must have been the go-to spot that evening because by the time I was ready for another beer, the entire bar was packed. It took some elbow swinging, but eventually I was able to make it to the bar.
If you've never been to Toronado (in either San Francisco or San Diego), than you probably are not familiar with the amazingness that is its beer menu. Toronado boasts and extremely impressive and slightly overwhelming tap and bottle list. Being surrounded by hardcore beer geeks, the pressue was on. One poor decision, and I was going to be fed to the wolves. After the gueze, I was on a Belgian beer kick. I decided to order a bottle of Fantome Printemps — a bottle-conditioned Spring seasonal Saison from Belgium. Fantome exclusively produces the Saison style and releases a different twist to the style every season. I've been lucky enough several of Fantome's Saison variations as well as have a few older vintages in my cellar.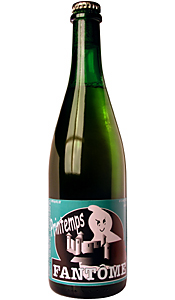 Feeling confident with my decision, I presented the bottle of Fantome Printemps to the group. Unfortunately, the beer did not win the hearts of my fellow beer geeks, who were quick to reject it. I blame it on palate exhaustion. To be fairl, it is really hard to expect people who've been quaffing high gravity, super intense & extreme beers all day to drink a Saison. It would be like asking someone whose been drinking Bordeaux & Barolo to sip on a rose. Seems like water in comparison.
So being the sulky face hurt puppy dog that I was after being rejected, I took the whole bottle of Fantome Printemps and sat in my own little corner where I enjoyed every last drop of it.
As the crowd started to dwindle, it became apparent that our time was up and the bar was getting ready to close. But instead of throwing the towel in, a small contingent of loyal party-goers headed back to Taylor's place for a nightcap and some Kill Bill Volume 1 action. Yet, just as I was thinking that I had won the third round, San Diego beer week snuck up on me fast. Halfway through my beer and even less through Kill Bill, I was out like a light.
However, this round was not a complete loss. For the first time during the trip, I was the first person to be awake and productive the next morning. I even made breakfast for everyone. And so San Diego, although you wore me down and put me to bed before everyone else, you did not win right out. Instead, we will call this a tie.
THE WENCH = 1.5 & SAN DIEGO = 1.5
Stay tuned for the 4th Round and last installment of: The Wench vs. San Diego Beer Week! Cheers!

Tagged as
ALD
,
ashley routson
,
ashley v routson
,
beer
,
Beer Wench
,
brew
,
Carnevale
,
dr. bill
,
Fantome
,
Fight ALD
,
Green Flash
,
greg koch
,
Hamiltons Tavern
,
IPA
,
Jordan Rounds
,
lost abbey
,
Pj Hoberman
,
Renee Rounds
,
san diego
,
san diego beer week
,
san diego brewing company
,
stone brewing company
,
Tab Brewer
,
Taylor Shaw
,
the beer wench
,
the wench
+ Categorized as
Beer & Food
,
Beer Events