Featured Beer Blogger: CLARE GOGGIN
DRINK WITH THE WENCH PRESENTS:
The Beer Blogger Interview Series
Curious what goes on in the minds of your favorite beer bloggers? Well, The Beer Wench is and she has embarked upon a mission to interview as many beer bloggers that she can — from all over the world. Are you a beer blogger? Do you want to share your story? Send me an email!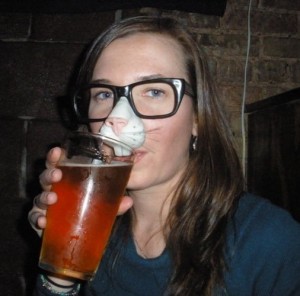 INTRODUCING: CLARE GOGGIN
AUTHOR OF: BEER GOGGINS
Beer Blogger Interview
Full name: Clare Goggin
Internet nickname: Beer Goggins, Brew Bird
Twitter handle: BeerGoggins and recently TheBrewBird
Name of blog: Beer Goggins
Current location: Astoria, New York
Background "Snapshot"
1. Where did you grow up?
I was born and raised in Southwest Florida
2. What sports if any did you play growing up, through college and beyond?
Soccer — very poorly.
3. How old were you when you had your first beer?
It's hazy but I'd say I was about 18 or 19
4. If you can recall, what is the story of your first beer? Where did you have it? What style and brand was it?
I can't be sure. What's more interesting about my early beer drinking years is that I very quickly became a nerd about beer. Even when I knew nothing, I was the one who insisted on bypassing the Natty Light for something with a little more flavor. The first keg party I threw, I got a whole keg of Killian's Red. I mean, it's not the best beer in the world but it definitely had far more flavor than anything my cohorts were drinking at the time.
5. Where, if applicable, did you go to college? What did you study? What additional activities, organizations, sports did you partake in during college?
I went to University of Central Florida, studied Creative Writing and Film and worked numerous jobs to pay the bills (and for my beer). I was event staff at the school's arena, a waitress at a tiny pizza joint and I interned on Slimetime Live, a Nickelodeon show that was filmed at Universal Studios. I was also in an honors fraternity that did its fair share of partying even while it wasn't a social frat.
Craft Beer Epiphany
Every craft beer enthusiast has at least one pinnacle craft beer experience that completely changes ones perspective on beer. I refer to this mind-blowing moment as a "craft beer epiphany."
1. What was your first craft beer epiphany? Recall as many details about it as you can:
I've been a fan of beer for a long time. As I pointed out, I loved flavorful beers even as a young drinker. But it took me a while to discover the beauty of craft beer. I moved to NYC about six years ago and immediately became familiar with a much wider variety of brew. I was drinking Brooklyn, Ommegang and Harpoon without even realizing how special it was — I just thought it tasted great.
I was even writing about it before I truly understood. Then I attended one of the first screenings for Beer Wars and got the inside info on how the beer industry works and the tireless efforts of craft brewers around the country to make quality beers. From that point on, I've been a huge craft beer advocate. Support Your Local Brewery!
2. Have you have additional craft beer epiphanies since the first? Detail as many of them as you wish:
The American Craft Beer Fest in Boston and the Great American Beer Fest in Denver – two things of beauty.

Beer Blog Background
1. How long have you been writing your beer blog?
A year and a half.
2. What inspired you to start writing your blog?
After I started working for Digital City, my boss gave me free reign to write about anything I wanted. After some deep soul searching, I realized that I wanted to write about the drinking culture, particularly that of beer.
3. Why did you chose the name of your blog?
My last name is Goggin … It's a play on words.
4. What are you personal goals for your blog? What do you hope to achieve with it?
I think I'd like to introduce the beauty of beer to a wider audience. I do that among my community of friends and I'd like to extend my reach.
5. What is one of the coolest things that happened to you as a result of being a beer blogger?
Brewers love to talk to me now. I got the chance to meet a microbrewer in Ireland while I was on vacation and talk to him about his beer. I also got a pretty special tour of New Belgium.
6. What are you top 3 favorite beer blogs/beer websites?
Beer Advocate, The Drunken Polack and the Brew Yorker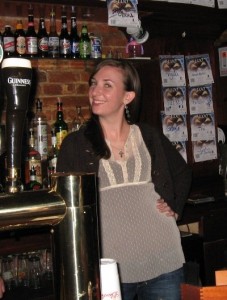 Beer Talk
1. What are your top 3 favorite beer styles?
IPA, Amber Ale and Dunkelweiss
2. What are your top 3 favorite breweries?
Stone, Six Point and New Belgium … and Ommegang …
3. If you could work with or for any one brewery, which one would it be and why?
New Belgium – that would be the best job ever. They treat their employees very well. Or Six Point so that I can stay in NYC.
4. Are you a homebrewer? If yes, what is the most unique and interesting beer recipes you've brewed as a homebrewer?
I am not a homebrewer but simply b/c I live in a New York-sized apartment and I don't really have the room. But I'm aware that there are smaller homebrew systems available and I'm looking into it.
5. Do you have any beer certifications (BJCP, Cicerone, Siebel, American Brewers Guild)?? If so, what are they?
I don't.
6. What is your favorite beer and food pairing?
Depends on the season. Right now I'm pretty taken with Ommegang Rare Vos and a good pork chop.
The Personal Side
1. What is your current day job? I'm an online editor.
If you could change your career at this very moment, without any restrictions on what you could do, what would you want to do and why? Some changes are coming for Digital City and I'll be taking a break from Beer Goggins for a bit (stay tuned to Twitter for details) but, if I could do whatever I like, I'd simply concentrate on the beer blog, traveling around to meet and interview as many brewers and taste as many beers as possible.
2. Are you married? Children?
I live with my boyfriend.
3. Outside of beer and writing, what are some of your other hobbies?
I still write fiction from time to time and I really love movies. I'm also a pretty avid runner. I have this vague idea that I'm training for the 2010 NYC marathon but we'll see.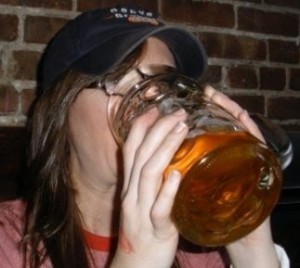 Off The Beaten Path
1. If you were a style of beer, what style would be an why?
Probably an American Pale Lager because I'm flavorful but I have a tendency to be a bit dry at times.
2. You were caught smuggling beer illegally, which has now been made punishable by death. Right before you are sent to the executioner, you are offered one last beer. What beer would you chose and why?
Probably Arrogant Bastard Ale because it's got a lot of flavor in every sip. If I can only have a single beer, I'm going to get as much beer in every sip as I can.
3. If I contracted you to brew a beer (or design a beer recipe) called "The Beer Wench" — what style would you chose and what, if any, extra ingredients would you add?
I think I would make it an Imperial IPA to get that fun but aggressive flavor. I think I'd use rye for that added "spice."
4. If you could be a superhero, what would you want your superpowers to be?
I'd like to read minds and also practice telekinesis.
5. What is one of the craziest things you have ever done and lived to tell the story?
For legal reasons, I can't share the "craziest" thing I've ever done. But next in line might be the time I rode the bull at a bar in Key West. Good times.
6. What are your thoughts on bacon?
There's nothing better … except for beer.

Tagged as
ashley routson
,
beer
,
beer blogger
,
beer goggin
,
Beer Wench
,
clare goggin
,
craft beer
,
Drink With The Wench
,
new york
,
nyc beer
,
the wench
,
wench
+ Categorized as
Uncategorized