Belgian Beer Mussels
Mussels are hands down one of my favorite things to eat.
Humans have used mussels as food for thousands of years.
Mussels are particularly popular in Belgium, the Netherlands and France – where they are consumed with french fries ("mosselen met friet" or "moules frites") or bread.
Depending on the source, mussel season is either considered to be any month ending in "-ber" (September – December) or any month that contains an "r" (September – April). Either way you see it, the month of December is prime mussel season.
Most people are not aware of the overwhelming nutritional content of mussels. A study at Harvard University found that mussels contain virtually the same amount of protein as T-bone steak — yet are significantly lower in calories and fat.
Mussels are also rich in iron, manganese, phosphorous, selenium, zinc, vitamins C and B12 and more essential Omega-3 fatty acids than any other shellfish.
Mussels can be smoked, boiled, steamed or fried in batter. NOTE: Regardless of the method of preparation, mussels MUST BE COOKED WHILE STILL ALIVE. Sounds kind of creepy, I know. But you will survive.
How does one know if the mussels are still alive?
Live mussels will be tightly closed. If slightly open, tap on the shell. If they close, they are still alive. If not, discard them.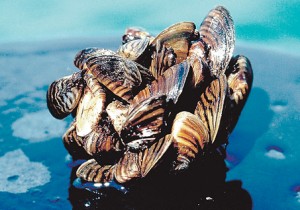 How does one go about purchasing mussels?
Mussels should be purchases at a seafood counter in a grocery store or at a fresh fish market. If mussels are the main course, one should plan on purchasing at least one pound of mussels per person being served. Most seafood professionals will wrap the mussels in some sort of paper.
Mussels have the tendency to suffocate in plastic bags. So if served in this fashion, poke several small holes into the bag.
How does one go about storing mussels?
Mussels are best when prepared the day of purchase, but can last 5-8 days if stored properly. The best storage technique is to cover mussels with a damn cloth, wrap them with a newspaper and refrigerate them until use.
How does one go about cleaning and prepping mussels for cooking?
Thorough cleaning of mussels is EXTREMELY important. Prior to cooking, soak mussels in cool, clean fresh water for 20-30 minutes. Using your hands or a brush, rub any debris off the outer shell underneath running water.
Some mussels might come with a "beard",  which can easily be removed. Just grab the fibers at the edge of the shell and tug them off. This should be done just before cooking and not much earlier.
How does one go about cooking mussels?
My personal favorite is the Belgian method of preparing mussels. In Belgium, mussels are typically steamed with fresh herbs and flavorful vegetables in a stock of butter and white wine or Belgian beer.
My particular recipe for this article uses Belgian beer instead of white wine. My particular favorite styles to use are the Belgian Wit, the Saison or the Gueuze.
THE BEER WENCH PRESENTS:
BELGIAN BEER STEAMED MUSSELS
INGREDIENTS
(NOTE: This recipe is for ONE serving only. Multiply each of the ingredients by number of desired servings!)
1 tablespoon olive oil
1 shallot: sliced
1/4 cup celery: thinly sliced or diced
1/4 yellow onion, thinly sliced
1 pound mussels: cleaned, debearded
1/2 bottle (roughly 6 ounces) Belgian beer:
¼ teaspoon fresh thyme leaves or 1/8 teaspoon dried
1 bay leaf
1 tablespoon butter
Sea salt
Freshly ground pepper
INSTRUCTIONS
1. Heat oil over medium-high heat in a large skillet; add shallots, onion and celery. Cook until softened (about 5 minutes).
2. Add mussels, beer, thyme, bay leaf, and butter. Add salt and pepper to personal preference. Cover.
3. Cook until mussels are open. This will take roughly 4-6 minutes. Keep pan moving frequently.
4. Discard mussels that do not open.
5. Serve in bowls with the beer broth and toasted bread. Pairs very well with Belgian beers — preferably the same style of beer used in the recipe!
If compelled, french fries also make a perfect accompaniment to this dish.
ENJOY! CHEERS!