Featured Beer Tweeter: PHIL LOWRY
DRINK WITH THE WENCH PRESENTS:
The Beer Tweeter Interview Series
Beer bloggers are not the only people using social media to share their passion for and knowledge of craft beer. Twitter is one of the most important tools in today's craft beer industry. Beer tweeters all over the world are influencing and impacting the way people interact with and experience craft beer. The Beer Wench has embarked upon a mission to interview as many beer tweeters that she can — from all over the world.
Are you a beer tweeter? Do you want to share your story? Send me an email!
INTRODUCING BEER TWEETER: PHIL LOWRY
Twitter handle: @beermerchants
Current location: Near Kingsdown in Kent, UK.
Background "Snapshot"
1. Where did you grow up?
Between a small village in very rural Kent, called Appledore in the family run Pub, and northern Italy, in a hamlet just outside a town called Bardi, in the province of Parma.
2. What sports if any did you play growing up, through college and beyond?
Football, um, Soccer, bit of Rugby, Hockey, mainly Cricket, but I was more a Hunting, Shooting and Fishing type, ever the country boy!
3. How old were you when you had your first beer?
Growing up in a pub, I am sure it wasn't, um, the regulation age. But, I do know, I went to my first beer fest in Germany at 16.
4. If you can recall, what is the story of your first beer? Where did you have it? What style and brand was it?
Now you're asking, I assume my first beer was at the pub, it would have been a crafty bottle, or two. But, my dad tells me I always went for bigger flavours, I was always known to drink the cask beers, from 18.
5. Where, if applicable, did you go to college? What did you study? What additional activities, organizations, sports did you partake in during college?
My Uni career is a varied one, so much to say that I minored in a diversity of subjects, majoring in Beer. I studied beer, in its wild and natural surroundings!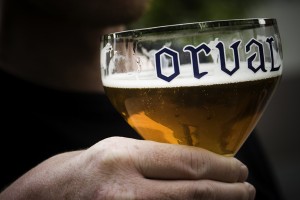 Craft Beer Epiphany
Every craft beer enthusiast has at least one pinnacle craft beer experience that completely changes ones perspective on beer. I refer to this mind-blowing moment as a "craft beer epiphany."
1. What was your first craft beer epiphany? Recall as many details about it as you can:
In something of a reverse epiphany, when I was 18, away at Uni, going to the Student union – a student only bar with subsidized beer, and realising the shit that people were drinking, crap beer just didn't figure on my horizons.
2. Have you have additional craft beer epiphanies since the first? Detail as many of them as you wish:
Brewing beer. Way back, I picked up a job in a long gone brewpub, the first time you brew, "will this be actually ferment to beer?" thoughts went through my head. To the, this is really good fun, if damn hard work…. I started getting to grips with brewing, realising that way too many people take beer for granted. Please, never ask for just a "beer".
How many great and very cool people there are in the beer world! Love to all!
Good beer and advice about new beers can come from anywhere now; I get really excited when I stumble into new breweries, that aren't even on the Radar, bringing them to beer loving friends and hearing them faun over the beer. To tell the truth, my mum/mom, stumbled on my latest "find" whilst out shopping in Italy, a newish brewery called Toccalmatto. She says it's just hearing the vocabulary that I use, and seeing it on these beers that she dragged me there when I went to see her. I am grateful she did. It's a brewery that's going to be on everyone's lips soon.
The art of celebrating Innovation and Tradition – it's all to easy to dismiss traditional ideals, being washed over by innovative brewers; or innovative as glory hunters and the traditional as the pillars of the scene? Can we not celebrate each and everyone with the vigour that they deserve for doing what they do?
Beer Talk
1. What are your top 3 favorite beer styles?
Ok, so this is gonna be like picking your favourite child? Not fair!
Lambic & Gueuze
IPA
Imperial Red Ales
2. What are your top 3 favorite breweries?
TOOOOO MANY TO LIST!
Drie Fonteinen,
Thornbridge,
Triple Rock,
More so for the team/people involved, not just for the beers.
3. If you could work with or for any one brewery, which one would it be and why?
Anywhere Rodger Davis, Kelly Ryan or Steve Altamari are working – their beer, they are good people, good fun and good times roll when they are around.
4. Are you a homebrewer? If yes, what is the most unique and interesting beer recipes you've brewed as a homebrewer?
I brew at home, just for fun now, the most "Unique" well.. a fruit sour that was nigh undrinkable, not doing that again. "Interesting" – Rye Kolsch dry hopped with Amarillo – one I want to brew again. I have been messing with different yeasts recently, a dry yeast company that I am a fan of has really bad descriptors so I went to work brewing up 5 gal batches and splitting them into 1 gal carboys, pitching with the different strains to see what happens. It's been fun, I have now got to write up the notes.
5. Do you have any beer certifications (BJCP, Cicerone, Siebel, American Brewers Guild)?? If so, what are they?
I dunno, what are they? (joke) I might do one day, Siebel or ABG.
6. What is your favorite beer and food pairing?
Good people, sociable eating and lots of good beers.
7. What are you top 3 favorite beer blogs/beer websites?
Again, toooo many.
The Personal Side
1. What is your current day job?
My last job before Beermerchants, I was a Special Ed teacher, before that in Business Consultancy, but I still worked in beer centric pubs. I still teach the odd session at a local day centre, plus maintain their computers etc, should they have issues.
2. If you could change your career at this very moment, without any restrictions on what you could do, what would you want to do and why?
Tough one, having been in the beer industry pretty much all my life, I figure it would be a hard transition to do anything else but a beer related enterprise. I have always had a passion for photography, but more as a hobby.
3. Are you married? Children?
No and no.
4. Outside of beer and writing, what are some of your other hobbies?
Fly Fishing and Carp Fishing, Photography and Travel.
Off The Beaten Path
1. If you were a style of beer, what style would be and why?
Old style Flemish red ale. Easy going, not in your face, complexity, goes well with Asian food, understated and one of a kind.
2. You were caught smuggling beer illegally, which has now been made punishable by death. Right before you are sent to the executioner, you are offered one last beer. What beer would you chose and why?
That 40% German Eisbock, just for the medicinal purposes, if I am gonna die, I don't want to hear the precursors. And, I think it would take the jailers a while to find a bottle. That, or Butcombe Stout.
3. If I contracted you to brew a beer (or design a beer recipe) called "The Beer Wench" — what style would you chose and what, if any, extra ingredients would you add?
I would do a double wit, with Dry "hopped" with Amarillo, Hibiscus flowers and Lemon Grass. About 7%.
4. If you could be a superhero, what would you want your superpowers to be?
Just flight. So I could leave my office on a Friday, go flyfishing in the Terra Del Fuego, Patagonia on Saturday, and back to work on the Monday, with no fuel burned in the process. Selfish I know, but have you seen the Seatrout down there!?
5. What is one of the craziest things you have ever done and lived to tell the story?
Said, "no, mum, I don't want to utilise my very expensive private school and university education, I want to be in the underpaid, oft ignored, but very special world of beer"… she's never gotten over that one…
6. What are your thoughts on bacon?
Thoughts? Nay, you mean dreams?
SPECIAL THANKS TO PHIL FOR HIS AWESOME TWEETS AND A GREAT INTERVIEW!
CHEERS!
DISCLAIMER: ALL THE PHOTOS ON THIS SITE ARE PROPERTY OF PHIL LOWRY.